After picking up his first point of the season last weekend, GT Sport World Champion Igor Fraga could have been forgiven for some optimism in Barcelona this week. Indeed in our exclusive interview, the Brazilian was looking forward to more progress and putting the memories of the first few races behind him.
Free practice provided a very positive result, as Fraga came home in fourth place overall. That wasn't a fluke from the Charouz team, as Fraga's young Czech team mate Roman Stanek was first. Sadly it wasn't entirely representative of the field's pace, and the rest of this weekend's action at the Catalunya circuit proved a return to a very familiar pattern.
Qualifying has been a consistent bugbear for the Charouz team this season, as the cars either lose pace or watch the rest of the field improve around them (or both). That was the case yet again at Catalunya, as other teams lowered their lap times by a second while Charouz stood still. Stanek was the best in the team in a lowly 19th, with David Schumacher in 26th and Fraga 28th — ahead of only two Campos cars.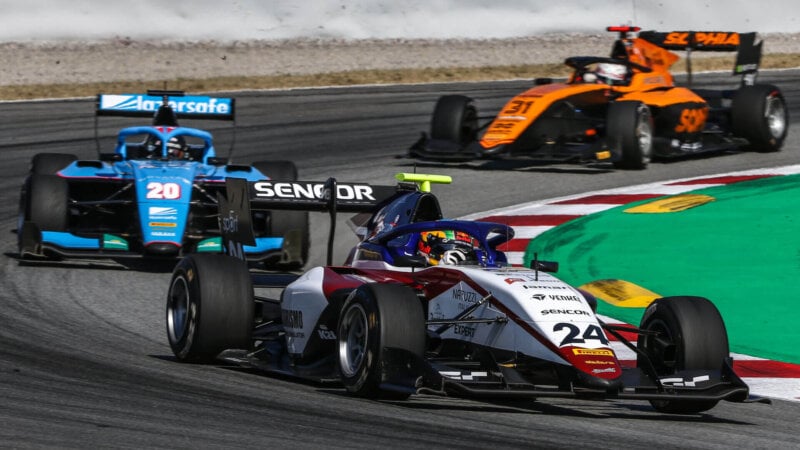 Race one saw a couple of safety car periods, recovering the cars of Bent Viscaal and Frederik Vesti. That had the effect of making the field a little more compact but also limiting chances to pass on a circuit already notorious for its relative lack of passing. The three Charouz cars finished line astern, in 22nd, 23rd, and 24th — for Stanek, Schumacher, and Fraga respectively.
It was more of the same in race two. Fraga shrewdly dodged an incident right in front of him, as Dennis Hauger and Leonardo Pulcini came together, with Max Fewtrell and Olli Caldwell both beaching in the gravel to avoid them — bringing out the safety car again. It came out for a fourth time later on when Federico Malvestiti ended up in the gravel too, but by that time Fraga had passed team mate Stanek to finish as the lead Charouz, in 18th.
Following the race, Fraga spoke to Red Bull, commenting:
"[Free Practice] kind of inflated our performance because there was a red flag and only a few of us could finish the lap. All the rest had the times from the old tyres and really we were on the the same time as them.

"So when it came to Qualifying we were not up there. Our car was understeering, it was like that all weekend really even though we tried very hard to improve it. We were trying to put more and more front grip but even today we were not able to really fix the problem.

"Yesterday, in Race 1 it was still quite difficult. Today there were some incidents at the start and I was able to make up some places because of the mistakes of other drivers. I was just there trying to be consistent. That was kind of the way I had to be all weekend."
There's now a very short break before the grid heads to Spa-Francorchamps in Belgium on August 28. That'll be the first of three back-to-back races to close out the season.
See more articles on Formula 3 and Igor Fraga.