If you follow the Wednesday Want, you know we rather like road-going race cars. That's why for this week we're featuring yet another one of these awesome cars: the Mercedes-Benz CLK GTR.
The idea for the CLK GTR goes back to 1996 when the Deutsche Tourenwagen Meisterschaft folded. Without a high-profile racing series to compete in Mercedes was on the lookout for a new motorsports home. It ultimately landed on FIA GT Championship for 1997, particularly the GT1 class.
By setting its sights on the series' top tier, Mercedes would put itself in direct competition with Porsche and BMW. Without a car to enter, Daimler needed to work quickly to develop a competitive vehicle. To do this it looked to its performance arm, AMG, to head up the task.
This is where the story really gets interesting.
Since the car was in need of a rapid development, AMG didn't have time to build a working prototype. So it looked around and found a McLaren F1 GTR owned by the private team Larbre Compétition. Using a bit of backchanneling, AMG bought the car.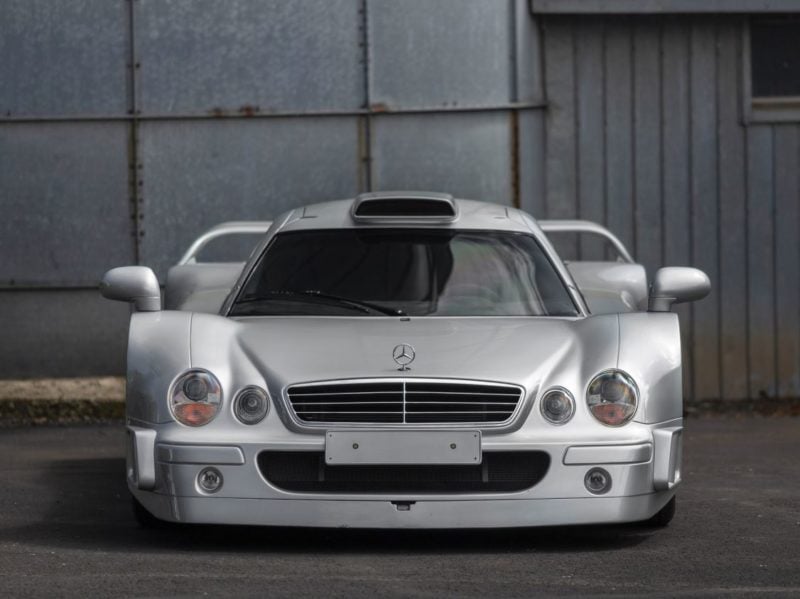 After acquiring the car, AMG ran the car to get an idea of its performance. Once happy with a baseline, it then stripped away all the McLaren body panels and the engine. This left a chassis in which it fitted CLK GTR panels on along with its own engine.
AMG ran its weird Frankenstein of a car at Circuito del Jarama, near Madrid, Spain. It worked to a degree but ultimately its driver, Bernd Schneider, put the car into a wall.
Nevertheless, the prototype gave AMG what it needed to build a car. Just 128 days after the first sketches, the CLK GTR entered its maiden race at the Hockenheimring.
Mercedes would go on to win the FIA GT Championship for 1997 and again in 1998. The GT1 class was canceled for 1999, but the spirit of the car would live on. In 1999, the next generation Mercedes CLR would head to Le Mans — where it proceeded to take flight.
During its stint in GT1, Mercedes did need a relatively small number of road-going cars for homologation. This is where the Mercedes-Benz CLK GTR Straßen Version comes in, which we found an example of from RM Sotheby's for its upcoming Monterey Auction.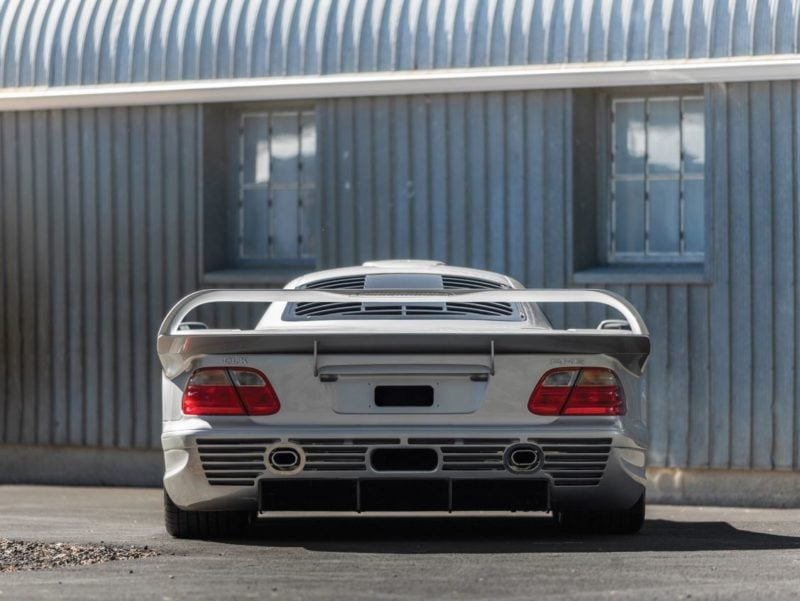 This street version was very close to its racing sibling. However, in an attempt to make it somewhat livable there were a few changes. These mainly included things like air conditioning, traction control, some leather, and a different rear wing.
The biggest difference was the engine. While the race trim CLK used a 6.0-liter V12, the road version got a 6.9-liter V12 making a whopping 604hp and 572 lb-ft of torque. This pushed the car to 60 in just 3.8 seconds and flat out it would hit 214mph.
Unfortunately, this example probably never got the chance to experience all that power. With just 1,493km (894 miles) on the clock, it's only done an average of 44 miles per year.
Thankfully it has been maintained, and all the service on the car is up to date. It's even legal for minor road use in the US under the Show or Display Law, although it'll still probably never see the road.
According to RM Sotheby's this CLK GTR is chassis number nine of the 25 cars built. It's also entirely original throughout, making this rare car just a little bit rarer.
Auction estimates put the CLK GTR selling between $4,250,000 – $5,250,000 when it crosses the block on August 25. While that is a huge sum of money, it is worth noting that back in 1998 the price tag for one of these was over $1.5 million. This made it the most expensive production car of its day.
Whoever buys it is sure to get a return on their investment too. These cars rarely come up for sale and when the next one does, the price tag is sure to be even larger.
More Posts On...