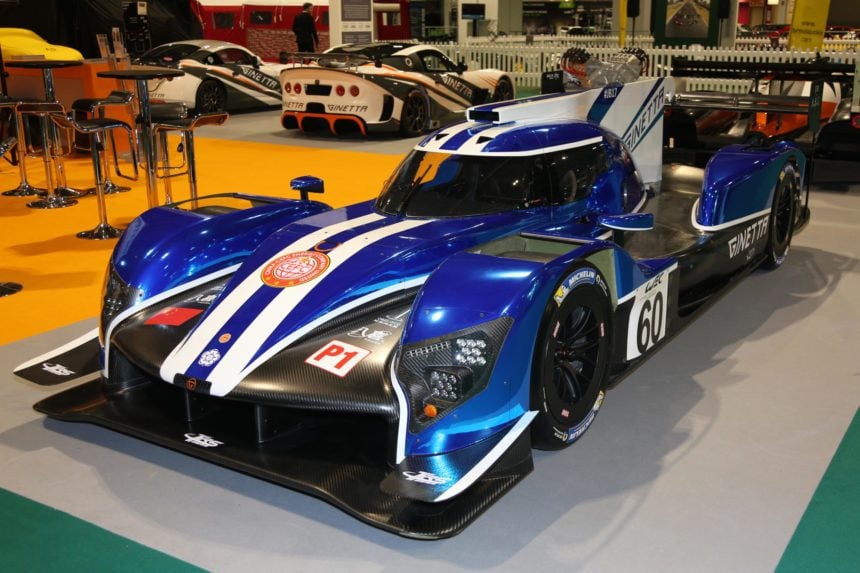 British sports car maker Ginetta has officially unveiled its new LMP1 race car, ahead of the 2018/19 World Endurance Championship.
Following the initial announcement last year, the company has revealed the car, dubbed ""G60-LT-P1", at the Autosport International Show in Birmingham, UK. The prototype will take part in the upcoming "super-season" of the WEC, including the 24 Hours of Le Mans… twice.
The LMP1 class is undergoing a major overhaul following the departure of Audi and Porsche in the last two years. With only one factory team remaining, Automobile Club de l'Ouest (ACO) has been making an effort to make the category more appealing to privateer entries. Ginetta designed the G60-LT-P1 with this in mind.
Named for the company's 60th anniversary year, the G60 uses turbocharged 3.4-liter V6 developed by Mecachrome, producing approximately 650hp. Under WEC privateer rules, the G60 does not have a hybrid system to boost power.
Speaking at the car's launch, Ginetta chairman Lawrence Tomlinson stated,
I'm delighted to finally be able to unveil our latest machine to the motorsport industry, and what better time than at the start of our 60th year of manufacturing. Ginetta has a long history of international success in with the G55 GT4, LMP3 and G57. The LMP1 will be a strong contender in the FIA World Endurance Championship (WEC) and at Le Mans. We have a great team of Design Engineers in Leeds, have worked with some excellent partners on the project, and can't wait to show you what the LMP1 is made of out on track.
One of the first teams confirmed to run the new G60 is TRS Racing Manor. The British outfit is adding an LMP1 program alongside its current efforts in LMP2. Ginetta also confirmed it has received another three orders from an undisclosed team.
Ginetta initially plans to build ten cars. However it could build more if there is enough demand.
The G60 will join the Dallara-built BR1 in the new-look LMP1 category when it makes its competitive debut at the 6 Hours of Spa-Francorchamps on May 5. With Toyota committing to the 2018/19 season, the G60 will be facing some very stiff competition on the track.
More Posts On...