The latest Gran Turismo 7 update 1.15 is proving to be one of the game's most controversial yet. Although it brought new cars, events, and features, the update also nerfed the force feedback strength of the game's officially licensed wheels from Fanatec and Thrustmaster.
Although this was reportedly done to reduce the chance of injury (yes, really), the timing could not have been worse, giving the game's most dedicated players an unpleasant surprise just a day the Gran Turismo World Series kicked off and one of motorsport's busiest weekends of the year.
Polyphony Digital has stated the force feedback reduction was "greatly reduced… as a temporary emergency measure", but it's not clear how long this emergency measure will remain in place. That uncertainty has led to Fanatec Gran Turismo DD Pro owners testing and sharing advanced wheel settings here in the GTPlanet Forums. After applying these tweaks, some claim GT7's force feedback is now better than ever — myself included.
The best wheel settings for the Fanatec GT DD Pro come from GTPlanet user PirovacBoy. You'll find them below, along with instructions on how to configure them. Although there still won't be as much raw strength coming from the wheel, these settings provide a new sense of clarity and definition in GT7's force feedback that just wasn't there before.
Even if you don't prefer this over the game's pre-1.15 feel, these settings undoubtedly offer a vast improvement and should at least hold you over until Polyphony Digital releases their next round of force feedback changes.
GT DD Pro Advanced Settings
SEN: AUTO
FFB: 100
FFS: PEAK
NDP: 10
NFR: 10
NIN: 10
INT: 3
FEI: 100
FOR: 120
SPR: 0
DPR: 0
GT7 In-Game Settings
Force Feedback Max Torque: 10
Force Feedback Sensitivity: 1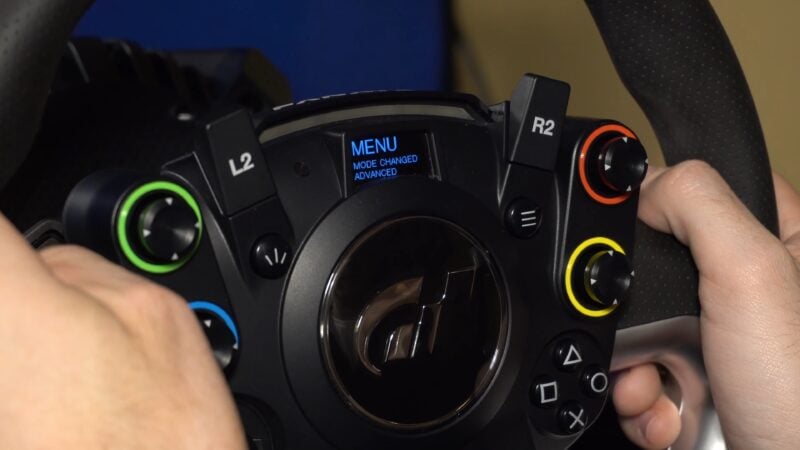 How to Adjust Advanced Settings
To access the advanced tuning menu to change these settings, press the small black button just to the left of the LCD screen. The screen will turn on, then press and hold the button again for a few seconds until the screen confirms it has "MOD CHANGED TO ADVANCED". From here, use the main directional joystick on the wheel to move up and down to navigate the menu.
At the bottom of this menu you will see the "AUTO" setting, which allows the game to set its own defaults. Moving up the list, you'll see "SET 1", "SET 2", etc., which are just different saved profiles that you can switch between. To change the settings for each of these profiles, move the joystick to the right or left to select the setting you want, then move the stick up or down to adjust.
What Do You Think?
Give the settings a try, then head to the comments to let us know what you think! Experimentation and collaboration are important in these kinds of situations and there is never a "magic bullet" when it comes to wheel settings. Feel free to make your own adjustments and report back if you find your own settings that work best for you!
See more articles on Fanatec GT DD Pro.