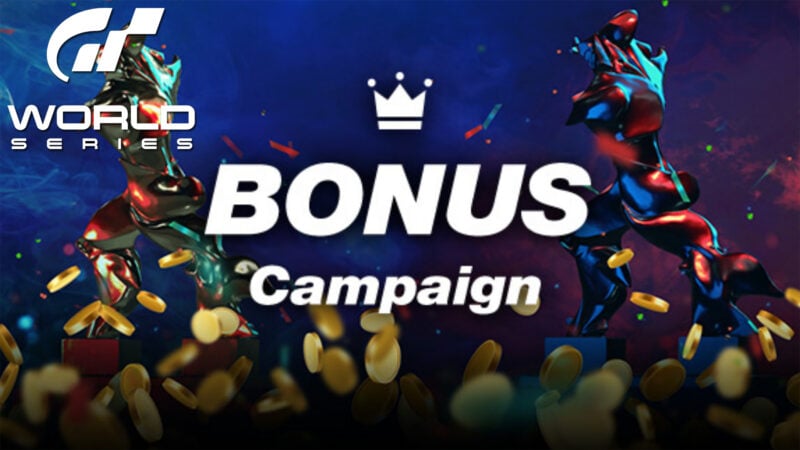 With the first of the 2022 Gran Turismo World Series broadcast events coming up on us over the next two weekends, Polyphony Digital has revealed a special accompanying contest for all players.
Referred to in-game as "Bonus Campaign", it's essentially Fantasy Football but for Gran Turismo. During each of the five broadcast events — Round 1, the Showdown, Round 2, Round 3, and the World Final — you'll be asked to predict which driver and which manufacturer will be the winner.
There's a special section in the game, which you can find in the top-right corner of the World Map, for submitting your predictions.
Ahead of each round, this section will show all of the drivers and manufacturers that have qualified for the broadcast event, and you'll be allowed to select one from each of the two championships. You're limited to one entry for each championship per round though, and you may only enter up to the point the relevant race broadcast starts, so choose carefully.
If one of your selections wins the event, you'll earn 500,000cr in Gran Turismo 7. Should you manage both, this prize doubles to a cool million credits — although there's no additional bonus for doing so. These prizes will be delivered to the Gifts section of your garage.
There'll be five opportunities to enter across the 2022 season, so you could earn yourself up to five million credits from simply selecting the drivers and teams you think will win at each event.
The first event will be World Series Round 1, with the Manufacturers Cup broadcast up first on Saturday July 23 at 1300 UTC — a change from the original schedule — and the Nations Cup broadcast the following Sunday, July 24, also at 1300 UTC.
See more articles on Gran Turismo World Series.