By now, we should all be familiar with the success stories of the GT Academy winners. Lucas Ordoñez, gamer in 2008, is now a veteran endurance racer with multiple podium finishes and recently helped the remarkable Highcroft Racing Nissan DeltaWing to a 5th place overall finish at Petit Le Mans, Jordan Tresson won the Blancpain GT4 world championship in 2011 and newest graduates Bryan Heitkotter and Jann Mardenborough (recently named evo's Emerging Talent of the Year) have been racking up pole positions and race wins in their respective GT3 and GT4 categories.
But Lucas, Jordan, Bryan, Jann and 2012's winners Wolfgang Reip, Mark Shulzhitskiy, Peter Pyzera and mystery man "Dan Mitchell" represent what the Academy judges think are the best prospects from their respective fields. With over 200 drivers passing through the Academy's Race Camp training program over the last four years, what has happened to the drivers that, for whatever reason, were not selected by the judges? We've taken a look at some of those who've since made their own way into motorsports.
Luca Lorenzini (giagua) was a finalist in 2008 and was announced as winner in 2010 alongside Jordan Tresson as they went head-to-head for the 2011 Dubai seat. Lorenzini eventually lost out but has since been plying his trade in largely domestic Italian racing series. Following a test in the Ginetta G50, he participated in three rounds of the G50 Cup Italia, scoring pole position at Imola in April 2012 and a best race finish of 2nd at Mugello in September 2012. He also saw success at Imola in the Maserati MC Trofeo World Series in June 2012, qualifying his car 2nd and winning the 16 lap race.
Sweden's Chris Midmark also made the 2008 and 2010 finals, only to miss out – with previous Race Camp winners now ineligible for further GT Academy competitions. Like Luca, Chris returned home to domestic competition – and to Ginetta. Running a G20 in the one-make series in Sweden, Chris won 6 times in 12 races – with 11 podium finishes – to take the title in his first season. In 2012, driving a BMW E90 3-series of West Coast Racing BMW Dealer, Chris came 2nd overall – with 1 win, 2 poles and 7 podium finishes – by just 2 points in Swedish GT-GTB.
Thomas Arends (thomms) won the Dutch GT Academy in 2011, attending the European race camp and, as we reported back in April, was part of a surprise four man team set to compete in the HDI-Gerling Dutch GT Championship. Thomas drove a "Team GT Academy" Nissan 370Z GT4 with GT Academy Race Camp judge Tim Coronel and two other successful BeNeLux touring car drivers. The two pairings managed a handful of points finishes in the 2012 series, encompassing 21 rounds at Zandvoort and Zolder circuits.
Alongside Bryan Heitkotter, the second success story of the first US GT Academy is Sean Johnston. Sean finished second to Bryan, but set about building a racing career soon after. In his first racing season, driving a Porsche 911 GT3, Sean monstered the IMSA GT3 Cup Challenge, winning 8 of the 15 races – including at Gran Turismo staple Laguna Seca – to take the title outright. Sean most recently has tested a Formula 3 car at Pembrey.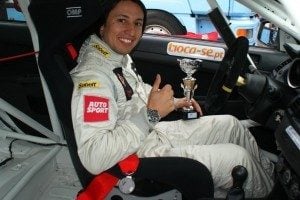 2012's unlucky drivers are already starting their own overtures at a racing career, notably Hugo Araujo (taboaamassa) who finished 3rd in the European Race Camp and is already competing successfully in time attack events.
While the better-publicised successes of GT Academy are self evident, it's clear  that the talent the project has uncovered is not limited to just the winners. Providing inspiration for the other Race Camp attendees to pursue their own careers, it's responsible for getting many more successes started on the path to professional racing.
GTPlanet's forums have an ongoing thread discussing the racing exploits of all GT Academy alumni, winners or not, in our Motorsport section. If you're aware of – or if you are – a GT Academy participant currently racing in any series in the world, we'd love to hear from you!
Images courtesy of imsachallenge.com, dutchgt.nl and maserati.com.
See more articles on GT Academy.