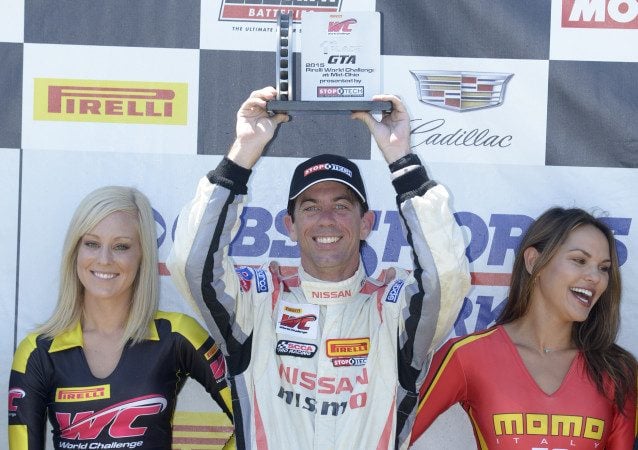 While one of the blue riband events of GT class motorsport was underway at Stavelot last weekend, Bryan Heitkotter was 5,000 miles West stealing the headlines.
A truncated qualifying session at Mid-Ohio meant Bryan had to start the #5 Always Evolving/GT Academy Nissan GT-R GT3 in 20th position overall – 3rd in the GTA class – but a fighting performance combined with a relatively high attrition rate in the 32 lap race saw him come home 9th overall and 2nd in class. In the process he set the third fastest lap of the race, earning himself a second row start for race 2.
This time, instead of having to fight through the pack, Bryan kept pace with the lead pair while keeping GT series points leader Olivier Beretta behind him over 35 laps to score both 3rd place overall and yet another win – his fifth in fifteen races – in the GTA class, claiming three trophies in two races! Bryan is now second in the GTA points classification with five rounds remaining.
It was a less enjoyable weekend in the Ardennes though, with both the Pro and Pro-Am GT Academy Nissan GT-R GT3s finishing an arduous, slippery and damaging Spa 24 hours in 8th place in their respective classes.
In what seemed like it would be the 24 Hours of Safety Car to many fans, the rain and crash-strewn first 6 hours may have been as tedious to drive as it was to watch and while the GT-Rs managed to avoid the worst of it the #23 Pro class car did collect a badly out of control Ferrari and spent the last three quarters of the race with a remedial duct tape repair.
Pro driver Alex Buncombe made the switch to two wheels in the last quarter of the race, ferrying an RJN Motorsport technician out to a stricken #23 in order to give Wolfgang Reip step-by-step instructions to replace a blown relay that had brought the car to a halt. With 2 hours left, the #22 found itself in the wars too with a gearbox fault. That took 40 minutes to change, but such was the havoc wreaked by the race that the team only lost 3 positions as a result.
As the longest race on the Blancpain Endurance Series, calendar the Spa 24 Hours is a bit of a points spinner, with points awarded for positions at 6, 12 and 24hr. This means that with just one race to go, the team has slipped off the top position that they held by a point and are now down in 4th with a 10pt gap to the leaders. It's an exciting conclusion to the season then, with all to play for at the Nurburgring on September 20th!
Photos courtesy of Red Square Images.
More Posts On...
The original comments for this post are no longer available.