Gran Turismo series partner Toyota has revealed a special, limited edition version of its Toyota Yaris hatchback, which not only bears the Gran Turismo 7 name but comes with a free copy of the game and a PlayStation 5 console.
Officially called the Toyota Yaris GR Sport GT7, the car is based on the regular Yaris five-door hatchback and shouldn't be confused with the Toyota GR Yaris homologation hot hatch. It's a curious choice of car, given that the current generation Yaris doesn't appear in Gran Turismo 7 yet, or at least as far as we know.
This particular model uses the 1.5-liter hybrid powertrain, which combines a 90hp Atkinson Cycle M15 "Dynamic Force" petrol engine with an 80hp electric motor for a total maximum system output of 114hp.
The GT7 Edition Yaris will naturally come with GT branding inside and out, along with a special key fob, key, and key cover. There's also an interior badge bearing the serial number for each of the 100 examples that will be available. All will come in the "Gris Dynamique" color of the Yaris GR Sport, but with special 18-inch wheels with machined red segments
In addition, each car comes with enough goodies to get your Gran Turismo 7 career off to a flying start. The cars all come with a disc copy of the standard edition of GT7 and a PlayStation 5 console (presumably the disc version rather than digital) on which to play it. There's an additional DualSense controller and also a three-month PlayStation Plus subscription too.
It's very reminiscent of 2005's Nissan 350Z Gran Turismo 4, which was available in a limited run across Europe and came with a PlayStation 2 and a copy of Gran Turismo 4.
You'll be able to order the car on March 4, the official launch date for Gran Turismo 7, with first deliveries taking place in May. No price has yet been revealed, but it's likely to come in just above the regular Yaris GR Sport hybrid at about €23,000 ($26,000). However there's a slight catch: the car is only available in Spain.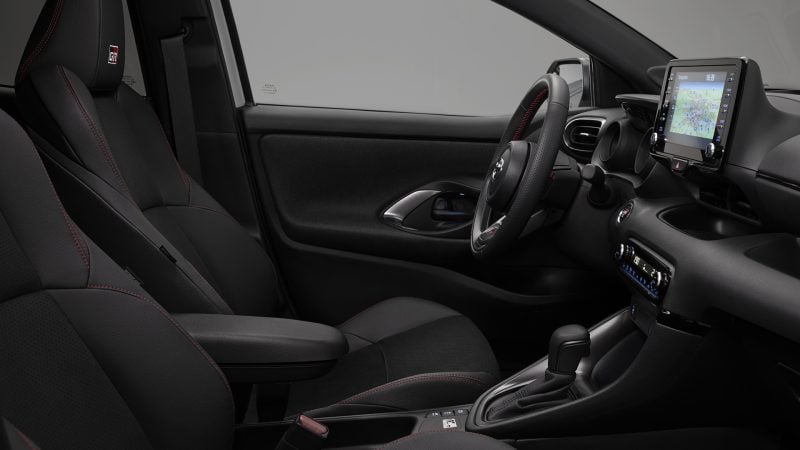 In addition to launching the car, Toyota and PlayStation have announced an extension to their partnership which has seen the car manufacturer sponsor the game's flagship FIA Certified Online Championship for the last four years.
That will include a new, local Spanish Gran Turismo Championship, which will take place within Gran Turismo 7 and offer one of these limited edition cars as a prize. Gran Turismo will also be a partner for a real-world series, the Toyota Gazoo Racing Iberian Cup, which will see drivers racing the GR Yaris at circuits around Spain and Portugal.
See more articles on Toyota.