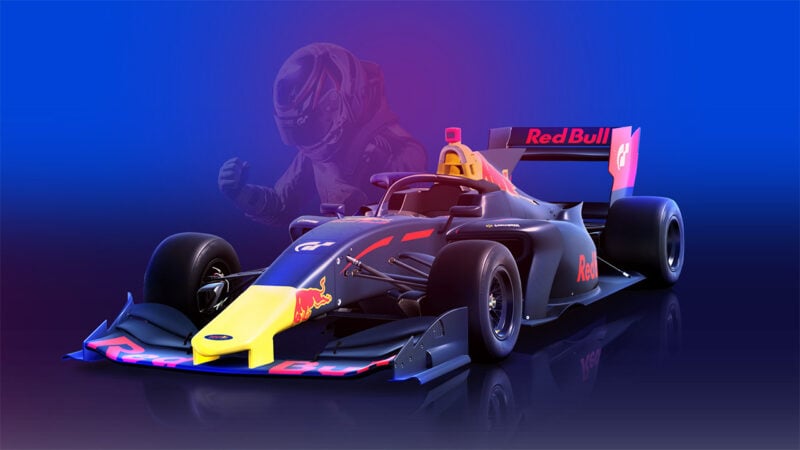 Long-term Gran Turismo series partner Red Bull has quite the promotional push for GT7 players this month, with both an in-game photo competition and a special livery for the purchase of qualifying packs of the energy drink at Walmart.
The Walmart promotion is only open to players in the USA, but offers up a Super Formula SF19 car in a special Red Bull livery.
You'll need to head into any Walmart and pick up a special pack of four 8.4oz cans, or order them from Walmart.com. After that, scan your receipt into the appropriate page on the Red Bull website to generate a voucher code for the car and livery.
The promotion runs through to the end of October 2022, and you can redeem the code any time up to September 5 2023. It'd be an ideal choice for our Weekly Race Series event this week!
Red Bull Capture Point is open more widely, with players from the USA and Canada, Argentina and Chile, and Belgium, France, Netherlands, Sweden, and the United Kingdom all eligible for some remarkable prizes.
The competition invites players to take photographs of Gran Turismo 7 or Horizon Forbidden West using the in-game photomodes, in each of four different categories — which will be announced as the competition progresses.
Starting with the "New Beginnings Portrait" category from September 5-19, the competition runs every two weeks through to October 30. You'll need to take in-game shots and share them to Twitter with the relevant hashtag — for example #redbullcapturepointUS for players in the US — to enter.
All of the entries will be judged by a panel of photographers, and each category winner in each of the nine participating nations will win a PlayStation 5 console, with a DualSense controller and charging station, Pulse 3D headset, and an unspecified PS5 console cover — along with a can of the energy drink.
However there's also an overall prize for one single, global winner. That's an expenses-paid trip to New York to a "Best in Show" exhibition that will include their photographs on display in a gallery. They'll also take part in workshops with professional photographers.
See more articles on Red Bull.