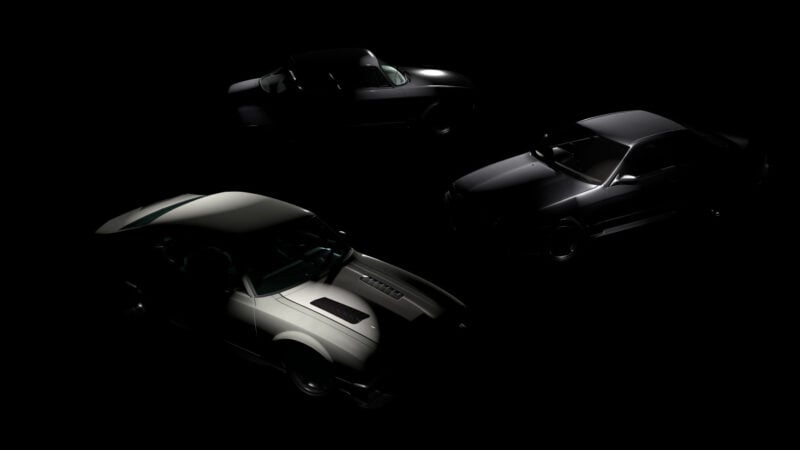 The next update for Gran Turismo 7 will be landing on PlayStation 4 and 5 consoles this coming week, with new cars being added to the game.
It's set to be a slightly smaller bump in the vehicle count this month, reverting to three cars after some recent four- and five-car updates.
Polyphony Digital studio head Kazunori Yamauchi confirmed the update through his traditional "silhouette" teaser Tweet, revealing the cars in a heavily shadowed image to spark the community's speculation as to what the vehicles are:
Sitting at the front of the trio, and easiest to identify due to the very distinctive details, is the Greening Auto Company 1971 Ford Maverick. This custom-built, 1200hp Ford won the Gran Turismo Award at the SEMA show in 2018 — the year after the Phil Robles Civic which has yet to appear in the game.
At the top we have what looks to be a returning classic car, with the Alfa Romeo Giulia Sprint GTA coming back from Gran Turismo 4–6 and joining its modern namesake. Previously only appearing as a Standard/Simplified car, it's a car very much worthy of a fully detail upgrade.
Finally there's a curious vehicle on the right, although it's pretty easy to spot that it's an R32-generation Nissan Skyline. We already have one example of the roadgoing R32 — the 1994 V-Spec II — meaning that this represents a first alternative version of a classic Skyline GT-R of the same generation as an existing car. From the five-spoke wheels, it looks like it's the limited-run GT-R Nismo homologation model from 1990, which will also be a returning vehicle from older GT games.
As usual, the silhouette posts only tease the cars coming to the updates, and we won't know what other content — such as circuits — or features will be part of the update until closer to the time it arrives.
We also don't yet know when that will be, although it's likely to be Thursday May 25 given the timings of almost every other content update thus far.
Keep an eye on the forums for the latest information as we get it!
See more articles on Gran Turismo 7 Game Update.