Since 2003 one of the most coveted prizes at the SEMA show is the Gran Turismo Award. Hopefuls from around the world wait and see if their vehicle will find its way into a future Gran Turismo video game. The competition is always amazing and this year was no exception.
Competing to earn a spot in one of five categories, the vehicles then fight for the spot of number one overall. The judges for the event are made up of writers and editors from various automotive publication. However, to be crowned the best overall and earn a spot in the game, owners need to impress Kazunori Yamauchi himself.
Since 2003, 11 of the 15 winners have made an appearance in GT games. These include vehicles like the iconic 1962 Buick Special from Gran Turismo 4 and the Chris Holstrom Concepts' 1967 Chevy Nova that came in v1.10 of Gran Turismo Sport.
Now for the 16th iteration of the Awards, let's take a look at all the categories winners, plus the overall winner.
Best Asian Import
Called the "InZanity", it's a 1972 Datsun 240Z that's certainly worthy of its name. Built by Kyle Kuhnhausen of Eugene, Oregon it's a labor of love nearly five years in the making.
At first glance, the InZanity looks like several other racing 240Zs. But it's the small details that set it apart from other cars like it.
The exterior makes use of hidden brake ducts at both the front and rear. The front spoiler, side skirts, and rear spoiler are all custom made in Kuhnhausen's garage from aluminum. Even the emblems are made from carbon fiber to complete the look.
The attention to detail carries over inside as well. According to judge Sam Du from Super Street, Kuhnhausen took inspiration from an airplane cockpit. It certainly shows too with all the fight jet toggle switches throughout the cabin. The dash display also channels that of a fighter jet as well.
The detail doesn't end there either. Kuhnhausen produced bespoke door panels with a unique hexagonal pattern that really stand out. There are also custom cup holders, a hidden fuse panel, and even a port to fill the transmission next to the gear stick.
Finally, under the hood sits a 5.7-liter LS1 out of a 2004 Pontiac GTO. It's relatively stock too. Kuhnhausen only did minor adjustments to clean it up a bit and make it a little more race ready. According to Kuhnhausen's interview with Hoonigan, he claims 347hp to the rear wheels.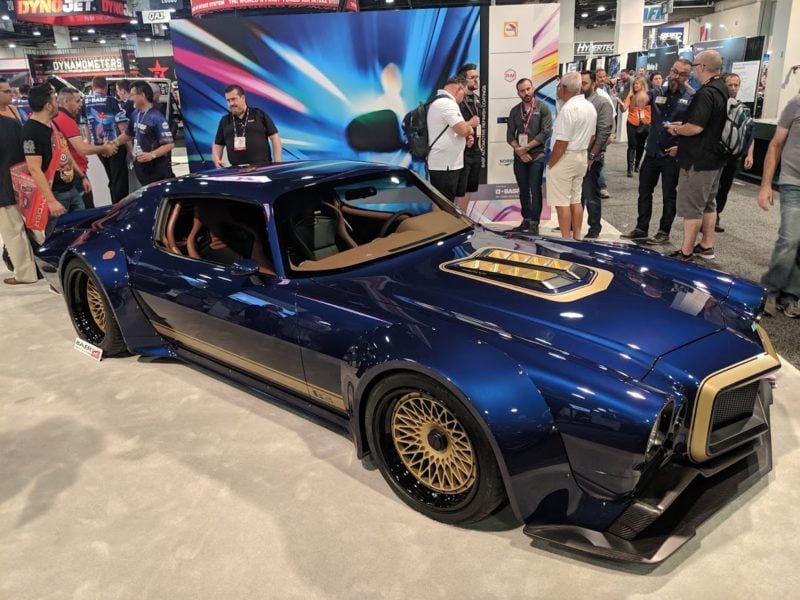 Best Domestic
The winner of Best Domestic might look a bit familiar. It's a 1970 Chevrolet Camaro Widebody called "Road Rage" built by the Roadster Shop in Mundelein, Illinois. This is the same team responsible for the 2014 GT Award-winning 1970 "GoPro Rampage" Camaro.
It's easy to see why the Roadster Shop is back in the limelight too. With a perfect combination of blue and gold, it's rather striking to look at. It also embraces a Euro styling look that sets it apart from the sea of other hot rods across the show floor.
Road Rage is also low, but unlike some other speedbump-troubling vehicles, it's not on air suspension. Instead, it gets a custom build from Roadster Shop. Perhaps the coolest part of this is the inboard mounted coil-over suspension that really makes it look like a race car.
The Road Rage isn't all show and no go either. Under the hood sits a Texas Speed build 454 LSX engine putting out 750hp. It also makes use of a one-off velocity stack from Kinsler that completes the look.
Best Euro
Like most SEMA projects, the winner of the Best Euro started life as a rendering. However, graphic artist Khyzyl Saleem never intended this BMW 318i to come to life. This is where Eric Penelow came in, turning Saleem's dream into a reality.
Saleem's designs typically combine cyberpunk elements with a racing flair, so bringing them to life was no small task. According to an interview with Larry Chen from Hoonigan, who selected this car, Saleem and Penelow started the hunt for an appropriate vehicle last November. It was a lengthy process but they finally landed on the E30 BMW.
However, by the time they selected a vehicle and decided on where to unveil it, they were in the SEMA crunch. Per Penelow, they took a stock 318i and transformed it to the "Live to Offend" E30 in just one week's time.
Like all the GT Award nominees, the details are pretty incredible with the 3 Series. It takes inspiration from DTM and other touring car series. But it exaggerates them all for an even wilder look.
Also in the interview with Chen, Penelow stated that this is the prototype for his new company. Going forward he plans to sell this body kit for others to transform their E30 into something similar. He also plans on taking more of Saleem's renderings and bring them to life.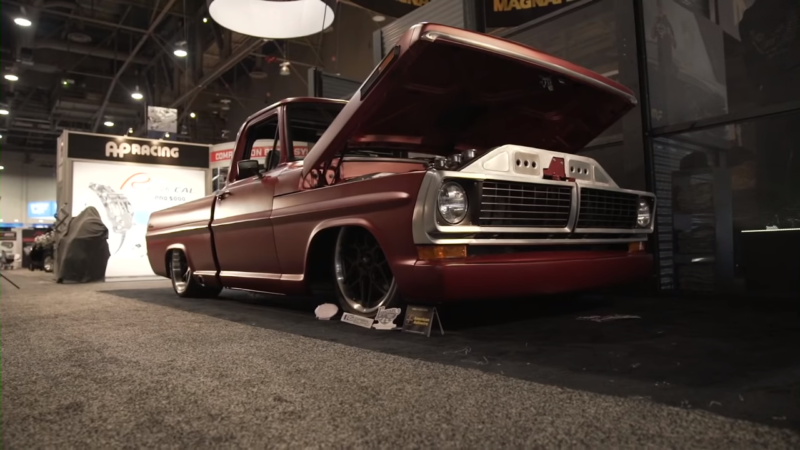 Best Truck/SUV
Unfortunately, there isn't a ton of information on this winner, which is disappointing since it's so cool. It's a race-inspired 1970 Ford F-100 owned by Pete Perry and it combines all the elements of a proper hot rod truck.
Under the hood sits a 521ci Ford Boss Nine V8 from John Kaase Racing. It's a full-on race engine originally found in the Boss Mustang from 1969-1970. As you'd expect, it packs a punch too. According to the Kaase Racing website, the engine puts out around 770hp and 730lbft of torque.
To keep all that power in check, the F-100 sits on a custom chassis from the Roadster Shop. It's similar to the one found on the Road Rage Camaro, so its also ready for track duty.
Perry's F-100 was selected by Jeremy Cook from Truckin and he had this to say about the truck:
"Being a Truckin magazine pick, I had to choose the truck that would get down the road the fastest, and look the best doing it. Basically, a show quality body on a race-ready chassis. There were three trucks that filled this criteria, but in the end, I had to choose Pete Perry's '70 Ford F-100."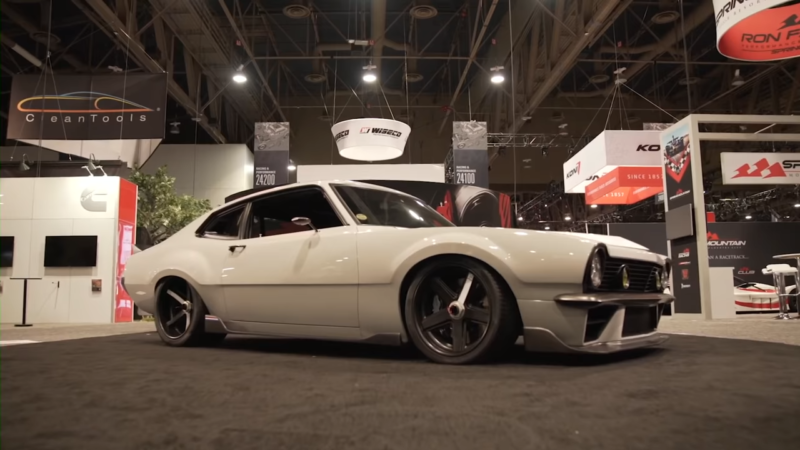 Best Hot Rod & Overall Winner
Now we are on to the overall winner who will find their car one day taking to the track in a Gran Turismo game. It's a bit unusual too since it's a 1971 Ford Maverick — not a vehicle that's typically on sim racing car rosters.
It belongs to Jimmy Shaw and was built by Greening Auto Company in Cullman, Alabama.
From the outside, it looks like your standard modern muscle car build. It sits low thanks to a custom built chassis from the Roadster Shop. The Maverick also makes use of one-off machined wheels made by Greening that really pull the race look together.
The real party piece is under the hood though. There sits a 351 Windsor V8 built by Bennett Racing Engines. That alone would send the car screaming down the strip without an issue, but to further turn up the power Shaw also added a pair of Precision Turbos. The end result is a 1,200hp monster that can eclipse the 200mph mark.
Also according to the judge, Mike Galemi from Fastest Streetcar Magazine, it does it all on pump gas too.
Congratulations to Shaw and we definitely look forward to taking your Maverick for a spin in a future GT title!
See more articles on Gran Turismo Awards, GT Awards, and SEMA 2018.