Slightly Mad Studios continues to be the topic of conversation as of late, and not without reason.
Starting 2019 with a bang, SMS announced its intention to enter the console market. Enter the Mad Box, the platform in question which studio head Ian Bell promises to be the "most powerful console ever built".
What began as a mock-up design with a M-shaped design motif, soon became the finalized design seen below. With Bell remarking the design may go through a revision or two over time, we have to say one thing: it looks good. Now, another piece of the puzzle falls into place: the controller.
Right away, the sleek curvature matches the console, down to the lighting elements. You'll find all the standard fair, including face buttons, two thumbsticks, and a directional pad. On the back are "precision triggers" and rear paddles. Right off the bat, the controller looks geared towards racing games, and we'd expect nothing less.
Like the console, the controller also features a graphic display. This is where things take a very interesting turn and raise a few questions.
The display itself appears to be dynamic in nature. Whether it be in-game information or a digital keyboard for writing messages — it does it all. There's even indicators for what appear to be Home and Menu buttons, battery life, player assignment number, and even WiFi.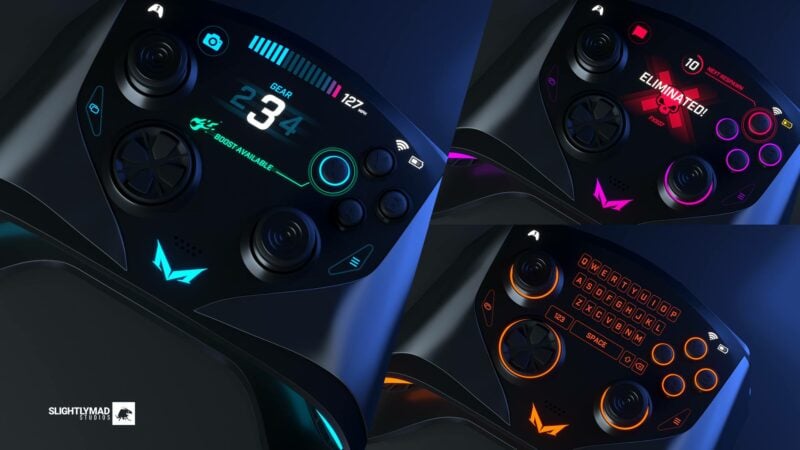 While very impressive, it raises one crucial issue: battery life. How long will it last? Combine all that tech with rumble motors and its a recipe for concern.
Another concern is cost: it's no secret controllers for modern consoles veer on the expensive side.
With as much as the Mad Box's controller has going for it, we'd be surprised if it came in at under $100. For the sake of comparison, an Xbox One Elite controller currently retails for $149.99 — and that's without a display.
See more articles on Ian Bell, Mad Box, and Slightly Mad Studios.