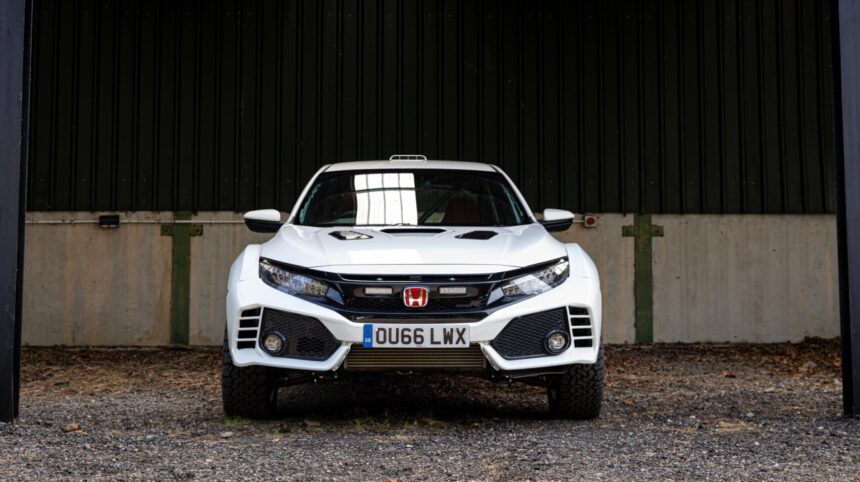 Honda's Civic Type R is without a doubt one of the fastest front-wheel drive road cars ever made. It's set multiple lap records on race tracks around the world, and until recently held bragging rights at the Nurburgring too.
Get it on the open road and it's no less rapid. Despite getting on for two years old now, it keeps seeing off challenges from rivals and still wins group tests and awards. That's left Honda with a mild, but nice problem. How can you improve on the performance credentials of a car that's already class best on the road and the race track?
The surprising answer is you take it off-road. Honda UK has worked with Ralph Hosier Engineering (RHEL) to create the Honda Civic Type OveRland, revealed today at a motor industry event.
RHEL took inspiration from Rally Raid, Overland, and Safari adventure vehicles to create the OveRland. The modifications center on a significant suspension lift, with a custom solution to jack the Civic up by around four inches. You'll likely also spot a wider track and a new bodykit featuring wider arches with more cooling elements.
Surprisingly, the OveRland retains the entire production Civic Type R engine and drivetrain. That means you still get the 316hp, turbocharged four-cylinder, and the six-speed manual gearbox. RHEL has dropped the wheel size down a bit, so now there's a set of 18-inch lightweight rally wheels wearing 255/55 BF Goodrich off-road tires to deliver the power to the dirt.
If you like what you see, there's some good news and some bad. It's not an official Honda product, so there's no plans to put it into production. That said, RHEL will create your very own Civic Type OveRland on request — and it's fully road-legal too.
More Posts On...