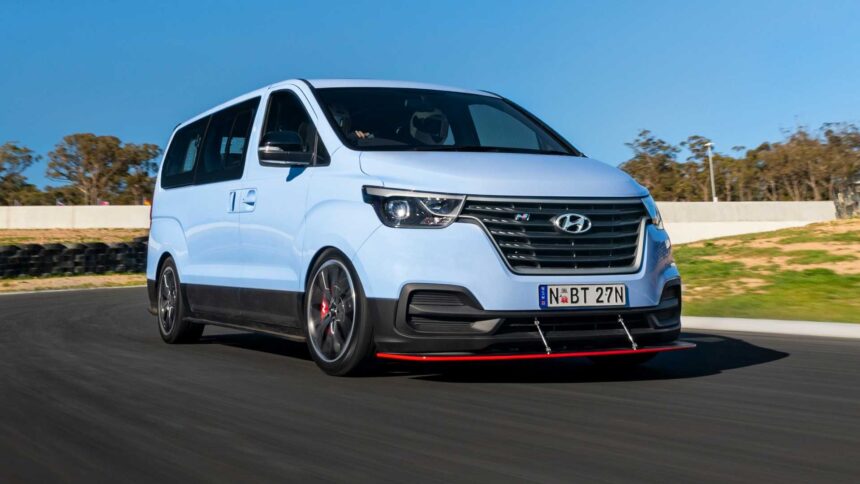 Hyundai has unveiled the latest vehicle in its "N" brand of performance cars, and it's fair to say it's not exactly what we were expecting.
The Korean brand has been making hot cars under the N brand — standing for the twin Hyundai development centers in Namyang and the Nurburgring — for a few years now. It all started off with the i30N, a family hatchback which pulls double-duty as a World Touring Car, before the Veloster got the N treatment.
For the next N model, Hyundai has executed a bit of a sideways shift. Instead of boosting the smaller cars in the brand's range, it's gone for the biggest road vehicle it makes: the iMax minivan.
It's all come about from a little bit of expert trolling. Hyundai in Germany sent out a press release with an image of the minivan back in April — specifically April 1. That seemed to catch some attention, because when Hyundai Australia asked the internet which car should be the next N model, the iMax came in second behind the Tucson SUV.
Hyundai Australia decided that the Tucson would be "too easy" and set about N-ifying the iMax — also sold as i800 and Starex in other markets. The first step was to bin the 2.5-liter diesel engine, replacing it with a 3.5-liter, twin-turbo petrol V6. At 402hp, that's more than double what the regular iMax can offer, and 409lbft is better than the diesel too.
That drives the rear wheels only, through an eight-speed automatic gearbox. There's a differential to help manage power delivery, electronically controlled suspension, an N Performance brake package, and 19-inch alloy wheels (from the i30N) wrapped in performance tires from Continental.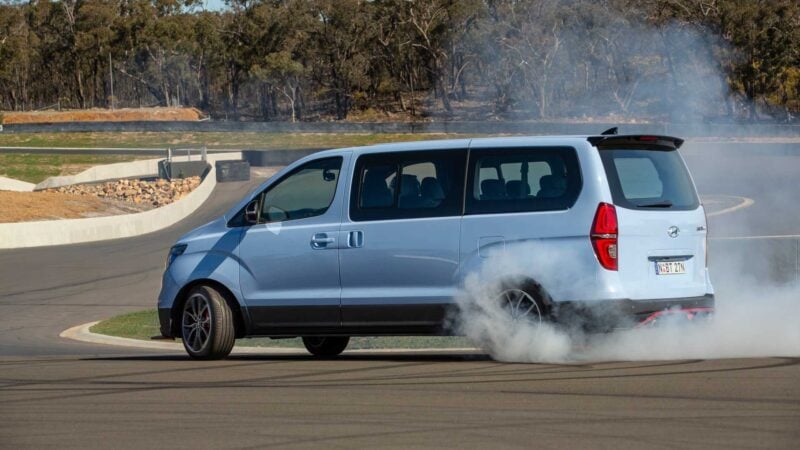 On the outside, the iMax N gains the N Performance Blue exterior paint, and a custom aero kit which includes a large, red splitter. Crucially, it retains the eight-seat layout on the inside, with powered 12-way adjustable N Sport seats in the front, and two rows of rear seats in suede and leather. It still has an 842-liter trunk too.
The end result is what the Australians call the Drift Bus, and it's pretty easy to see why:
It's not just for show either. Hyundai is taking the iMax N Drift Bus to the 2019 World Time Attack Challenge at Sydney Motorsport Park this weekend. There it'll compete in the Clubsprint Class for lap times, the Flying 500 acceleration battle, and, of course, the Drifting Cup.
Sadly, the iMax N is for now a one-off and not actually road legal. Will Hyundai build it with enough interest? Well, there's only one way to find out…
More Posts On...