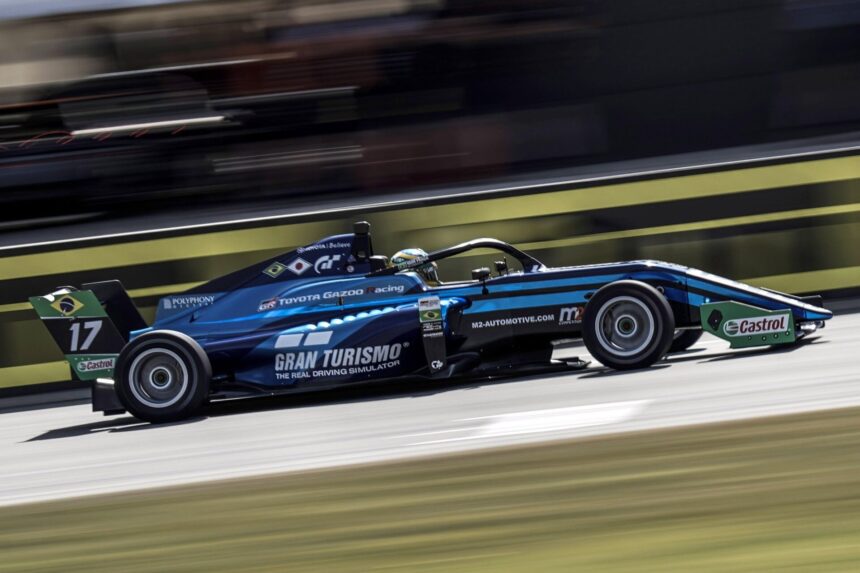 Brazil's GT Sport world champion Igor Fraga has enjoyed a successful weekend at the Highlands Motorsport Park to sit second in the title race after his debut race weekend.
After qualifying fourth for the first race at the track near Cromwell, New Zealand, Fraga had a bit of fortune to finish second behind team-mate and defending champion Liam Lawson. After crossing the line in third, Fraga had an upgrade after a five-second time penalty for the original race-winner and countryman Caio Collet.
The Toyota Racing Series, a domestic championship in New Zealand using Formula 3-standard cars, has a slightly complicated format for the second and third races of each weekend. A further qualifying session sets the grid order for the final feature race, but Race 2 uses the results from Race 1 with a reverse grid draw. The car drawn from the pot starts on pole, with the cars that finished ahead starting behind in reverse order.
That draw put Denmark's Oliver Rasmussen on pole for the second race, but he was quickly overwhelmed by another of Fraga's team-mates, Yuki Tsunoda. Fraga himself also lost a spot, dropping from fifth to sixth behind Lawson — a position he held through to the end of the race despite the best efforts of Franco Colapinto behind.
In qualifying for the feature race, a longer, 20-lap affair, Fraga set the circuit's first ever sub 1:28 lap with a 1:27.968. He ultimately finished fourth, behind Lawson, Collet and Colapinto. However Collet had another race to forget — after crashing in race two, he retired the car before it even reached the grid in race three.
The front five — with Tsunoda just behind Fraga — had a race-long tussle, but ultimately Lawson was too quick and, for the second year in a row, won the feature race at Highlands, and the Dorothy Smith Memorial Cup.
That gives Lawson the championship lead on 82 points, with Fraga second on 67 and Tsunodo in third on 66 — an M2 Competition 1-2-3. There's no rest in the TRS, as the five rounds take place on consecutive weekends. The grid will head to Teretonga Raceway, also on South Island, for next weekend's three races.
Featured image via @1gorFraga on Twitter.
More Posts On...