The iRacing crew has released the latest update for the long-running subscription service ahead of its fourth 2017 season.
Leading the charge is the Ferrari 488 GT3. First teased last month, the GT3 edition complements the quicker GTE version that launched earlier this summer. It features the same 3.9-liter turbo V8 engine, capable of producing over 550hp.
That pales in comparison to the power available in the update's other new car, though. What the UMP Modified may lack against Maranello's racer, it makes up for in brute force. With over 750hp sent to the rear wheels, these beasts are tailor-made for short track dirt racing.
Speaking of dirt tracks, Lanier National Speedway gets a new configuration. Lanier is located just across the highway from Road Atlanta in Braselton, Georgia. The UMP Modified should fit right in on the new dirt 3/8-mile oval.
Finally, in terms of new additions anyway, is Snetterton. The UK stalwart arrives in iRacing with all three of its configurations. The shortest 100 variation is just under a mile long, with only six turns per lap, all part of the infield. The 200 is double the length, while the 300 layout is, surprise surprise, roughly three miles. The first turn (Riches) requires plenty of commitment, while the Coram/Murrays complex demands mastery of trail-braking.
In addition to the new cars and tracks, the developer has tweaked a variety of aspects of the game. You can check out the full change log below.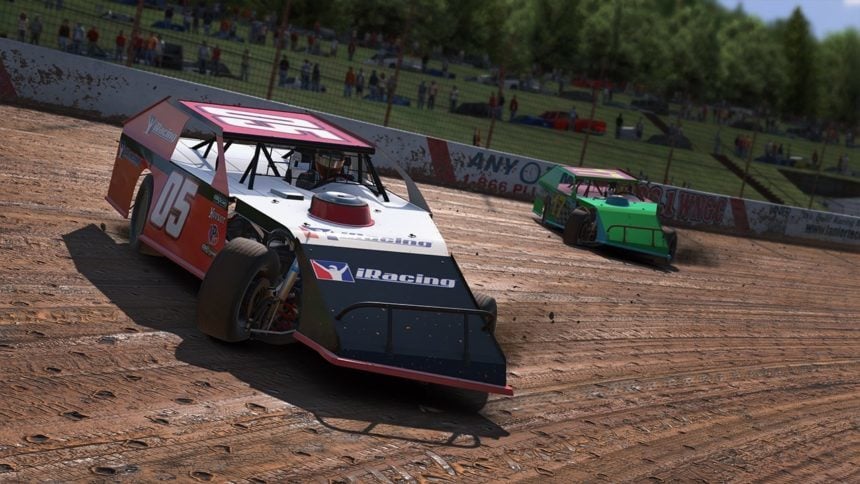 Change Log
Updater
The iRacing updater will no longer ask if you want to create a desktop shortcut if it already exists.
Race Sessions
Race Sessions can now use up to six different vehicles in the same event.
Garage
Bar end displacement has been adjusted for some cars in the Garage UI.
Dynamic Track
The visuals for marbles have been improved.
Fixed an issue whereby a Lone Qualifying session would trigger an error that made some parts of the track on a client unable to send all updates to the server in any sessions which followed, such as an attached race.
Rendering
The number of fixed cubemaps rendered per frame has been reset to 0.

All tracks now have at least one fixed cubemap so the rendering cost per frame will be high. Be sure your system can handle this option.

The option, "forceCrowdVisible" has been added to the [Graphics] section of the "

app.ini

" file.

forceCrowdVisible = 0 (Default 

iRacing.com

 crowd behavior)
forceCrowdVisible = 1 (The grandstands are always full, regardless of event type)
Camera
Fixed a bug that accidentally allowed the track camera option "Limited Acquire" to be toggled on for on-car and driving cameras.
Audio
New Rumble Strip tire sounds have been created for saw tooth, ramped slabbed, and fine tooth curbs for all vehicles.
A new sound event script system has been implemented that allows for more customization of sounds. This is the new base for all event driven sounds in the SIM, and will allow us to add in environmental sounds in the future, including linking sounds directly to animations.
Re-tuned engine and transmission sound parameters for drivetrain loads for all cars. This gives a more dynamic sound with throttle changes as you modulate the delivery of power. Even slight throttle movements will yield more informative sonic responses.
Tuned the rumblestrip and grass rolling volumes for quieter vehicles. Tire surface sounds have also been adjusted and are likely a little on the loud side. This is to cater for users with speaker combinations and those soundcards that play them quiet. Reduce the tire volume slider to taste. The cars affected include the following:

Ford Falcon FG V8
Ford Mustang FR500S
Formula Renault 2.0
Global Mazda MX-5 Cup
Holden Commodore VF V8
HPD ARX-01c
Kia Optima
Legends Ford '34 Coupe
Legends Ford '34 Coupe Dirt
Lotus 49
Lotus 79
Mazda MX-5 Cup circa 2015
Mazda MX-5 Roadster circa 2015
McLaren MP4-12C GT3
Pontiac Solstice
Pro Mazda
Ruf RT 12R
Ruf RT 12R Track
SCCA Spec Racer Ford
Skip Barber Formula 2000
V8 Supercar Ford Falcon circa 2012
VW Jetta TDI Cup

Fixed a bug in the particle sounds and visor dirt sounds that could cause them to be too quiet for some cars.
Pace Car
The pace car's line for entering and exiting its pit stall has been improved.
Dirt
Dirt Track Initialization v2.0
– The creation of initial track state for dirt ovals has fundamentally changed. We now initialize dirt tracks using data gathered from sessions, rather than an algorithm that simulates track activity. This takes advantage of feedback we have received: our dirt tracks progress realistically when run in by drivers turning laps. Variance is achieved by using multiple starting states and wear histories, created by different sets of drivers and cars, to generate the final track state. This means that even for the same initial usage value, the resulting track may not always be the same!
In addition, the default starting usage percentage for dirt oval sessions is now adjusted based on the types of cars in the sessions. Essentially, cars that would normally run earlier at a race weekend and/or are aimed at beginners or rookie drivers will see tackier tracks on average. As drivers move up in car class, they are also considered to be racing later in the event and will typically experience a more worn-out track. Overall, the tracks for race sessions for the upper-end Dirt Sprint Cars and Dirt Late Models will be noticeably slicker than before, but rookies running the Street Stock will still have mostly tacky conditions.
Fixed an issue where some dirt areas along walls could look patchy.
Replay
Several small replay processing and playback enhancements to increase the accuracy of the dynamic track in a replay.
When playing a replay, the play speed will remain unchanged when playing a frame where the player steps into the car, or is the start of a new session. Previously this would trigger an event that would drop the replay out of fast-forward and into regular play speed.
Paint Kit
Four new sponsors have been added.
Chat
Fixed a bug that caused the right-click menu to not work on small chat window.
Virtual Reality
Fixed an issue causing a white flash when transitioning out of a session.
Telemetry
New irsdk variable "CarLeftRight" that outputs a irsdk_CarLeftRight enum indicating if a car is on your left or right. This can be used to replicate our high/low spotter calls.
New irsdk Session String parameter WeekendInfo:TrackDirection: that indicates if the track is a left or right (or neutral) handed track. Use this to detect that you are at a reversed oval so you can properly call high when the car is on your left rather than right side.
Fixed the output of car setup to telemetry to not strip numbers from the key names.
New iRacing UI Preview
UI Scale: You can scale the entire UI up to 200%.
You are now able to "Star" cars, tracks, Series, and Time Attack Competitions.
Cart: You can add cars and tracks to a new shopping cart located in the top right corner. Clicking "continue" lets you check out at the Classic Membersite.
A host of Series Racing upgrades, including:

Sessions have been cleaned up and split into tabs: Race, Qualify, Open Practice, Time Trial.
Open Practice sessions now show the server location and country flag.
Time Trials will allow you to join the single next available time trial.
New "Trending" label appears based on the total racers participating in a series.
New "Hot" label appears when a session has at least 10 registered drivers.

Time Attack now includes both Fixed Setup and Adjustable Setup competitions.
When you try to Register for a Series with multiple cars or classes without first selecting a car, the UI should force you to download the content first.

This should mostly eliminate the "Error 23" that has been showing up.
More Posts On...