A special Gran Turismo movie screening was part of the recent Gran Turismo World Series Showdown in Amsterdam, including a walk on the red carpet and a guest appearance from Jann Mardenborough — the man whose story is the inspiration for the film.
With the movie fresh in attendees' memories, Mardenborough was available for a round-table session for questions from select media and influencers regarding the story and production of the film in which he also appears as a stunt driver.
Table of Contents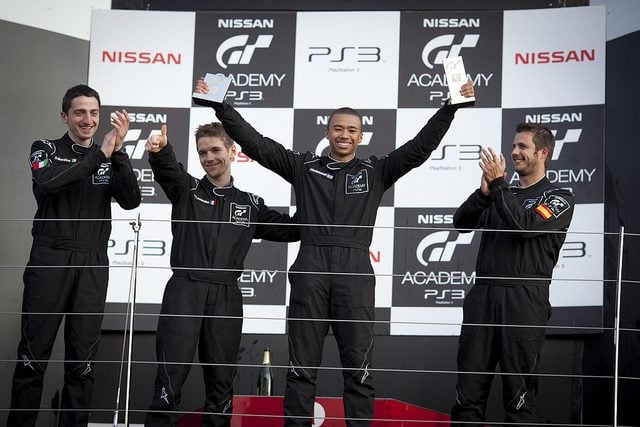 Discovering Racing and GT Academy
Much of the first third of the film is dedicated to Jann's life before GT Academy, including his early life in south Wales, and the question of when he knew he wanted to be a racing driver naturally came up.
Unsurprisingly, the young Jann was obsessed with cars: "My first real interest in anything was cars, and then it kind of percolated into watching motorsport: British Touring Cars."
"The first conversations I had with [my dad] about it he'd tell me, my younger brother, do something in life which … is your purpose and that you're passionate about. In the movie, it's in that opening scene, and I'm very happy it's in there because that's how it was said to me."
"So having that experience and then having my dad say that, I kind of held on to that growing up."
However it was a dream he'd more-or-less keep to himself. "The reason why I didn't say it to my immediate circle of friends around my street is because they always took the piss!"
"From age 14, I'd said to my friends, my first car is going to be a BMW. And it was, but it took me a year and a half after my 17th birthday to get one. I didn't buy a car purposely when I was 17 because I wanted it to be a BMW, because I said to all my friends around my street, it's going to be a BMW and I always got the piss taken out of me!"
"I think that's why I never mentioned it, 'I'm going to be a racing driver', because I just knew, you know, it's like a British thing… in the UK we live in ceilings and if you want to try and raise above that, they pull you down."
"Again, when you're 16, you go to your [school] careers advisor when you're in year 10 and you spend three minutes with this person, she asks or he asks, 'so what do you want to do?' I don't even remember what I said, but I never said I want to be a racing driver."
While Jann would play Gran Turismo with friends, it was never online and only in two-player splitscreen — although obviously he'd be quite a bit faster than them. "[I'd] not slow down, but I'd be in a slower car. I mean, it's more enjoyable to beat somebody with a slower car. Or just have a good race, rather than just go out and, you know, be in the lead by miles! So, I was like, okay, I thought I was good at the game, but […] I just thought I was alright."
Unlike the film, which portrays GT Academy as something of a surprise to the young Jann, the real person knew about the event. In fact he even posted regularly on GTPlanet's forums back in the qualifying stages!
"Once the Academy kind of presented itself… I believe in fate. I was in a kind of a darkish place, dropping out of uni when I was 19, living at home again, working in Next. And then January, February, 2011 I was kind of on a gap year and then this appeared online.
"I'd heard of it in the past and I thought it was a door. Not 'I could win this'; I knew what the prize was, but it's like, for me it was, how far can I go in this. And it's always been that, how far can I… how many doors can I open?"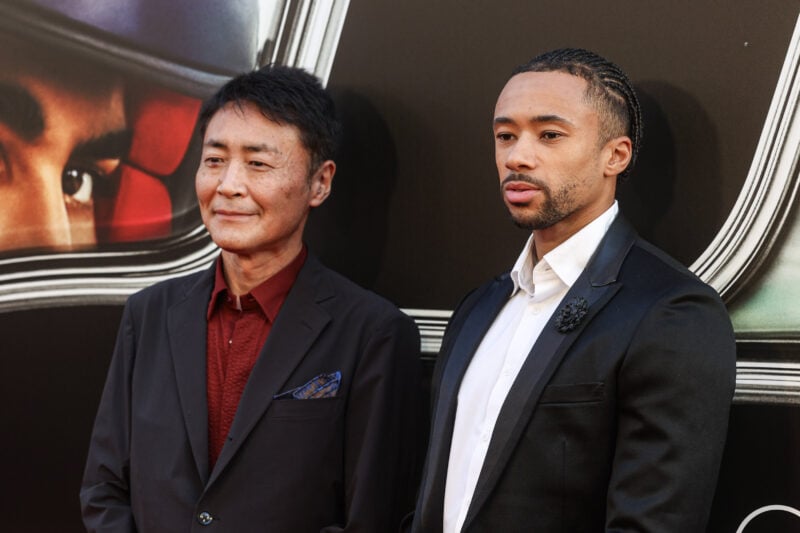 Movie Development
Although the Gran Turismo movie has been in the works at least as far back as 2013, Jann was approached in 2017 about the concept of the film being based on his experiences. "When they asked me, I was like 'why me?'. And also, I didn't believe it, because they said 'maybe' there's a chance the movie's gonna be made about you; the key word is 'maybe'."
From that point on though Jann was involved in the production from ground level. "I've been involved in all the scripts since day one and when the first one came through. I was on a call with all the producers for seven hours while they were in LA, just going through line by line, word for word. going 'okay, that's not right, I wouldn't say that, or the racing here, that's inaccurate, or you know, that's not English humour'."
"The only two stipulations I had to the first person I spoke to in person, one of the producers, Dana Brunetti — this was years ago — was the guy who plays me, has to look like me and he has to have my full name."
"He said he could promise me the person playing me would look like me, but also we would have my first name but we can't promise Mardenborough because Americans have a hard time pronouncing Mardenborough!" (for reference, it's pronounced with an "uh" at the end rather than an "oh").
"Everybody was aligned from the get-go really because they want to put out something which is representative of racing, and of me because it's based on my life. So there nothing that had to be in, that I demanded had to be in there."
Of course at the point the movie was in development Jann was busy racing in Super GT in Japan, but you don't see any of that in the film. "It would have been cool if there was more stuff from Japan but… the movie focuses on really from 2011 until 2015. It would have been nice to do more, but otherwise the movie would be five hours long instead of two and a bit!"
Jann's relationship with his father, Steve, forms a crucial part of the movie both at the beginning and for the climax at Le Mans.
"Me and my dad, we have a mutual respect for one another because we were both doing things as for a job which is our, we believe, purpose and passion in life. You know when you meet somebody who is completely all-in, in their thing, they're so passionate about what they're doing, there's a… people give off a certain vibe."
"My dad played football for 13 years professionally in an era where it's not like the Premiership today of football where they're paid millions. It was like, hundreds of pounds a weekend, not a thousand, so he did it purely because he loved the game. When he saw me have the same vibe of I'm just doing this because I love to do that, he can understand that."
"He always give me life advice before racing, but when I got into racing he understood that, okay, this is your world, I'm not going to give you any advice at all on life or how to drive a car or who to associate yourself with because he knew he doesn't know."
"When we were at home years ago when we were, you know, living together, it was, there were moments where we had like deep, deep chats, and we got emotional. It was never at the racetrack because it's again, when you're going to do your job; that was before the race in the movie, my dad would never do that because it's like me going to him before the start of a football match!"
Behind the Scenes
By now it should be pretty well-known that Jann was also involved in some of the driving in the film, acting as a stunt double, somewhat recursively, for himself as played by Archie Madekwe.
"It's better than any cameo appearance because you know, to just be walking past a camera shot? I have no interest in that… What's exciting to me is to have some sort of responsibility of the racing. I know racing; I don't know cinematography, I don't know acting, but I do know driving a car."
While there's some crossover though between racing a car and precision stunt driving, they are different disciplines. "I don't know stunt stuff, but I was learning on the fly from the team. And I loved it. I really enjoyed how… you have to think. There's a lot more thinking involved."
"The best bit of advice I had was one from the stunt coordinator, Steve Kelso. He said — because I'm the halo car, I'm the main car — if you can't see the camera, the camera can't see you. Even though there's drones and helicopters and stuff, there's always a camera there so I always have to be visible."
"And the way we shot it as well, like with Neill there's nothing static with the shots. In order for the car to look like it's going fast, you have to be going quickly; you can put a camera down and drive past the camera at 50, and it will look like you're doing 150. But if it's moving, you have to be going quick — which is great, because to make a racing car dance at 50mph is really hard to do!"
"I did around 2,000km over those three, three or four months on the set. And we had freedom; they'll be like, okay, go out there and after each lap, we want you in this position. But while we're on the lap, freedom, you can have freedom to do passes and stuff because there's, we're always filming, so it comes across as natural."
It wasn't quite all fun and games though, with Jann recalling some difficulties in filming some "Le Mans" sequences at the Slovakiaring.
"We were doing Slovakiaring the opposite way around the circuit. It was… we had these huge water towers. When you're driving an LMP car, they don't really go well through lots of water, they turn into a boat. We had the track that was… the white lines were freshly painted around the circuit, but they weren't quite dry."
"When the water landed on the track, it was mixing with the paint. Which didn't help because you have not only water going to windscreen, it was white paint. Not only that, we had these auxiliary lights around the circuit, for lighting and stuff, but our headlights were taped up because of the glare."
"So we couldn't see where we were going in the dark, the windscreen was getting covered in paint, and we're driving a circuit that nobody really knows very well through water cannon, water towers, where the car suddenly just turns into a boat and you have no control."
"That was the hardest part of the whole shoot. Probably the most fun as well, really!"
Jann's Next Chapter
Since departing Super GT at the end of 2020, Jann's racing has been all-but confined to the simulator again. He had been working on Nissan's Formula E simulator, helping development of the race car, but with the change in leadership at the team he wasn't retained and finds himself without a race seat of any kind.
"I'm no longer associated with Nissan. That stopped last year; the last two years since the end of 2020 — so '21 and '22 — I was just doing development for Formula E for both Nissan and McLaren for the Gen 3 car. Not only the physical car but also the sim, but it's not what I want to do."
It's not a case of ability — Jann drove the rather ill-fated Nissan GT-R LM Nismo at Le Mans in LMP1H in 2015 and was consistently the fastest driver in the #23 car — but visibility.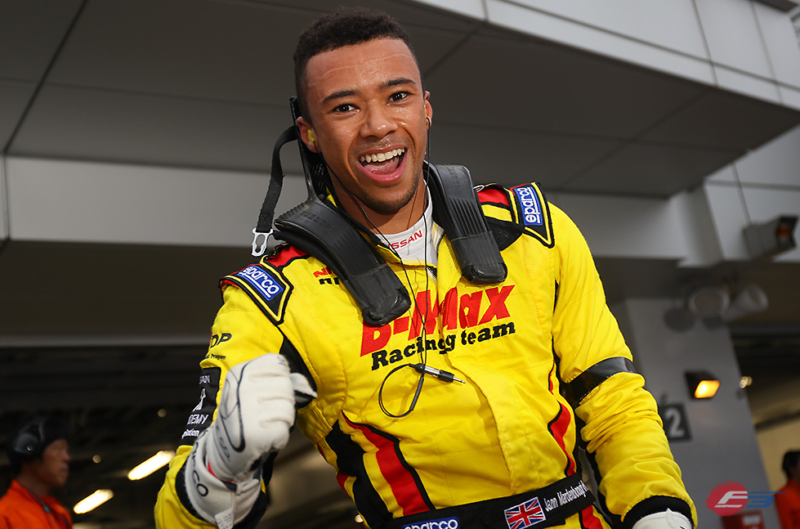 "When I was in Japan, I lived out there. I love Super GT, it's my favorite championship, the cars are amazing. I love living out there. However, when you're in a region for five years, you aren't visible in Europe or in the rest of the world."
"Coming back, it's kind of, you have to be loud again. The movie helps, I guess, with just my name being bright. It doesn't mean that I'm going to get in a seat, because you still have to prove yourself. If I can get a test, fine, it's all good. I know I can jump in a car be, you know, quick straight away."
"I need to be in a full time gig. The target for next year would be Hypercar, that would be the dream. Doing some GT3 racing as well in IMSA, that would be cool."
"So yeah, now, in between doing the movie stuff on set and also the promo for this, it's just been in the paddock, getting in people's faces, talking to teams. Re-branding myself almost because it's been associated with Nissan for so long, people assume it's still the same thing."
See more articles on Gran Turismo Movie, Interviews, and Jann Mardenborough.