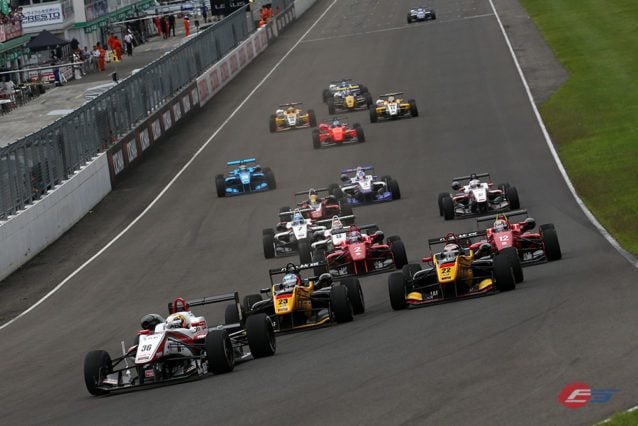 The grand finale of the 2016 All-Japan Formula 3 open-wheel series wrapped up this past weekend, but not in a way many of us may have expected. Despite heading into the final weekend at Sportland Sugo with a points lead, GT Academy graduate Jann Mardenborough lost the title by only three points to Kenta Yamashita after a hard-fought final three rounds.
Round 15
Qualifying is an integral ingredient for success in motorsports. At Sportland Sugo this session receives even greater importance, as overtaking is reported to be quite tricky. Jann opened the first qualification round by setting a lap of 1'13.605. That was enough for 3rd position, but not enough to beat Kenta Yamashita (#36) who took pole with a lap of 1'13.253. This also proved to be the fastest lap of the qualifying round, awarding Yamashita with one extra point.
Although some dangerous-looking clouds rolled in above the circuit, the 25-lap race started and finished without a single rain drop falling. By the end of lap one, Yamashita was 1.7 seconds ahead of Jann and teammate Katsumasa Chiyo (#23), who both fought fiercely for 2nd place. Jann tried to overtake Chiyo on the outside at the beginning of lap two, but without success.
The battle continued until lap 15, which saw Chiyo unexpectedly understeer into a tire barrier, resulting in a safety car deployment. Although the lead Yamashita was building by then evaporated almost instantly, it didn't change the outcome of the race. After 35 minutes of driving, Jann crossed the finish line 2nd, a second and a half behind Yamashita.
The result of this race reduced the points difference between Jann and Yamashita to five, meaning the two rounds that followed became even more important. "I think this was a difficult race, it was hard to reach first position at the start," recalled Jann post-race.
Round 16
The next round saw little change on the qualifying grid. Jann once again settled at 3rd with a lap of 1'13.621, while Yamashita took another pole position by being only 204 milliseconds faster. Sitting on the grid between the title contenders was Sho Tsuboi (#37), Yamashita's team colleague. He ranked 2nd with a lap of 1'13.491.
Because it rained prior the second race itself, the course was partially wet in some places. Such uneven levels of traction required more concentration, so drivers had to be careful. This didn't stop Jann from making a move though. On third lap, Mardenborough successfully overtook Tsuboi, securing 2nd position.
Yamashita tried to run away from the field as quickly as possible. Although he and Jann were separated by more than two seconds on lap 10, after five more laps the difference was cut in half. Unfortunately, this didn't change the ending result. Jann finished the race 2nd, 1.019 seconds behind Yamashita.
Another lost podium to Yamashita reduced Jann's individual driver points lead even further. As a matter of fact, Yamashita was now on top, leading by a single point. All hopes were now lying on the last round of the Sugo weekend.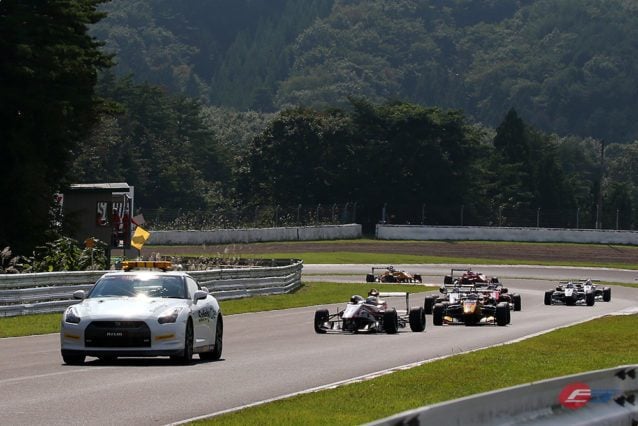 Round 17
The final showdown at Sugo was carried out without the typical qualification process. Instead, the race used rankings from the previous rounds to assign starting positions. On 1st position Yamashita, followed by Jann (2nd) and Tsuboi (3rd). The road conditions were completely dry this time, meaning drivers could go all-out for the last dance.
In the actual race, fortune smiled on Yamashita once more. The new points leader held the leading position confidently, even after the safety car deployed due to a crash on lap 4 involving Yoshiaki Katayama.
By the time Yamashita crossed the finish line (taking his third victory in a row), Jann was roughly 3 seconds behind in second, despite setting the fastest lap of the race. Mardenborough managed to score 110 points, three points below Yamashita. Although Jann's B-Max NDDP squad retained the team lead and clinched that championship with 17 point difference, the GT Academy grad lost the individual driver title. Jann summed up his thoughts in a post-race interview.
"Team TOM'S was very strong and battling their drivers was difficult. Looking back on the season, I think it was a good year. Although second position is frustrating at this point, we were able to gain a lot of experience."
Despite the silver finish, Jann certainly had some impressive races during the season — the Fuji Speedway and Motegi weekends stand out as particularly successful outings. With the fight going right down to the wire this season, we're excited to see what 2017 holds for the GT Academy grad, in the open-wheel discipline and beyond.
Make sure to check our reports on Jann's racing career here. For additional details on the Sugo weekend visit official website. This concludes the 2016 season of the All-Japan Formula 3 Championship. A big congrats to Kenta, Jann, and all the other drivers on a successful season!
All images courtesy of All-Japan Formula 3 website.
See more articles on Formula 3 and Jann Mardenborough.