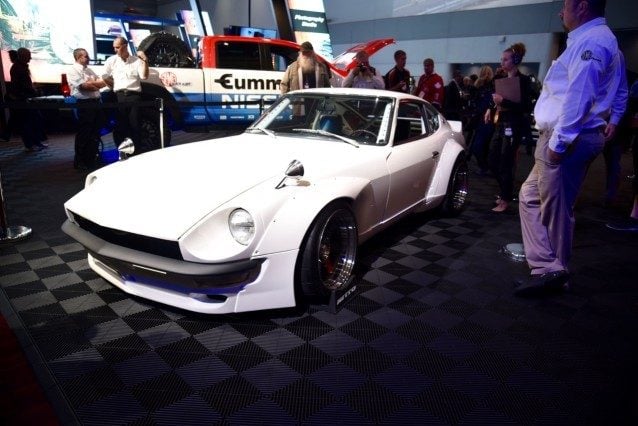 I believe many of you will recall our report from the 2015 SEMA automotive show several months ago when we closely followed the battle between five 2015 GT Awards finalists, all brought together from various categories. Presented by Gran Turismo creator Kazunori Yamauchi himself, the "Best in Show" crown was awarded to a painstakingly-modified Datsun 240Z, which is owned by popular Fast & Furious movie star Sung Kang.
This custom-built machine got a sufficient portion of the limelight due to an interesting story that crafted the entire car project from the cradle. We shared three episodes showing the making of the car from scratch, or how one car enthusiast's dream finally became a reality after lots of effort and sweating.
Of course, it is only natural that such an achievement be recognized by other people who understand and love cars, which is why it is not surprising that popular stand-up comedian Jay Leno inspected the car closely, and heard all the impressions from the Kang himself. The car was featured in Jay Leno's Garage show, and he even got to drive the car in person! Watch the video below and enjoy the outstanding sound of the RB26 engine:
If you happen to enjoy what you've just seen, do not throw yourself into despair yet – all previous winners of GT Awards are scheduled to appear in one of the future Gran Turismo installments. Given that the 240Z received very strong feedback from our community as well, there is no doubt that the appearance of this beauty is highly anticipated.
See more articles on Fast & Furious, GT Awards, Polyphony Digital, and SEMA.