UPDATE: The "Fugu Z" was scanned by the Polyphony Digital team on November 7, 2017 in Long Beach, CA. It was finally added to Gran Turismo Sport in the game's 1.31 update, released on December 5, 2018.
It was another spectacular party for the 2015 Gran Turismo Awards here in Las Vegas last night, where Kazunori Yamauchi crowned this year's Best in Show winner: a beautiful custom-built 1973 Datsun 240Z owned by Fast & Furious star Sung Kang.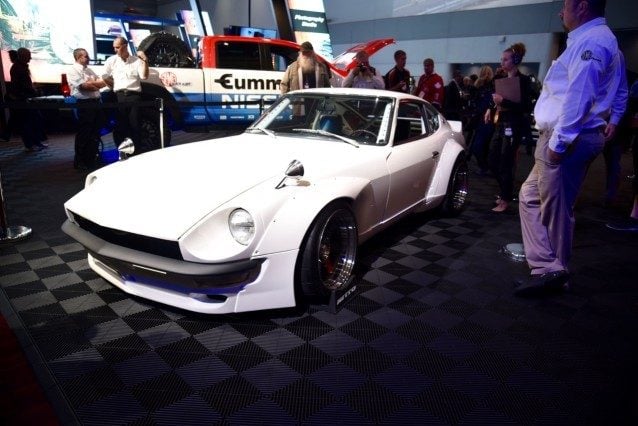 Sporting a Pandem body kit by TRA Kyoto, Volk TE37V wheels, and powered by a naturally-aspirated Nissan RB26 engine tuned by Greddy, the car was a popular draw on the SEMA show floor and a definite favorite among many here in GTPlanet's community.
The car has a nice story behind it as well: Sung has always been passionate about building a 240Z track car, and wanted a project that he could work on to spend more time with his friends. This labor of love started getting a lot of attention as the car was scheduled for debut at SEMA, and FOX Sports began filming a five-part series about how it all came together.
The first three parts of the series have already been posted online (see below). As the 2015 GT Award winner, Sung's 240Z will be coming to a Gran Turismo game in the future.
Congratulations to Sung Kang, Greddy, and all of his friends!
See more articles on Fast & Furious, Gran Turismo Awards, Nissan, Polyphony Digital, and SEMA.