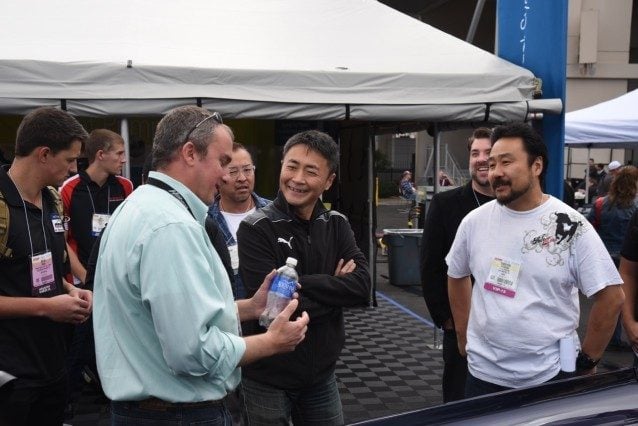 It's been a busy day at SEMA, as Gran Turismo creator Kazunori Yamauchi toured the show floor visiting all the finalists for this year's GT Awards.
One of these cars will be crowned as the "Best in Show" tonight at the GT Awards party, and will be featured in the Gran Turismo series alongside other GT Awards winners, like Mary Pozzi's 1971 Camaro and the late JR Rocha's Infiniti G37.
Best European Import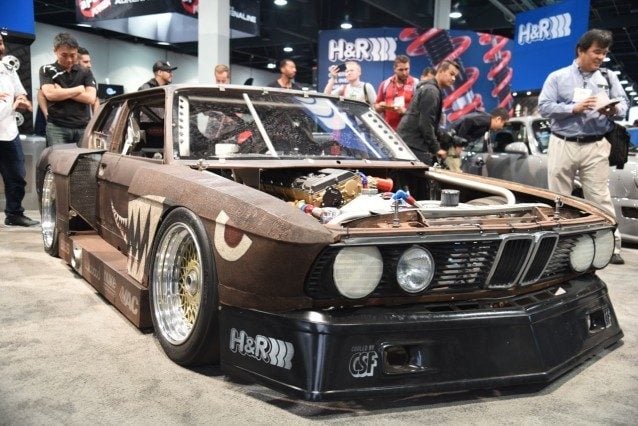 1985 BMW 535i by Michael Burroughs: Tube chassis, group 5 inspired wide body, race prepped S38 motor, porsche 935 BBS center lock wheels, custom everything.
1968 Chevrolet C10 Pro-Touring: Supercharged LS3 engine 700hp Full custom chassis on coil over suspension Over 50 custom body mods. Staggered 19/20 wheels with 15″ rotors, 6 piston calipers, mini tubed 55 Chevy truck dash, full kicker audio, roll cage.
Best Asian Import
1973 Datsun 240Z: Pandem body kit by TRA Kyoto Custom Greddy NA RB26DE Custom carbon interior Custom Hytech header Volk TE37V.
Best Hot Rod
1978 Ford Mustang Hard Top: Detailed parts list not available.
Best Domestic
1970 Dodge Charger: Black / Carbon Fiber Twin Turbo 1650 hp 9 Liter Mercury Racing Engine Carbon Fiber Exterior Panels Full Custom Frame Custom Aluminium Grille and Tail Panel One Off Carbon & Leather Custom Interior.
Which car would you like to see in Gran Turismo? Leave your comments below and we'll see if there's any consensus – there's a strong and very diverse field of competitors this year.
The winner, as chosen by Kazunori Yamauchi, will be announced some time after 8:00pm PST (convert this to your local time) during the GT Awards party. The GT Awards are open to the public and will be held at the Marquee Nightclub in The Cosmopolitan of Las Vegas. Be sure to leave a comment below if you are attending – it's always great to meet GTPlanet members!
We'll be announcing the winner immediately on GTPlanet's Twitter account, @GTPlanetNews. Wifi and cell-phone-battery permitting, we'll also be live-streaming some of the action from the GT Awards on Periscope, so be sure to follow us there.
Good luck to all the finalists!
See more articles on Gran Turismo Awards, Polyphony Digital, and SEMA.