It's hard to believe, but the Huracan showed up on the scene half a decade ago. Lamborghini's given it a sprucing up to kick off 2019, dubbing the new model the Evo.
Outside, the changes are relatively minor, at least up front. A new bumper visually lowers the car, swapping the fang-like design of the previous model for a pair of Y-shaped slats, visually lowering the car.
Out back is where the big changes happen. The family DNA is still all there, but there's a fantastic little ducktail spoiler sat on top. Lamborghini's halved the exhaust tip count, and migrated the two remaining pipes up to the middle of the rear fascia, a la the Huracan GT3. That sizeable rear undertray can come in body color or matte black, but either way contributes to a five-time increase in aero efficiency and downforce, according to Lamborghini.
Under the skin, the Evo gains new tech as well as some from the hardcore Performante. The engine, still a 5.2-liter V10 but now up to 640hp and 442lbft, comes from that 'Ring-blazer.
Lamborghini has introduced a new rear-wheel steering and four-wheel torque vectoring system in the Evo. Both tasks are handled by a new CPU, dubbed Lamborghini Dinamica Veicolo Integrata (LDVI). According to the Italian manufacturer LDVI will "anticipate the next move and needs of the driver, interpreting this into perfect driving dynamics."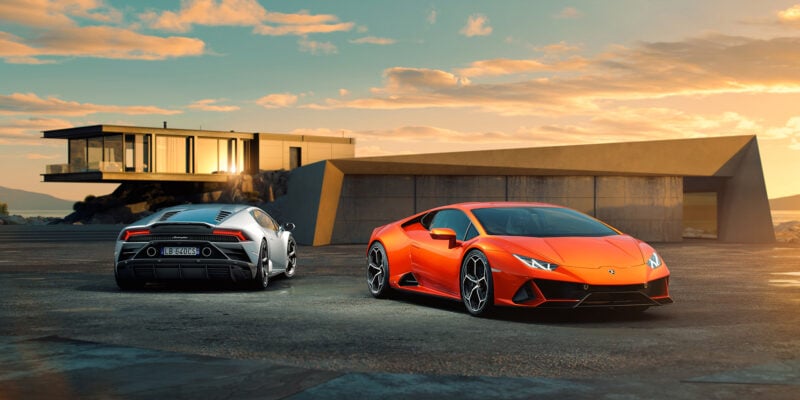 Like the previous model, the Huracan Evo features a magnetorheological suspension, now on its second version. There's also a dynamic steering system, which varies the steering responsiveness based on the Evo's speed for increased agility at low speed and stability in the faster stuff.
It all adds up to another stupendously fast "junior" supercar. The Huracan Evo will click off the 0-62mph sprint in 2.9 seconds, and double that figure in 9.0 seconds. Given enough road, it'll run straight up to 201mph.
Stefano Domenicali, chairman and CEO of Lamborghini, shared this statement:
"Lamborghini is intent on leading the advance to the highest level of super sports car technologies and driving emotion. This is the essence of the new Huracán EVO. It takes the extraordinary abilities of the Huracán Performante and combines state-of-the-art vehicle dynamic control to amplify the everyday Huracán driving experience. The Huracán EVO is the very definition of evolution: it is a step ahead, redefining the segment parameters. It is remarkably easy to drive, while delivering the most responsive, sensory and agile driving experience, in every environment."
The Huracan Evo will go on sale right in time for spring. Prices will start at $261,274 in the US, and £165,256 in the UK. For those of us that like to dream, the Sant'Agata crew has already got the new Huracan Evo configurator up. We're digging the purples!
See more articles on Lamborghini and Lamborghini Huracan.