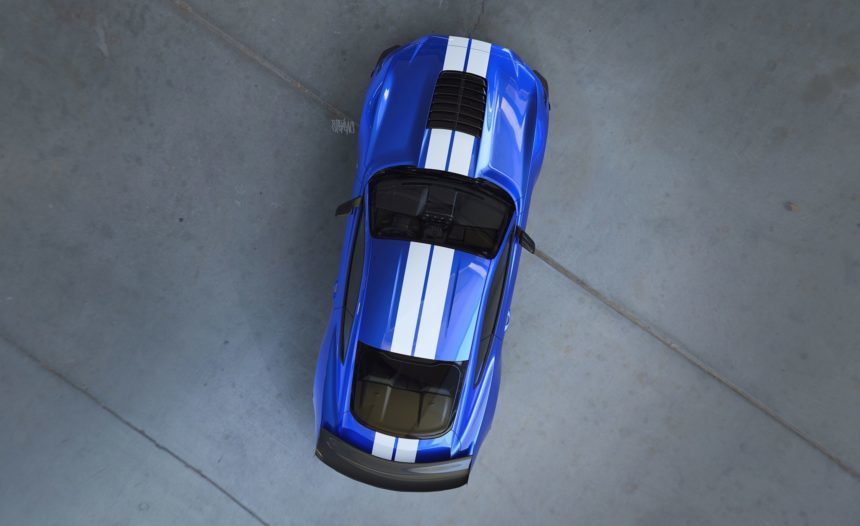 Ford has continued the slow reveal of the monstrous 2020 Shelby GT500. After an initial glimpse of its angry visage, we've now got a bird's-eye view of the +700hp Blue Oval beast.
This latest image comes courtesy of Motor Trend, where the Mustang takes center stage on the July issue's cover. The top-down shot reveals a large heat extractor hood vent. It's a far cry from the comparatively tiny slit in the GT350's hood, and is no doubt there thanks to the serious fire power lurking underneath.
Ford hasn't confirmed what exactly that is yet. All we know at this stage is it will be a V8, producing enough power to top the Camaro ZL1 and Challenger Hellcat — if not the 840hp Demon. The likely candidate is a supercharged version of the GT350's 5.2-liter screaming Voodoo engine.
Other details hint at a car with more track potential than previous GT500s. A substantial front splitter peeks out from under the nose up front. Out back, a fixed rear wing offers plenty of real estate for downforce.
Since reviving the GT500 in 2007, Ford has only offered it with a manual. A recent video of a camouflaged tester (via Mustang6G.com) suggests that could change.
The quick shifts point towards an auto or dual-clutch approach for the newest GT500. Both are possibilities: Ford uses a 10-speed in the cooking Mustangs aleady, and co-developed it with GM (it also does duty in the Camaro ZL1). Meanwhile the Ford GT uses a Getrag seven-speed dual-clutch.
With an official reveal likely months away still, there's plenty of opportunities for Ford to slowly show off more of the ultimate 'Stang.
More Posts On...