McLaren has concluded tests on its Speedtail prototypes with a spectacular display of the car's performance.
The Speedtail, which McLaren classes as 'a hyper GT', is the most powerful and aerodynamically efficient car the brand has ever made. It's a petrol-electric hybrid, packing some 1,055hp from the combination of a twin-turbo V8 engine and the electric motor. The unusual looks and body length — the Speedtail is some 17 feet long — are all in the name of allowing all of that power to become speed without the air beating it back.
To conclude the year-long testing regime, McLaren took the Speedtail to the home of extreme engineering: the Kennedy Space Center. There, chief test driver Kenny Brack was charged with maxing out the Speedtail on the Space Shuttle landing strip.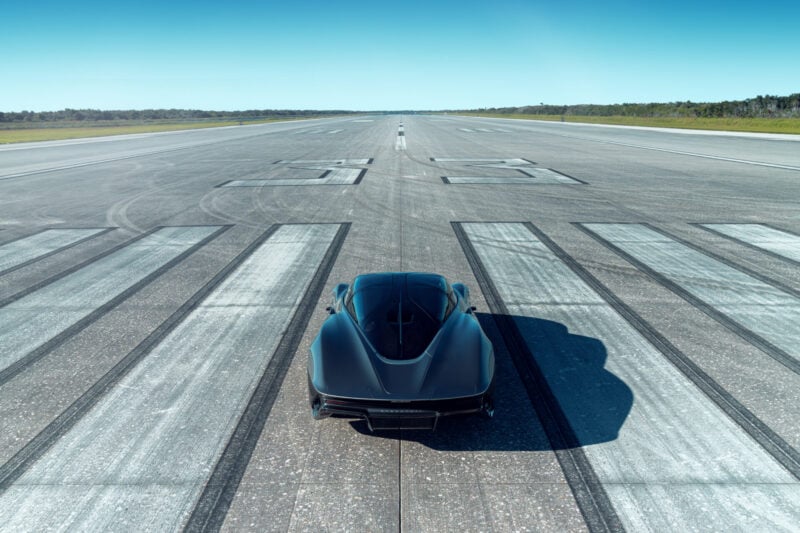 The landing strip is now part of the Johnny Bohmer Proving Grounds, but previously served as the location where NASA's Orbiter craft returned to Earth. Those Orbiters were incredibly difficult to fly, and landed hard and fast.
That meant that they needed a lot of space, both in terms of width to aim at and length to slow down. The handful of runways around the world that could accommodate an Orbiter are enormous as a result.
Kennedy Space Center's strip — officially called the Shuttle Landing Facility — is 15,000 feet long, with another 2,000 feet of runoff, and 300 feet wide. This makes it the perfect place to test cars at high speed, and has seen unofficial records set by Hennessey, among others.
McLaren isn't going for an all-out speed record, rather a car that can comfortably cruise at 250mph with three people on board all day long. Or at least until it runs out of fuel.
Driving the XP2 prototype, Brack was able to hit 250mph not once but 30 times. In addition, the Speedtail was able to hit what McLaren calls a new benchmark for its road cars in the 0-186mph (0-300km/h) sprint. It blew through the mark in under 13 seconds, which roughly equates to a 0-60mph time of under three seconds and a 0-120mph time in the region of seven seconds.
With the final testing completed, McLaren has now started building production cars. First deliveries will start in February 2020, although even at £1.75m ($2.3m) apiece before options, all 106 cars are already spoken for.
Mike Flewitt, CEO of McLaren Automotive, commented:
"It's fitting that the Speedtail's high-speed test program concluded with multiple maximum-speed runs at a location strongly associated with pushing the boundaries of extreme performance and engineering excellence. The Speedtail is a truly extraordinary car that epitomizes McLaren's pioneering spirit and perfectly illustrates our determination to continue to set new benchmarks for supercar and hypercar performance."
More Posts On...