You've seen the name on some of the most famous supercars of all time. Now the Pininfarina badge will adorn a model all its own, as Automobili Pininfarina has unveiled its first production car, the Battista.
The name comes from the company founder, who sadly passed away in 1966. According to his family, it was Pininfarina's dream to one day produce a car under his own name, a dream shared with his son Sergio, and his grandson — and current company chairman — Paolo. As first models go, it's got one impressive spec sheet.
For starters, it boasts a Bugatti-crushing 1,900hp, backed up by an equally monstrous 1,696lbft. The Battista produces all of this without gasoline, instead relying on an all-electric powertrain. Croatian company Rimac is responsible for this T-shaped, 120kWh power source — you may have heard of it. The power then hits the road via an electric motor in each wheel. Active torque vectoring can shuffle the thrust to each corner for optimal performance too.
Naturally this all results in gobsmacking performance figures. 0-60mph happens in under two seconds, triple that figure comes up in 12 seconds, and it can whir up to "at least" 217mph.
The range? 280 miles — not bad given the power on offer. According to Pininfarina, with DC fast charging capabilities, the Battista will be able to hit an 80% charge in only 40 minutes.
Carbon fiber is the main ingredient in the Battista. The monocoque is made of the weave, as are all the body panels. The crash structures mix in aluminum for increased strength. The brakes are also carbon-ceramic, measuring 15.4-inches at all four corners.
Then there's the looks. It's a unique blend of the typical supercar features, managing to have its own identity while still feeling suitably Italian, at least to our eyes. The floating-style front spoiler with full-width LED strip is a look we've seen before, on the Pininfarina Sergio. The flanks are quite clean, utilizing a semi-hidden intake design similar to what we've seen on the likes of the McLaren 720S and Ferrari 488. Meanwhile out back there's a an active wing to keep the Battista planted, even acting as an airbrake when needed.
Inside, customers will be able to customize much of the trim. The "Grigio Luserna" example Pininfarina has shown off — the unique gray and blue car up above — highlights just one style, with a dual-tone black and tan leather interior. Cabin lighting echoes the brand's distinctive blue hue. Three screens flank the squircle-shaped steering wheel, which comes complete with Battista's signature scrawled at the six-o-clock position.
Company chairman Paolo Pininfarina shared his thoughts:
"This is genuinely a dream come true. My grandfather always had the vision that one day there would be a stand-alone range of Pininfarina-branded cars. This hypercar will boast world-beating performance, technological innovation and of course elegant styling. For me, we simply had to call it Battista. His dream becomes reality today as we link our glorious past with the future of motoring."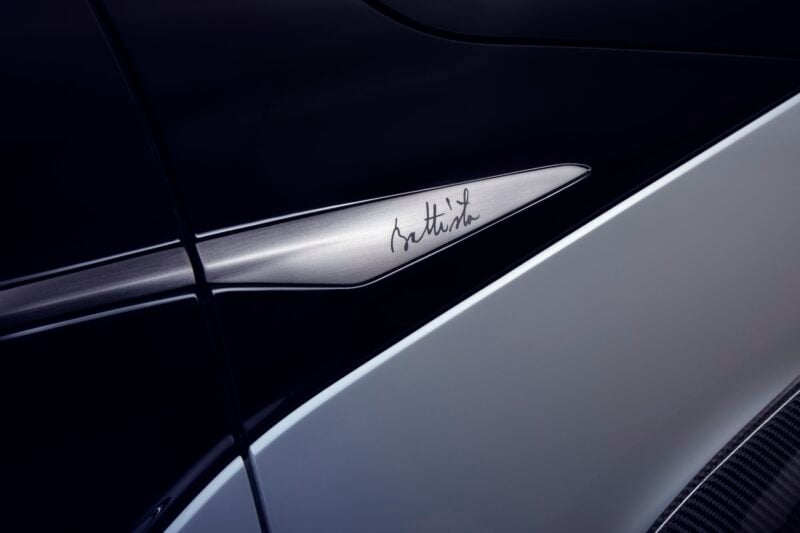 The Battista will be making its debut on the show floor at the Geneva Motor Show, which opens today to media. The order books are already open ahead of deliveries starting in 2020, with over half of the 150-strong production run already spoken for. Pininfarina hasn't revealed the final price either, but you know what they say about having to ask…
More Posts On...