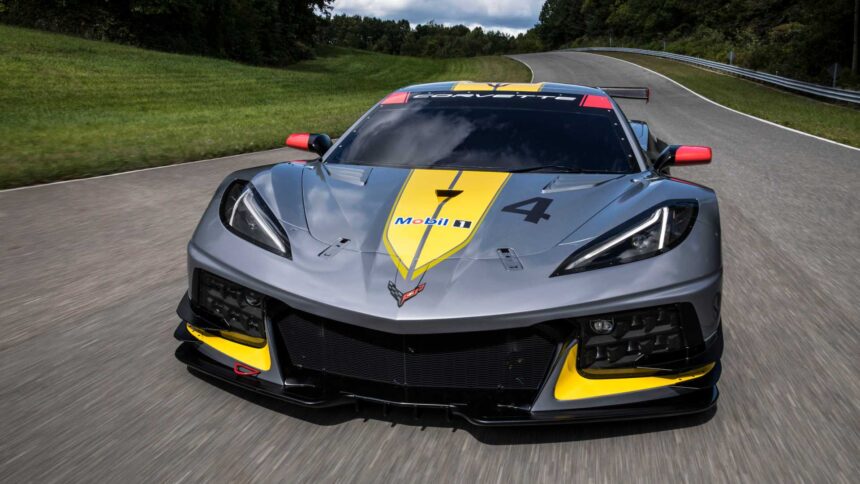 It seems like only yesterday that Chevrolet revealed its new, mid-engined Corvette. The "C8" generation (that's shorthand for Corvette, eighth-generation) of Corvette became the first in the brand's history to have the engine not only fully behind the front axle, but behind the driver too.
That required a substantial redesign which, we think it's fair to say, did not meet with unanimous acclaim. However Chevrolet has — quite surprisingly — revealed the race car variant today, and that's likely to get a different reception altogether.
The C8.R joins its sibling in becoming mid-engined. Previous generations of Corvette racer had the engine mounted pretty far back, but were front-mid at best. That wasn't a particular hindrance to their performance though, as a Corvette race car — C5-R, C6.R, and C7.R — has won its class at Le Mans seven times since its introduction in 2000.
As for the engine, that remains a V8. Chevrolet is however somewhat tight-lipped on the exact nature of the V8. It's likely to be closer related to the outgoing C7.R's 5.5-liter engine than the C8 road car's 6.2-liter version, but we're going to have to wait and see. That said, at least one onlooker caught the sound of the engine in action at the Corvette event in Florida, so at least we don't have to wait to hear it:
The @chevrolet Corvette C8.R is L-O-U-D @therealautoblog pic.twitter.com/rhEzH0WoRm

— Joel Stocksdale (@GeekyGearhead99) October 3, 2019
In fact details on the C8.R are, other than the images you'll see here, all but non-existent. We do know that the car is ready to kick off the 2020 racing season at the Rolex 24 at Daytona in January, and it'll race as a duo in the GT LM class of the WeatherTech Sports Car Championship. That means it meets the GTE category specifications, so we wouldn't rule out an appearance at Le Mans in June.
For now, feast your eyes (and ears) on how the car looks. We'll bring you more information as we get it.
More Posts On...