Over the last week and a bit, all of the F1 teams racing in 2019 have revealed their cars.
With new rules, new engines, new sponsors and even a new team (sort of), it's set to be a very different season. There's changes to the front and rear wings, to reduce downforce and increase overtaking. Pirelli has some new and interesting tires too, after F1 bosses deemed the 2018 items too confusing.
Although there's been a bit of a mix of vehicle and livery reveals, we've now got the gist of what all ten cars look like. We're looking at all the runners and riders and, just for fun, where we think they'll end up at the checkered flag in Abu Dhabi in December.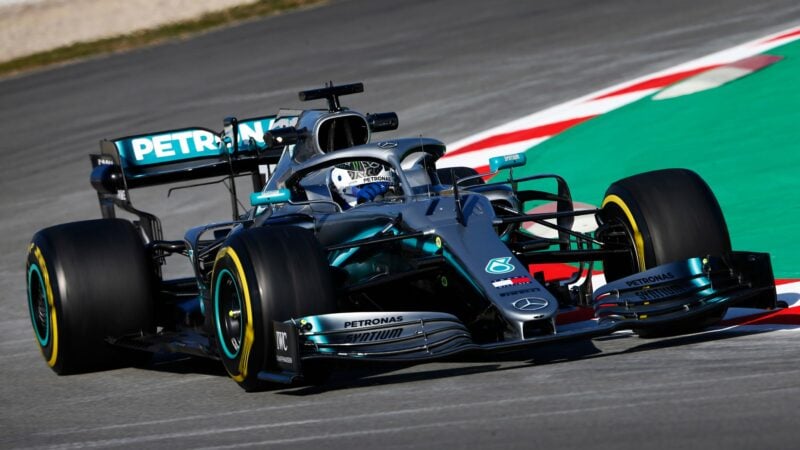 Mercedes-AMG Petronas Motorsport — Mercedes F1 W10 EQ Power+
2018 Finishing Position: 1st
2019 Drivers: #44 Lewis Hamilton; #77 Valtteri Bottas
2019 Prediction: 2nd
Copy, paste, rinse, repeat. If there's anything more consistent in the V6 turbo era than Mercedes, we don't know what it is. It's made one driver change in six seasons, and that's about it. But then why change a winning team? Mercedes has won every driver and constructor title from 2014 onwards, and it's not like it changed on purpose: Nico Rosberg retired.
Nonetheless, we do see a change coming in 2019. Mercedes was about as close to its rivals as it's ever been last season and, but for a late meltdown from the guys in red, the titles might have gone to the wire.
Although we think the driver title might probably still end up in Brackley, we're not so sure with the constructor crown. Ferrari seemed to have the measure of Mercedes on power (except in Q3) and grip last season and it ultimately came down to consistent finishes. While much still depends on who adapts to the new rules better, it's the teams' second drivers we think will decide who wins.
Scuderia Ferrari Mission Winnow — Ferrari SF90
2018 Finishing Position: 2nd
2019 Drivers: #5 Sebastian Vettel; #16 Charles Leclerc
2019 Prediction: 1st
As noted above, Ferrari came close to breaking Mercedes' stranglehold last season. This year we think it will finally manage it — more than a decade on from its last title of any kind in 2008.
The new rules, particularly the new front aero, will play a significant role, but so will Vettel's ability to keep a cool head. However, our eye is on the team's new recruit: Charles Leclerc.
Despite sitting in a car worthy of third-last, the Monegasque driver finished an impressive 13th last season. Ten points finishes in 2018 was more than double-world champion Fernando Alonso managed. Some even pencil in Leclerc as a threat to Vettel's #1 position within the team. Whether that's true or not, he should elevate the team to its best finish this decade.
Aston Martin Red Bull Racing — Red Bull Racing-Honda RB15
2018 Finishing Position: 3rd
2019 Drivers: #10 Pierre Gasly; #33 Max Verstappen
2019 Prediction: 5th
After years of complaining about Renault — to the point it rebranded the engines as "TAG" last year — Red Bull has finally done something about it. Unfortunately, the move is not one that appears especially wise.
Since Honda re-entered the sport in 2015, its best championship finish was sixth. In fact in every other season, it's finished ninth, even coming behind two half-season entries in 2018. Variously described as "no power" and "GP2 engine" by world champion Alonso at McLaren, Honda has never seemed to make up the 12-month development gap. That does not bode well.
Still, we know that Red Bull can make a properly quick race car, even exceeding Mercedes' grip levels. The Honda engine is the closest to the Mercedes in layout too. With potential world champion Verstappen driving it, there could be a Honda podium or two on the cards.
Renault F1 Team — Renault R.S.19
2018 Finishing Position: 4th
2019 Drivers: #3 Daniel Ricciardo; #27 Nico Hulkenberg
2019 Prediction: 3rd
Renault managed a pretty consistent 2018, with Sainz finishing all but two races and Hulkenberg finishing as the best driver outside the top three teams. It's retained Hulk for this season and added the Honey Badger: Daniel Ricciardo. That's as good a driver recruitment as we've seen.
If anything, the team did seem to struggle with power unit component failures last year. This affected Ricciardo, then at Red Bull, more than most, which does beg the question of exactly how Renault secured his services for 2019.
Nonetheless, with two of the best and most experienced drivers on the grid, if Renault can stay on top of the reliability we reckon we might see a yellow third step. Although that's likely to be mostly down to Ricciardo's old team dropping out of contention.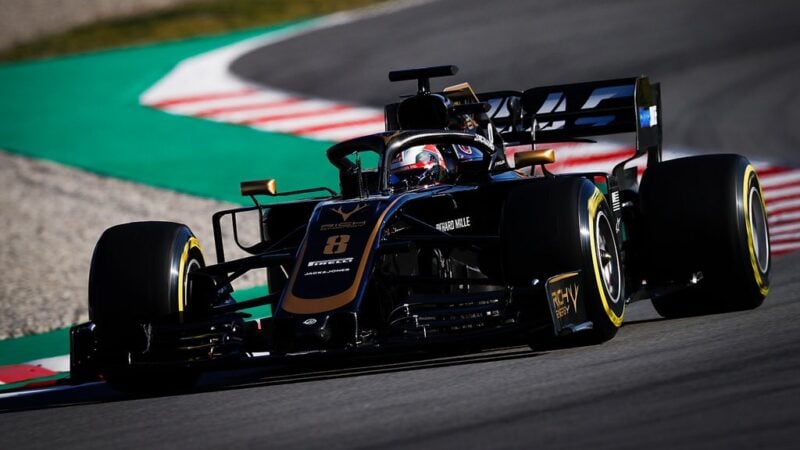 Rich Energy Haas F1 Team — Haas-Ferrari VF-19
2018 Finishing Position: 5th
2019 Drivers: #8 Romain Grosjean; #20 Kevin Magnussen
2019 Prediction: 4th
Last season's Haas was a highly controversial car. Although never officially proven, it seemed suspiciously close to the 2017 Ferrari in design — enough for some to accuse Haas of being effectively a Ferrari B Team.
Whatever its origin, the overall package was enough to get the team to 5th in the standings — even if that came about from Force India losing its points from the first half of the season when it entered administration and emerged as a "new" team.
Haas is the only team to retain its driver lineup for 2019, and with the Ferrari engine proving powerful and reliable it could be enough for a better finish. That depends on Grosjean having a better season though, and Magnussen not picking up enough license points for a ban…
McLaren F1 Team — McLaren-Renault MCL34
2018 Finishing Position: 6th
2019 Drivers: #4 Lando Norris; #55 Carlos Sainz
2019 Prediction: 6th
It's all-change at Woking, but whether that's a good thing or not remains to be seen. After a few years struggling with Honda, McLaren ditched it in favor of Renault last year and… still struggled. World champion Alonso managed the car's best placing all season in the very first race — fifth — but it was a season in the midfield.
With Sainz, the team has a proven, reliable driver who'll notch his century of races this season. Norris is an exciting new talent (in F1 terms) who could provide the spark the team needs. Stop us if you've heard this one from McLaren before…
The team's issues last year seemed to mainly stem from a car that needed a lot of downforce to compensate for mechanical grip. For 2019 F1 has changed the aero regulations and that could help McLaren out — but we don't predict much of an improvement. Alonso is a hard act to follow.
SportPesa Racing Point F1 Team — Racing Point-Mercedes RP19
2018 Finishing Position: –
2019 Drivers: #11 Sergio Perez; #18 Lance Stroll
2019 Prediction: 7th
Racing Point F1 has picked up from where Force India left off, but is effectively a new team. That said, the combination of car and at least one of its 2019 drivers picked up enough points to finish 5th in the championship. Both the excluded Force India and Racing Point Force India outscored Sauber, Toro Rosso and Williams, despite having half the races.
There's potential here then to make a significant impact on the table for 2019, but for one factor. The new team owner seems to have bought it for, in part at least, his son to have a race seat.
Lance Stroll is very much an unpredictable factor. On the one hand, he's managed a podium finish in the Williams, when it wasn't an absolute nail of a car. Against that are just about all of his other results. The only drivers he beat in 2018 have left the series, and one was driving a Honda…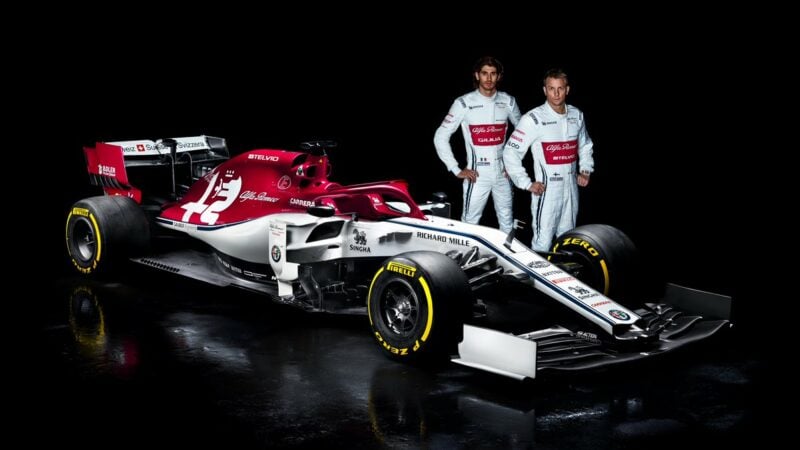 Alfa Romeo Racing — Alfa Romeo Racing-Ferrari C38
2018 Finishing Position: 8th
2019 Drivers: #7 Kimi Raikkonen; #99 Antonio Giovinazzi
2019 Prediction: 8th
Alfa Romeo Racing is the successor to Sauber. In fact the social media accounts are still under the Sauber name at time of writing… Sauber had a strange 2018, with the highlights of Leclerc only equaled by how anonymous Marcus Ericsson was. In fact he went so unnoticed that when Romain Grosjean crashed by himself at Baku, the Haas team thought an invisible Ericsson had hit him.
With the Ferrari engine in the back, the Alfauber can't be all that bad, but Leclerc was getting far more out of the car than it seemed capable of in other hands. For 2019 Alfa Romeo has replaced him with world champion Kimi Raikkonen. Ericsson meanwhile has made way for 2016 GP2 runner-up Antonio Giovinazzi, who drove two races for the team in 2017.
It's the hardest team to predict a finishing position for, but it's never managed higher than 8th in the entire V6 turbo era. We're opting to go to form, and reckon Alfa Romeo will stay 8th.
Red Bull Toro Rosso Honda — Scuderia Toro Rosso-Honda STR14
2018 Finishing Position: 9th
2019 Drivers: #23 Alexander Albon; #26 Daniil Kvyat
2019 Prediction: 10th
Toro Rosso might lead the beauty contest again, but the best-looking car is the one that wins. If the STR14 wins anything this year, we'll be very, very surprised.
For a second successive year, Toro Rosso has an entirely new driver line-up. This consists of Alexander Albon, a former Red Bull Junior driver who finished 3rd behind Williams' George Russell in F2 last year, and the returning Daniil Kvyat. It'll be Kvyat's third stint with Toro Rosso, having graduated to Red Bull, then suffering a demotion back to Toro Rosso before the team dropped him in 2017.
The Honda engine is, as discussed above, likely to still be behind in the development stakes. Even though Toro Rosso is effectively a Red Bull feeder team, it's not likely to have a chassis to make up for the shortcomings. As a result, the team is our pick for the wooden spoon.
ROKiT Williams Racing — Williams-Mercedes FW42
2018 Finishing Position: 10th
2019 Drivers: #63 George Russell; #88 Robert Kubica
2019 Prediction: 9th
Williams, like McLaren, has not been having a good time of it lately. Unlike McLaren, Williams has not had the excuse of an unreliable, underpowered engine sitting in the back of the chassis — the Mercedes is the best engine out there.
2018 was the third worst season in the former world champion's history. Seven points only beat 2011 and 2013 for dismal points hauls, but couldn't save it from its worst ever finishing position of last. As it's also the only one of the ten manufacturers not to take part in the pre-season Barcelona test, we're not entirely confident there'll be much improvement.
That said, the driving talent looks a step up from last year. New boy George Russell is an F4, GP3 and F2 world champion and Mercedes test driver. Old boy Robert Kubica — once mentioned in the same breath as Alonso and Schumacher — is making a very welcome return from what can only be described as extreme injuries.