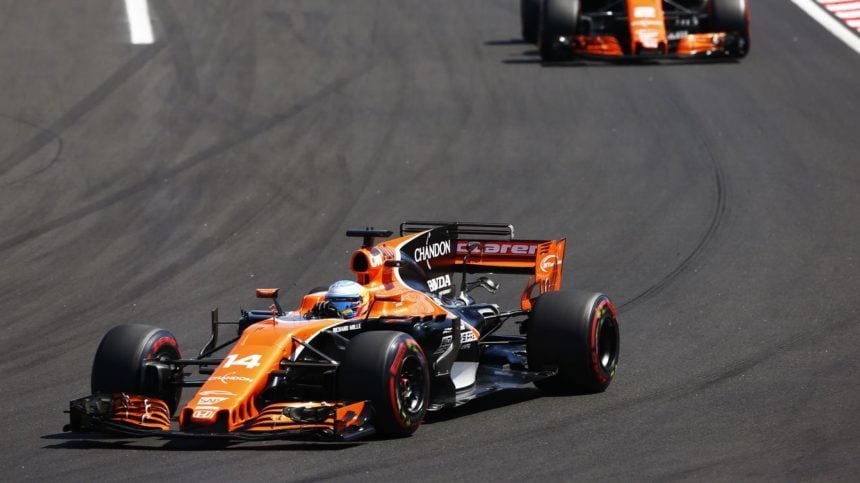 It was one of the biggest stories of the 2017 Formula One season: McLaren and Honda split after three years.
That said, it wasn't exactly a shock. In their seasons together, McLaren went nowhere but backwards. Honda came to the hybrid V6 turbo formula a year after everyone else and was stuck playing catch-up.
At first its engine was unreliable, then underpowered, and then both. Rival drivers would sail past the McLarens in a straight line — not that they needed to as the two drivers racked up more than 800 grid place penalties in total.
It gave birth to so many memes — oh, so many memes — but eventually both McLaren and Honda decided that enough was enough. McLaren moved to the second-worst engine on the grid, Renault, while Honda found a new partner in Red Bull junior team Toro Rosso.
With Azerbaijan ticked off the list this weekend, we're four races into the new partnerships. So how have the two teams' — and two engines' — fortunes fared? We've been looking at the numbers to find out.
Australia
McLaren-Renault: 5th, 9th (Qualified 11th, 12th)
Toro Rosso-Honda: 15th, DNF (Qualified 16th, 20th)
The calendar opener was supposed to be McLaren's new dawn, but it seemed to be business as usual. Neither car broke out of Q2 in qualifying, and 11th and 12th was an improvement of only one place compared to its last Honda race.
As for Honda, it didn't even get out of Q1 in the back of the Toro Rosso. That too represented a one-place improvement for STR compared to its last Renault race.
However, when compared to the season opener 12 months previously, the two teams' changes of fortune can't be more stark. While Toro Rosso had got both cars into Q3 in Australia 2017, McLaren only got Alonso through to Q2.
Although looking for a return to the front of the field in 2018 — McLaren had been claiming its chassis was held back by the engine in 2017 — a double-points finish must have been satisfying. The team's points finishes over the last three years were rare, with just 31 top tens in 116 attempts, so two from two with the new engine was justification.
Toro Rosso would enjoy the race less, with Pierre Gasly failing to even finish. The cause? A Honda engine failure…
Bahrain
McLaren-Renault: 7th, 8th (Qualified 13th, 14th)
Toro Rosso-Honda: 4th, 17th (Qualified 6th, 11th)
Soon though, the decision looked a little less justified. Toro Rosso's qualifying here matched anything McLaren had done in three years with Honda, and the team beat its 2017 Bahrain qualifying by five places for each driver. McLaren had improved too though, but 15th and 17th the previous season at this track was a low point.
Come the race, Gasly stole the headlines. 4th was the best finish for Honda since its return to the sport in 2015 — but McLaren had the more reason to be cheerful. A second successive points finish for both drivers had it 10pt ahead of Toro Rosso, despite the latter's single high-placed finish.
China
McLaren-Renault: 7th, 13th (Qualified 13th, 14th)
Toro Rosso-Honda: 15th, 17th (Qualified 18th, 20th)
McLaren's Bahrain qualifying caused an inquest. Sakhir is, after all, one of the team's three "home" grands prix, thanks to its ownership by the royal family of the state. It didn't do much good, as the team ended up with an identical qualifying result — and one not too dissimilar to its 13th and 16th at the same track 12 months prior.
Woking may have had more of a smile at Toro Rosso's result though. Both cars qualified well behind McLaren, and behind both McLaren's 2017 result and Toro Rosso's own 2017 grid slots.
Toro Rosso would go on to define the race when Hartley and Gasly came together half way through. That created the situation for the safety car deployment that decided the podium, but the two drivers finished well down the pack. Meanwhile McLaren's Alonso took another points finish, but Vandoorne couldn't make it six from six. That did, however, put McLaren within two points of its entire haul from 2017.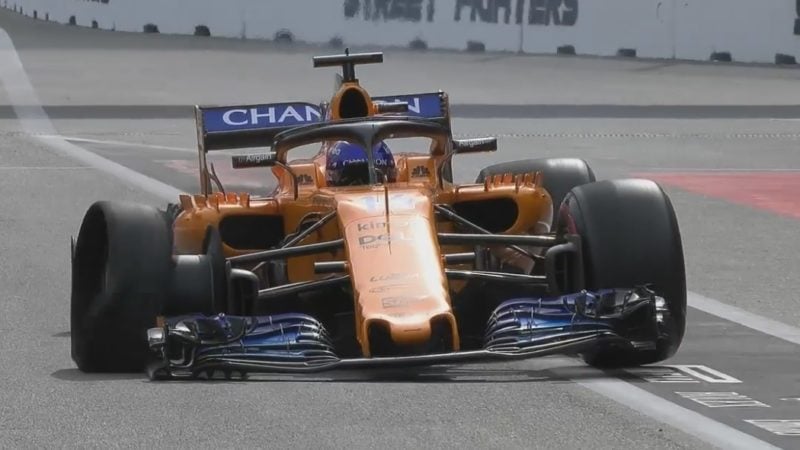 Azerbaijan
McLaren-Renault: 7th, 9th (Qualified 13th, 16th)
Toro Rosso-Honda: 10th, 12th (Qualified 17th, 19th)
For all of its race improvements to that point in 2018, McLaren arrived in Baku still having not placed a car into Q3. And it left in the same manner — 13th and 16th is its worst qualifying result of the season, but still three places better than it managed at the track the previous year.
Although Toro Rosso's qualification came to an end with a heart-stopping moment between the two drivers (again), its third double-Q1 elimination of the season makes for alarming reading — especially against 11th and 12th at Baku in 2017.
The race proved to be utter carnage too, but McLaren made the most with yet another twin finish in the points. This came despite Alonso losing both of his right-hand tyres on the opening lap. Toro Rosso also returned to the points, with Hartley scoring his first ever F1 point, but Gasly could only follow home in 12th.
Qualifying
All-in-all, McLaren-Renault (average 13.3) is qualifying marginally better than McLaren-Honda was at the start of last season (15.5), but a little worse than it was at the end of the year (11.9).
For Toro Rosso, the tale is the opposite. With the Honda engine (15.1) it's over four positions worse than the start of 2017 (11.0), but a little better than the tail end of last season (16.5).
This represents a downturn in Honda's fortunes too. By switching to Toro Rosso, it's lost an average of 3.3 grid places compared to the final four races of 2017, and is only 0.3 places better than the start of last year.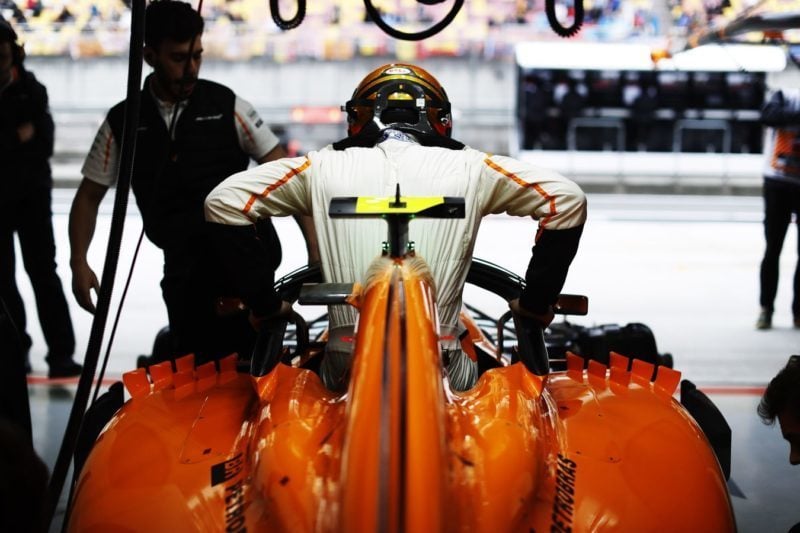 Races
There's no two ways about it, Renault power has taken McLaren well up the pack. Only three teams have managed seven points finishes from eight this year, and they're Ferrari, Mercedes and McLaren. It has a little way to go to challenge for podiums, but an average race finish of 8.1 this year is an eight place improvement on the start of 2017.
Aside from that amazing 4th place result for Pierre Gasly in Bahrain, Toro Rosso has barely troubled the scorers. In fact its race pace has changed little since the end of last season, with both cars averaging a finish of 14.3 over the four races. It started 2017 much more positively, three places better off.
Reliability
By this point of 2017, we were already talking about McLaren's grid penalties. In 2018, it's the only team that has brought both cars to the checkered flag in all four races. Who'd have thought that after the last three seasons?
In fact both cars are still on their original engine components. Last year, Alonso was on his second engine, turbo, MGU-H and MGU-K, while Vandoorne was on his third MGU-H and turbo.
For Toro Rosso at least, things haven't changed that much. By race four in 2017 both cars were two engines deep, along with two turbos, and two MGU-H units each. Kvyat's car was in a notably worse state, with a third MGU-K, and second set of energy store and control electronics.
Honda has represented a mild improvement for 2018. Hartley still has his original engine, but Gasly's on two and both cars have used two turbos and two MGU-H units. However, it may be more of a concern, as the FIA reduced the allowance for 2018 from four of each component to three.
Overall
In pre-season testing Honda covered more miles than anyone, and there were some quick laps too. That lead to questions even before the season had started over whether McLaren had done the right thing.
Gasly's excellent race in Bahrain only lead to more, but one swallow does not make a summer, and ultimately Toro Rosso has fallen behind McLaren. The fact that its results are broadly comparable to 2017 suggests that Honda has made strides over the winter.
There can't be much doubt though that McLaren's results are streets ahead of where they were at any point in the last three seasons. It's already outscored its results for the whole of the 2015 or 2017 seasons, and is scoring at three times the rate it did in 2016.
Qualifying is still a wrinkle, and McLaren's claims of previous seasons that its chassis was in the top three don't seem to be verified just yet. Still, the team has gone from nearly 14 grid penalties per race to the most reliable car on the grid. It's also the leading team not to have won a race.
Disappointing though it may have been, it looks like a very necessary divorce. For now, at least…
More Posts On...