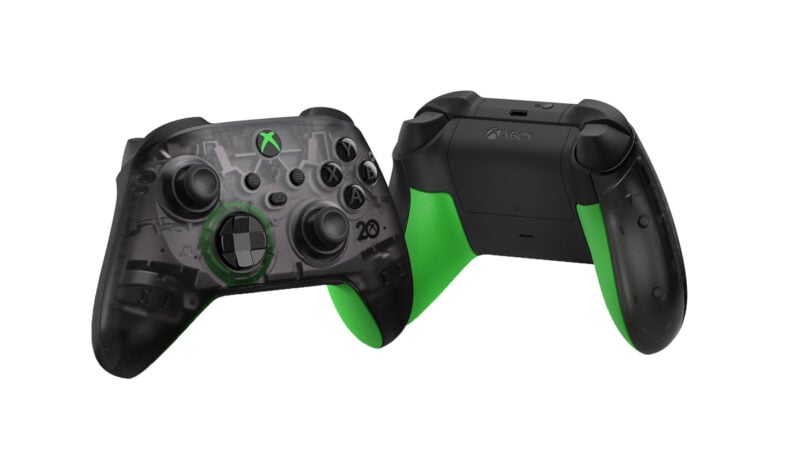 A special Xbox controller designed to celebrate the 20th anniversary of the console first launch has leaked out a few hours ahead of schedule thanks to one over-eager retailer.
Microsoft only teased the controller yesterday, but the Canadian arm of North American electronics chain Best Buy has already published the final product undisguised.
The controller, for Xbox Series consoles, features a number of special design features aimed at marking the 20 year interval and bringing a dose of nostalgia for the days of 2001.
At the front the 20AE controller features a translucent black faceplate, reflecting the colors of the original Xbox shell. On the controller the see-through nature of the cover means you can see some of the inner workings beneath.
You'll also probably spot a special 20th Anniversary logo, featuring the Xbox "X" through the "0", matching the main power button of the controller.
In addition, there's a good splash of a lurid green color throughout, just as with the original console's central badge. This covers the "X" in the power button and the rear grips, as well as a ring inside the controller around the hybrid D-pad.
Everything else on the controller is black on black — or perhaps dark gray at the very least. That covers the button markings, the D-pad and the joystick controllers too. Otherwise, the 20AE controller is the same as a regular Xbox Series controller.
Best Buy lists the 20th Anniversary Edition controller at $79.99, though that's in Canadian dollars. That would roughly convert to $64 (€55/£47), which puts the pricing a little higher than a regular Xbox Series controller, but not quite in the same ballpark as the limited edition Forza Horizon 5 controller.
To go with the controller, Microsft will also launch a 20AE version of the Xbox Stereo Headset. This comes in the same color scheme as the controller, with the distinction of having the 20th Anniversary logo picked out in green on the left side of the headset.
Whether these peripherals hint at special editions of the Xbox Series S and Xbox Series X to mark the anniversary too remains to be seen.
Update: Microsoft has now officially unveiled the controller and headset, both with confirmed pricing of $69.99 (£59.99/€64.99). Both will be available on November 15, 2021, 20 years to the day since the first Xbox launched.