Need for Speed and sports clothing brand Puma have teamed up for a crossover capsule collection with game-inspired clothing that allows you to match your avatar from the virtual environment of NFS Unbound.
The "Puma X Need for Speed Unbound" collection consists of a range of outwear items, including hoodies, t-shirts, sweatpants, and sneakers to go with your in-game fashion style.
It's not Puma's first ride with Need for Speed. The company has been part of NFS Unbound since the start, with an in-game rival racer called Chase who drives a green Porsche 911 GT3 RS wrapped in Puma logos. However it's previously also released special "Hi OCTN X NFS" sneakers in 2019, marking the launch of Unbound's predecessor Heat.
The clothing pieces, modelled above by entirely unrelated cartoon mannequins, each have a black base color, with contrasting NFS and Puma designs using Unbound's characteristic "graffiti" style.
That extends to lightly defacing Puma's long-standing "Forever Faster" logo in white with blue, so that it reads "Need for Speed".
Naturally there's also a collection of four special edition Puma sneakers, with the Maco SL, RS-X, RS-TRK, and RS-X JR items all available in special NFSU-branded and styled variants. Finally there's a baseball cap that sports the branding too.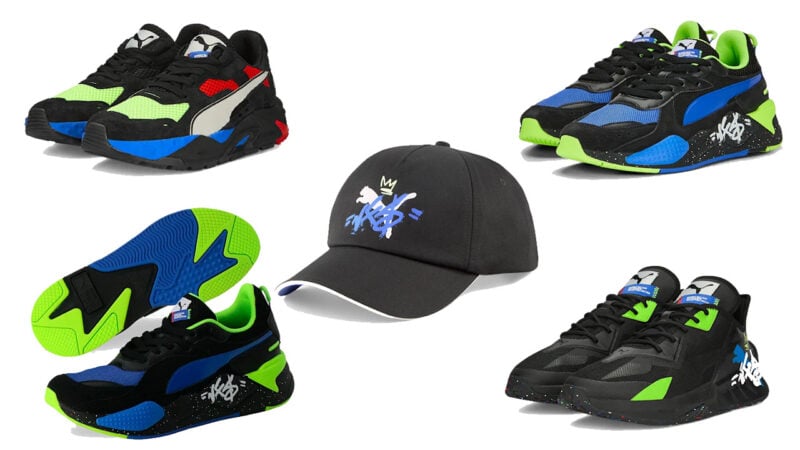 The PUMA X Need For Speed Unbound collection is available at Puma and Footlocker retail outlets and the Puma websites — although at present we can only see the sneakers, priced from $100-$130, and the $40 baseball cap. We'd expect the other items to be similarly priced.
As for Need for Speed Unbound itself, news on the first content drops will be coming in March. You'll also be able to secure quite a discount on the title currently, with the Palace Edition including the DLC coming in at $/€40 (and £40) in the PlayStation and Xbox stores right now.