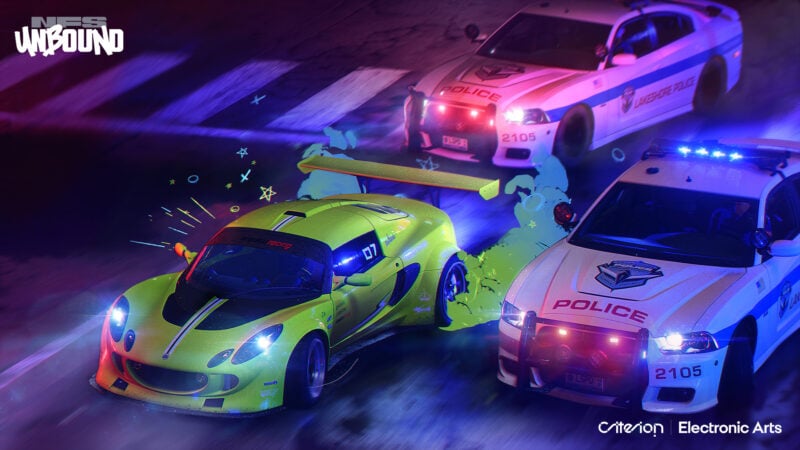 A new trailer for Need for Speed Unbound has arrived, showing more new gameplay footage and giving a glimpse at the in-game economy.
The trailer is titled "Risk & Reward", and it looks primarily at some of the methods by which players can earn the in-game currency "Bank".
Naturally you'll earn money for participating in the street races around which Unbound is structured, but there's other ways to boost your Bank balance too — which you'll need if you're going to upgrade your car enough to compete, and to earn your way into the weekly qualifiers.
Placing specific wagers against your rivals is one way, with players able to "side-bet" their way to more money — assuming their car and driving is quick enough to back up the gamble. That increases the prize pot for any given race.
You'll also be able to score more cash by evading the police, with what EA terms "escape mechanics". This would appear to be specific, and dangerous, maneuvers that you can perform to make a clean getaway — and the higher the risk factor the bigger the bonus.
Pick up enough "heat" and the cops will even try to take you down mid-race for an extra challenge, and they'll escalate to unmarked pursuit cars, militarized SUVs, and even helicopters.
Players will need to be well-funded too, with even more extensive vehicle modifications shown off in the new teaser along with having to buy your way into the Saturday qualifiers and the month-ending "Grand" showpiece. It's not clear right now if that means the entire career takes place over four in-game weeks or if it's a repeating event.
Along with new cars and mods, you might also catch a glimpse of pedestrians in the trailer. These appear to be fully dynamic NPCs, leaping out of the way of the street-racers, rather than the passive and intangible folk from Fortune Valley in Payback.
Unbound will launch on December 2, on PC, PlayStation 5, and Xbox Series, with three days' early access for EA Play members.