It's often the way that when two momentous events occur together, there's a joint party.
Well, this year the Italian design house Italdesign and the Japanese performance icon of the Nissan GT-R both hit 50 years old. This car, the Nissan GT-R50, is their joint party.
The two companies started with a Nissan GT-R NISMO as a base — not a bad start for any project. The changes start right at the front, with a new golden inner section of the grill, officially called "Energetic Sigma Gold". There's redesigned headlights too, which are a familiar overall shape, but now feature horizontal lines of LEDs. The bonnet gets a more noticeable bulge, with the NACA ducts also lined in gold.
You might notice that the proportions from the side seem a little off. That's because the roof is two inches lower than before, with the center part of the roof itself lowered further still to create a channel. The side vents and door mirrors feature the gold finish too.
At the rear you'll spot even more gold — driving home the 50th anniversary message — with the entire center section of the car between and behind the roof pillars in gold. The exception is the rear wing, but when this active aero device deploys, you'll see the gold beneath it.
The tail lights are very reminiscent of the Nissan 2020 Vision GT Concept. They consist of circular LED rings with a hollow middle, much like the fictional car Nissan unveiled four years ago.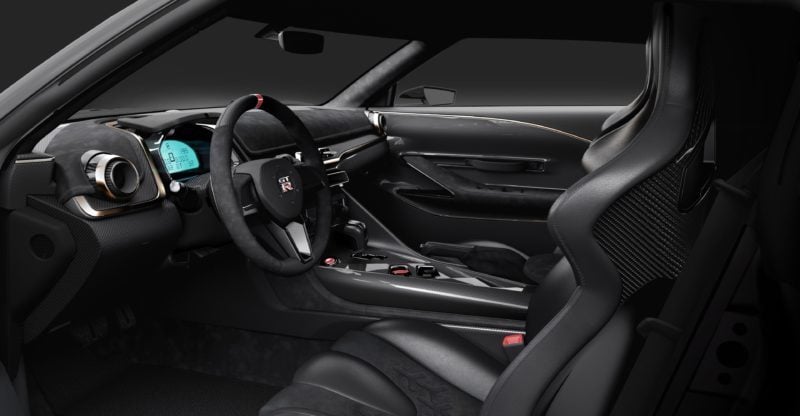 In the cabin there's plenty of carbon fiber, Alcantara and leather, all in black. Some interior components — vent surrounds, styling lines and switches — feature, you guessed it, gold accents.
But it's not just a body job; the GT-R50 features some serious power too. It retains the 3.8-liter V6 of the 592hp NISMO car, but this new version delivers an estimated 710hp. This is achieved with new GT3 spec turbochargers, larger intercoolers and revisions to the crankshaft, cams, ignition, intake and exhaust systems.
It still delivers power to a six-speed dual-clutch gearbox but this is reinforced, along with the rear differentials and drive shafts, to cope with the new power output.
There's suspension revisions too, with a Bilstein DampTronic continuously adjustable damping system. The car still uses Brembo brakes, with six-pot front and four-pot rear calipers. The GT-R50 sports unique 21-inch wheels clad in Michelin Pilot Super Sport tires.
Alfonso Albaisa, Nissan's senior vice-president for global design, comments:
"How often do you get to ask, 'What if we created a GT-R without limits,' and then actually get to build it? This is a rare window in time when two big moments intersect: 50 years of Italdesign shaping the automotive world and 50 years of Nissan generating excitement through our iconic GT-R. So to celebrate this convergence, Nissan and Italdesign created this custom GT-R to mark 50 years of engineering leadership.

"Although this is not the next-generation GT-R, it is an exciting celebration of two anniversaries in a provocative and creative way – wrapping one of Nissan's best engineering platforms and Japanese design with Italian coachbuilding."
The Nissan GT-R50 by Italdesign will make its debut in Europe in July, likely at the Goodwood Festival of Speed.
See more articles on Nissan, Nissan GT-R, and Nissan GT-R50.