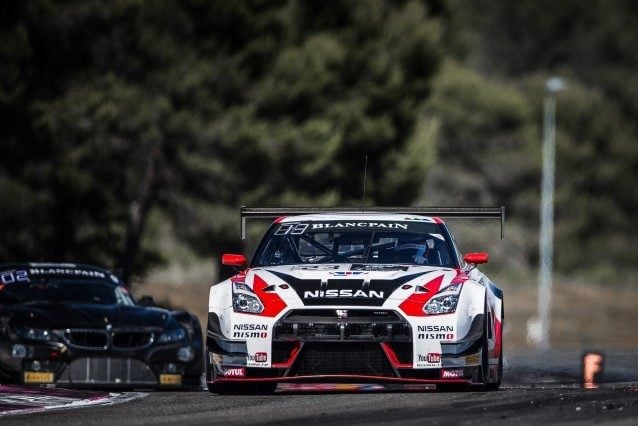 The Le Castellet circuit in France, better known to the motorsport community as the Circuit Paul Ricard, was this week's home to the Blancpain GT Series as the official pre-season testing began for the upcoming season.
This of course meant that Nissan and NISMO along with GT Academy Team RJN were out in force, with a host of new drivers able to get their first taste of what lies ahead. The circuit itself proved a vital part of the team's season in 2015, as their victory in the Six Hours of Paul Ricard formed the foundations for their Driver's Championship success within the Blancpain Endurance Series. For 2016, not only will the team be aiming for a repeat of their Endurance Series success, but they will also be expanding their horizons with a programme in the sister Blancpain Sprint Cup.
A total of 7 drivers began their testing programme on Wednesday. The first drivers out were Sean Walkinshaw and Mitsunori Takaboshi, both new additions to the factory effort. However, it would be Takaboshi who impressed from the outset, putting in a string of laps that placed the number 23 GT-R a strong fourth position. Matt Simmons, the 2015 GT Academy champion, was also able to run his first laps of the year alongside 2014 winner Ricardo Sánchez.
Day two saw a focus on the number 22 car, with Simmons, Sarazin, Sánchez and Walkinshaw all getting valuable mileage with the car. With the test completed, Simmons summarised his first taste of the car as "an amazing experience", but reinforced that the team are "not setting expectations too high" – the lack of experience instead requiring the drivers to "ease into it".
The first round of the Sprint Cup begins on the 8th of April in Misano, Italy, only a short few weeks before the Endurance Cup begins in Monza on April the 24th. As always, keep an eye on the News section for updates on both series as the season progresses.
More Posts On...
The original comments for this post are no longer available.