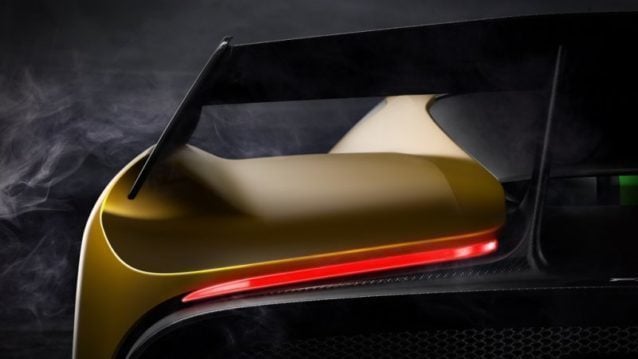 The Geneva International Motor Show is one of the biggest of its kind. All manner of debuts typically happen there, and this year's brace of new metal will include the latest addition to the "not even halfway done" Vision GT project.
This new model comes from legendary Italian coach-builder Pininfarina, but that isn't the only big name involved in the project. The name is a hint: Emerson Fittipaldi has lent his initials and input to the new vehicle. According to Pininfarina, "his sole mission was to apply all his track knowledge on creating a new experience that will elevate the driving ability of all super car enthusiasts from around the world."
Offering assistance on the technical side is HWA, the AMG spin-off company that deals with many Mercedes-Benz motorsports endeavors (including DTM). We wouldn't be surprised to hear the rumble of an Affalterbach-built V8 emanating from the car's tailpipes next month…
While we can't gleam much from the first teaser, the large rear wing suggests this will be a very track-oriented beast, compared to earlier Vision GT vehicles like the first Mercedes-Benz model.
If it feels like it's been a long time since the last Vision GT reveal, that's because it has. Bugatti teased its VGT creation prior to the official announcement of GT Sport way back in autumn 2015, alongside the prototype-style Hyundai N 2025. Both cars were on display in Frankfurt that year.
Geneva didn't get a Vision GT reveal in 2016, but it had a connection to the program nonetheless, as the production Chiron was unveiled, drawing heavily from the Polyphony Digital partnership creation.
Curiously, the press release only states that the car will be available in the Gran Turismo series, not specifying GT Sport. With the game set to release this year, it seems unlikely the Pininfarina EF7 won't eventually be made available, even if not on day one.
The Geneva International Motor Show begins March 7. Stay tuned to GTPlanet for more news on the event as it gets closer.
More Posts On...