The season finale of the Pirelli World Challenge took place last earlier this month at Mazda Raceway Laguna Seca. While the hunt for the title was essentially a two-horse race between McLaren pilot Alvaro Parente and Porsche driver Patrick Long, few would have predicted quite how the final standings would shake out. Parente emerged victorious, snatching the title from the 2011 winner as well as putting an end to Johnny O'Connell's four-year-strong title run with Cadillac.
Qualifying on Saturday showed just how closely-matched the field was at the twisting turns of Monterey, with less than half a second separating fastest man O'Connell (#3 Cadillac ATS-V.R) and 9th place Bryan Heitkotter in the GT Academy GT-R. Long would just barely miss out on pole position, qualifying only 0.024 seconds behind the 54-year old veteran.
O'Connell's teammate Michael Cooper would line the other Caddy up directly behind in third, with a quartet of McLaren 650S GT3's covering fourth through seventh (Jon Fogarty, Austin Cindric, Alvaro Parente, and Colin Thompson, respectively). Gunner Jeannette brought the Porsche 911 of Alex Job Racing onto the outside of the fourth row, followed by the afore-mentioned Heitkotter in ninth. Mike Skeen rounded out the top ten with a lone Dodge Viper.
From the green flag, Parente wasted no time leapfrogging not just the other Woking cars, but Cooper's ATS-V.R, slotting into third. Cooper would remain in the points leader's mirrors for the entire 50-minute duration of the race. O'Connell would fair slightly better up front, maintaining clear air between himself and Long's 911. While both Cadillac drivers could technically still win the championship, the only way that would happen would be for both Parente and Long to retire.
By lap 20, Bryan Heitkotter would move the big Nissan up to fifth place, a prime position to capitalize on the two battles being waged in front. The field would bunch up shortly after on lap 22, with a full course caution after Drew Regitz took an off-track excursion at the Andretti Hairpin. Cleanup pushed the race ever closer to the 50-minute mark, and it would end up being a lone lap under green conditions to determine the championship. Watch it unfold below:
Coming out of Turn 4, O'Connell dipped two wheels into the dirt, giving Long all he needed to attempt the outside pass a turn later. Unfortunately for him, the two cars made contact, sending the Californian native's Porsche out into the dirt and scuppering his championship run. Parente, Cooper, and Heitkotter would all make it through the dust-up before Long could safely return to the track, while Cindric and Thompson would both find themselves facing the wrong direction only a turn later.
O'Connell held onto his lead to cross the line, with Parente's second-place finish giving him the provisional championship title. Cooper snatched another podium, while GT Academy grad Heitkotter crossed the line in fourth just ahead of Long and Fogarty. Both Bryan and his teammate JD Davison advanced six positions from their starting spots: Davison qualified 13th and finished 7th. Jeannette would finish behind him, with the Acura duo of Spencer Pumpelly and Ryan Eversley rounding out the top ten.
After the drama on-track, both racers involved shared their thoughts. With the championship just evading him, Long got straight to the point:
"I raced Johnny at the end of the race and I expected racing room and didn't get it. For him not to be in the championship hunt and to be the deciding factor is a difficult situation. In every scenario, there are two drivers that make a decision. There was no intention to try and battle Johnny the entire race. My focus was on the championship and the two times I was alongside or ahead of him, it came down to his mistakes."
O'Connell was similarly firm in his post-race interview. "When we went into the breaking zone, I'm on the inside and he's not clear of me so it's not my job to give stuff," the four-time champion said. "It's my job to win races and was very shocked when he started turning down and we had contact. It was unfortunate," he continued, "I have been fortunate enough to win several championships for GM but I might have played that one a little differently if I were him."
After much deliberation, the stewards deemed O'Connell's move worthy of a penalty post-race. Hit with a 2.1 second sanction, Johnny would be dropped to fifth in the race standings, awarding Parente the win. Unfortunately for Long, this only increased the Portuguese driver's lead in the final standings: 1657 trumps 1629.
Parente truly earned the title: on his first full year in the PWC, he remained remarkably consistent, netting five other wins this season and two pole positions. With a 12 Hours of Bathurst win already under his belt, 2016 has been good to the 32-year old. "It was a great year. What a fantastic year for Pirelli World Challenge," said Parente. "It's a great and unique thing going on here in the GT racing world."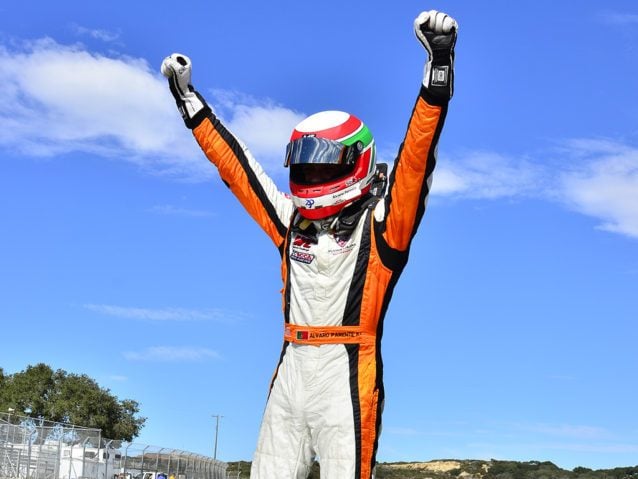 That wraps up the 2016 Pirelli World Challenge calendar. WC Vision wasted no time announcing the 2017 calendar, with some light shuffling happening to the schedule. Barber Motorsport Park us out while Virginia International Raceway (which landed in Forza Motorsport 6 earlier this year) is in. Texas' Circuit of the Americas also moves from season opener to ninth in the year, meaning things kick off mid-March in the streets of St. Petersburg. The full schedule:
March 10–12, 2017: Streets of St. Petersburg
April 07–09, 2017: Streets of Long Beach
April 28–30, 2017: Virginia International Raceway
May 19–21, 2017: Canadian Tire Motorsport Park
May 26–27, 2017: Lime Rock Park
June 23–25, 2017: Road America
July 28–30, 2017: Mid-Ohio Sports Car Course
August 11–13, 2017: Utah Motorsports Campus
September 01–03, 2017: Circuit of the Americas
September 15–17, 2017: Sonoma Raceway
October 13–15, 2017: Mazda Raceway Laguna Seca
Congratulations to Alvaro Parente, K-PAX Racing, and McLaren for winning the GT class Driver's, Team, and Manufacturer's championship, as well as all drivers for a successful, exciting season. We look forward to what 2017 will bring.
More Posts On...
The original comments for this post are no longer available.