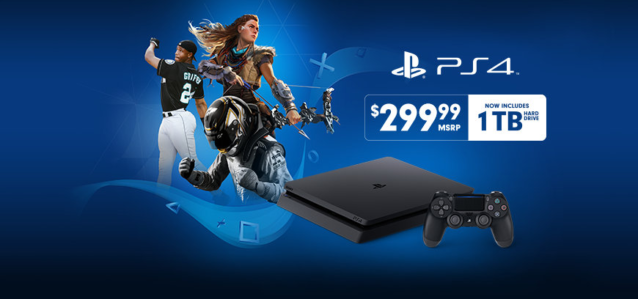 Sony has brought the regular PlayStation 4 in for an upgrade. Starting this month, the entry model in the PS4 ecosystem will come with a 1TB hard drive, while the MSRP has held steady at the same $300 price point as the previous 500GB model.
The doubled storage space should be a welcome upgrade for those looking to join the 53+ million existing PS4 owners. The PS4 Pro continues on with the same storage space for $400.
Gamers have more options than ever to increase the storage space on either model. While hard drive swaps are relatively simple with the PS4, the recent 4.50 software update enabled external hard drive support. With modern games requiring more and more space, those that are reluctant to tear apart their new console no longer have to worry.
Of note is the use of Gran Turismo Sport in the promotional image. Both MLB The Show 17 and Horizon Zero Dawn are already on store shelves. With GT fans currently enjoying a closed beta (which just expanded to its second stage), could Sony be restarting the sim racer's marketing push?
We've yet to get a revised release date for GT Sport after it was delayed last August, with only a 2017 release window being mentioned.
More Posts On...