The finals of the 2023 Porsche Esports Challenge USA start today, broadcast live from Porsche Rennsport Reunion 7 at Laguna Seca, California.
Rennsport Reunion is the world's largest gathering of classic Porsche race cars, and was founded in 2001. Since then, the event has been held every three or so years, most recently at Laguna Seca after moving there for Rennsport Reunion 4.
Organized by Porsche itself, the event sees race cars from across the brand's history — with this year's event also marking the 75th anniversary — taking to the track in a series of races, often with their in-era drivers on board.
There's even a race for the Porsche-Diesel tractor from the mid-1950s, although it only runs for half the track; imagine trying to tackle the Corkscrew in a tractor…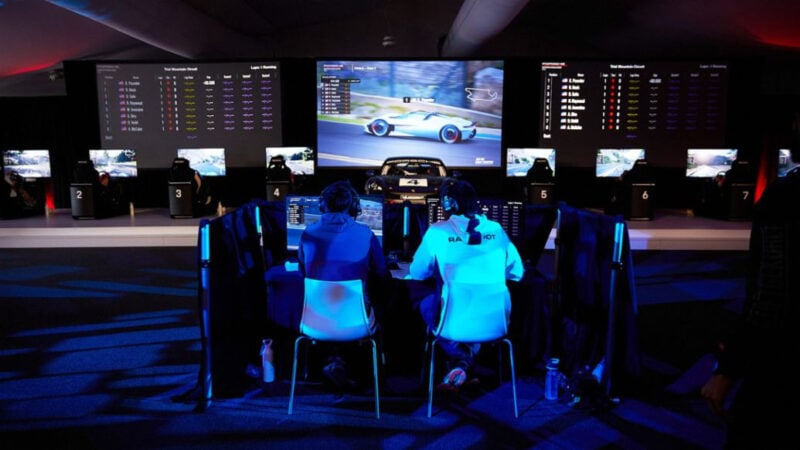 This year's Porsche Esports Challenge USA takes place to that backdrop, running on both the Friday and Saturday of the event in the on-site Bose Esports Arena, with Gran Turismo 7 once again hosting the event.
In total 16 drivers qualified for the competition, from a series of in-game time trials and some live events at Porsche dealers around the USA. Notably this includes the 2022 champion Randall Haywood, and both runners-up Dean Heldt and Andrew McCabe.
There's plenty of other well-known GT World Series drivers lining up for their share of the $30,000 prize fund too, with regulars like Robbie Heck, Donovan Parker, and Kevan Pounder, and two-time Manufacturer Series world champion Daniel Solis all qualified.
The racing will consist of two semi-final groups on Friday, each of which will run the same three races: in the Porsche 959 at Laguna Seca, the Cayman GT4 at Watkins Glen, and the Vision GT at Road Atlanta. From there the top four drivers in each group will advance to the final and two further races, using the 911 RSR at Spa and then the grand final in the 917K at Daytona Road.
It will all be broadcast live on Porsche's Twitch channel and as part of the overall event live stream below, starting at 0000 UTC on Saturday 30 September and the same time on Sunday 1 October — or 1700 local time on Friday/Saturday.
See more articles on Porsche.