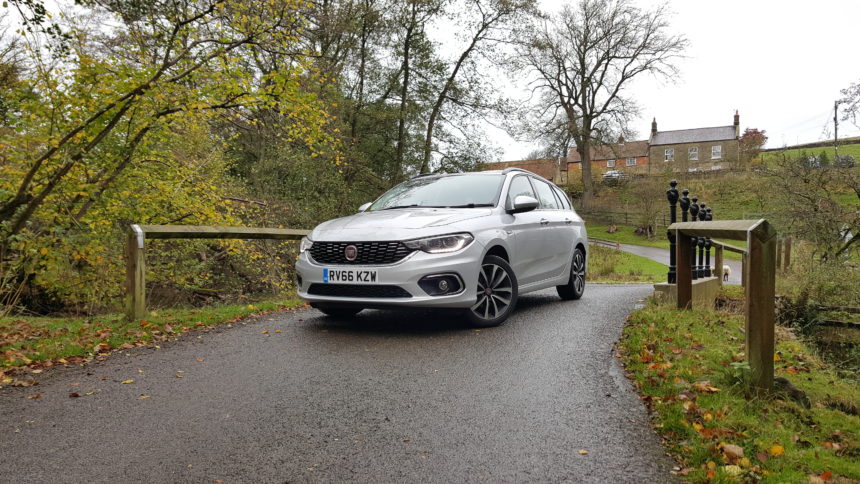 Europe loves its practical cars. If it doesn't have a vertical tailgate, good luck selling it to Europeans.
A car with a top-hinged trunk lid is the number one seller in every European country. Whether it's Fiesta and Golf hatchbacks, or the Qashqai and Sportage crossovers, national top 20 lists are dominated by the big boot brigade.
However there's nothing more quintessentially European than the estate car. Take an ordinary saloon or hatchback, add four feet of roofline and suddenly you have all the car most of us on this side of the Pond want. Room for the family, dogs in the back; sorted.
We've been out and about in one of the very newest estates to hit the market, FIAT's Tipo SW.
SW?
Well, it turns out that we really like estate cars, but we do our best not to talk about estate cars. The first rule of estate club…
"SW" in this instance means "Station Wagon", which is a distinctly more American term for a long, five-door car with a flat back end. Other manufacturers have used "Sportwagon" (Alfa Romeo), "Avant" (Audi), "Variant" (Volkswagen) and "Touring" (BMW), for literally any excuse not to use the word estate.
What's new here?
Several things all at once. Firstly, this car is FIAT's return to the C-segment — family hatchbacks like the Ford Focus and Volkswagen Golf — at least in the UK. The brand has been concentrating on small hatchbacks like the Punto and Panda, and myriad different versions of the 500, leaving its larger offerings to wither on the vine. Some European countries had a larger Bravo model, but we've been without a family FIAT since the it killed off the Stilo in 2007.
The new Tipo, taking its name from the rather successful model of the late-80s, arrived in 2016, and brought its estate-bodied sibling with it.
As the car uses a similar platform to the Jeep Renegade, FIAT fits a range of very familiar engines. The Tipo uses 1.4-liter and 1.6-liter petrol engines, and 1.3-liter and 1.6-liter diesels, the latter of which we're testing here. Manual gearboxes abound, but there's a six-speed dual-clutch auto available too.
That doesn't sound too inspiring to drive…
That's probably because it isn't.
There's some good news that we'll deal with first, however. The Tipo SW is comfortable. It works well as a cruiser, with decent motorway legs, reasonably compliant suspension and not a lot of road or tire noise. The engine is a bit vocal, but otherwise it's a relatively calm place to be for long runs.
When it comes to driving around town it's a little more hit and miss. There are times when it's good, particularly over pillow-type speedbumps. Many modern cars have a rebound stroke kick on the front end when returning to the road level, but the Tipo is much smoother. More regularly rough surfaces make the car chatter about rather a lot though, but this seems to be calmer in the estate than the hatchback.
The steering is light when on town duties — there is a special "City" steering mode that makes it lighter still, but we found that to be largely unnecessary — so if your roads are smooth but peppered with speedbumps, the Tipo will be right at home.
But the open road is very much not your friend in the FIAT. There's something about the combination of steering and damping that means the body isn't always as under control as very many of its rivals (and there are very many of them). It responds sluggishly to forces transferring across the car, so making progress is more a case of riding the waves of body roll. It's not a hard car to place on the road, but it's not terribly tactile.
This is probably for the best. The 1.6-liter Multijet diesel can get rather raucous when pushed — there's not a lot of sound deadening — and it can be prone to spinning up an inside front wheel under duress.
That said, the diesel is a good partner for the car. It only packs in 120hp or so, but barely seems to notice when the trunk is full and will return mid-50mpg (Imperial) with ease. This is some way short of the official rating of 76.3mpg, but about on a par with alternatives.
How 'Italian' is the interior?
Very.
Traditionally, there's two distinct approaches to interiors from Italian car manufacturers. It's either staggeringly stylish and opulent, or it's made with the price tag in mind. The Tipo is an example of the latter.
There's not many high quality materials in the cabin. Actually, there's not many good quality materials either. It's personable enough, well-designed and laid out intelligently, but a lot of the things you'll touch on a day to day basis are merely adequate. Poke around a bit and it distinctly falls into the cheap bracket.
But then this is a C-segment estate car that starts at under £14,000. That's a price point that many manufacturers won't even sell you an entry-level B-segment hatch. The FIAT is no worse than you'd expect and, although it sounds like a back-handed compliment, far from the worst interior we've touched and at least carries the price tag to match.
It's no one trick pony either. You're not paying much, but you're getting an impressive amount of space and a fair few toys.
Rear seat passenger room is really rather good, and this doesn't impinge on the trunk space. On paper the room for stuff is a little down on the class leader, but we actually own the class leader and found the Tipo SW to be about honors even. It's a slightly different story with the rear seats folded, as they don't go quite flat and, with the variable boot floor out, there's a very awkward step, but day to day it gives a good account of itself. We're not sure how FIAT has managed it, but beneath the second boot floor there's a full-size spare too.
The other angle is the Tipo's equipment level. Our "Lounge" trim car isn't the top specification available here, but it packs in the FIAT Uconnect system, with a five-inch touchscreen, satellite navigation, DAB radio, phone connectivity and USB/Aux jacks. It's not the best system, and the screen size is rather small compared to market standard (and the Tipo itself; non-UK markets get a seven-inch screen), but it's a crucial piece of kit.
You can control all of this from the standard, leather multifunction steering wheel, which also controls the driver information display in the binnacle. We've also got standard cruise control, auto headlights and wipers, climate control and a small selection of safety aids like electronic brake force distribution, hill hold control and tire pressure monitors.
And yet this car doesn't even tip £19,000, until FIAT added in a £550 paint option.
What's the Tipo's target buyer?
As we covered to start with, Europeans love an estate car.
Cars of this type are the ultimate in family transportation. The typical five-door hatchback has a lower roofline in the rear, to accommodate the angled rear screen, and a trunk built between the rear suspension turrets. This leads to less than ideal rear space and a strange shape for carrying things.
Estate variants have a longer roof, with any dip moved far behind the rear seat occupants' heads. The extra stretch on the boot space confers far more practicality, so you can take both kids, some luggage and a dog if you feel like it.
Target buyers then are the typical nuclear family, with a labrador. Or about half of the UK's adult population.
What are the other options?
Here's the Tipo's problem: everyone else makes one of these too. Look at the best-seller charts for C-segment hatchbacks and you'll find every single one has an estate model. That includes the Ford Focus, Volkswagen Golf, Vauxhall/Opel Astra, Peugeot 308, Renault Megane… even the Mercedes A-Class has an estate version (with an even odder name).
Probably the nearest of those in terms of budget is the Astra. Other choices for around the same kind of money would be the Kia Cee'd Sportswagon and Toyota Auris Touring Sports. Yes, even they're avoiding the word "estate".
But the one to beat in this sector is the Skoda Octavia. You'll pay a bit more for it — equivalent engine and specification will set you back £1,500 more — but there's a spike in interior quality that makes the choice very difficult.
What's the conclusion?
How much you'll like the Tipo SW depends on whether you need to feel like you're in a furniture and gadgets commercial or not.
The Tipo is not very expensive to buy, but it comes with the trade-off that, at times, it absolutely feels like it's not very expensive to buy. Where other cars in the class have at least a veneer of high quality — a bit of suede here, polished aluminum-look dials there — FIAT has gone more for durable materials.
It's difficult to argue with the value it brings though. There's a whole load of toys (again, even if the five-inch Uconnect screen is too small and a bit clunky) and an impressive amount of space. It looks handsome enough on the outside and rides well for the most part that you can forgive it for being behind pretty much every rival on a fun road. The fuel economy and running costs aren't to be sniffed at either — although we don't hold out much hope on the residual prices.
We were impressed enough at the roominess and general affability of the Tipo SW that we headed to FIAT's configurator to look at replacing our existing C-segment estate car when its time is due. Since the car we currently drive is the highest-rated in that sector, that's no small achievement from FIAT.
Verdict:
FIAT Tipo SW 1.6 Lounge
Clearly made with budget constraints in mind, the Tipo SW is nevertheless a well-rounded, practical car.
Learn more about
how our rating system works
.
Quick Facts
Engine
1.6-liter turbodiesel
Power
118hp (120PS, 88kW), 236lbft (320Nm)
Layout
Front-engine, front-wheel drive
Top Speed
124mph (199km/h)
More Posts On...