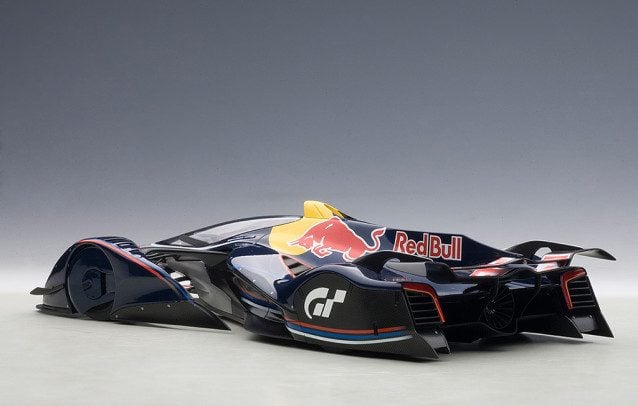 The latest post made by Polyphony Digital on Gran Turismo's official website could attract some very dense toy car collector and enthusiast traffic. AUTOart, the popular die-cast model car manufacturer, has released a special 1:18 replica of the speedy Red Bull X2014 prototype!
The manufacturer ensured the replica follows the design of the video game unit right down to the tiniest details; AUTOart developed a special Acrylonitrile Butadiene Styrene (ABS) compound to model the sharp edges of the body properly, while using diecast metal to form the base for solidity. The interior can be examined by opening the canopy. As you will see by looking at comparison photos in our gallery down below, the car has changed subtly from the previous X2010 iteration, and the toy car follows those changes faithfully.
AUTOart has collaborated with Polyphony Digital for quite some time; we've already had the opportunity to inspect the fruits of their relationship with the afore-mentioned Red Bull X2010 1:18 scale model, or one of the three Gran Turismo 5 Stealth models: the Mazda 787B, Mclaren F1, and Nissan GT-R GT500 all received the diecast treatment. That's quite a portfolio, and a reason to keep your cupboard occupied with motorsport-themed objects.
The Red Bull X2014 1:18 scale model will be available in three paint options: Dark Silver Metallic, Hyper Silver, and the Red Bull livery. The model is currently available for purchase on AUTOart's official website for $180. Have fun, and remember to handle with care!
More Posts On...
The original comments for this post are no longer available.