Renault Sport F1 becomes the fifth team to reveal its 2018 contender, the R.S.18. This year's chassis will be its third since returning to the sport in 2016.
The French team rose to the occasion last season, finishing sixth in the standings, three places higher than 2016. The team returns this season for even better results. With returning drivers Nico Hulkenberg and Carlos Sainz, the talent is there, but it won't be easy.
This year, things will heat up as Renault's customer teams — McLaren and Red Bull — won't go down without a fight. Three teams using the same spec engine, all with varying agendas. According to the team, this year's car is a "progression and refinement" of last year's. Notable advances include an improved suspension concept and greater aero downforce.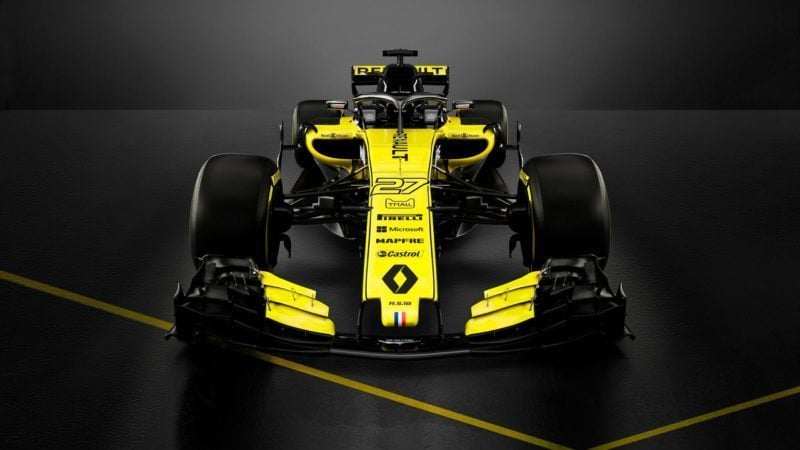 The livery on the R.S.18 retains the yellow and black scheme, albeit a marked improvement over 2017's. Like the Red Bull, the halo device flows with the design of the chassis and doesn't stick out like a sore thumb.
Cyril Abiteboul, Renault Sport Racing's managing director shares his thoughts:
"We have everything to be positive about this year. We have two very talented and ambitious drivers. Last year Nico gave us exactly what we needed with his experience, knowledge and ability to lead both on and off track. Carlos joined us at the end of the season and he brought something fresh, and he scored points to help us in the Constructors' battle. Without that we wouldn't have finished where we finished.

"Our headline target is to show continued progression through results. We want to be able to showcase our progression in every regard; power unit, chassis, operations, drivers. Everything must improve and we must continue to grow. We want to demonstrate this in many different ways, from the teams we will be directly racing against, to the gap to the leaders, including also our fan base and the respect that our team will inspire in our way we behave on and off track."
There's no denying what the team's end goal is: returning to its winning ways. While not as dominant as other teams, Renault dethroned Ferrari in 2005 to secure its first championship. Helmed by then-driver Fernando Alonso, the team did it again the following year.
Renault also announced the arrival of two new drivers: Jack Aitken and Artem Markelov. Both F2 drivers, Aiken will serve as the team's reserve driver. Markelov on the other hand will take on the role of the team's testing and development driver.
More Posts On...