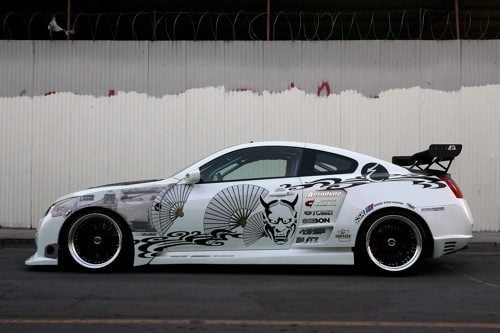 Each year at the SEMA Auto Show in Las Vegas, Sony and Polyphony Digital hold the Gran Turismo Awards to recognize the event's best cars and exhibitors.  The awards include several categories, from "Best Domestic", "Best European Import", "Best Hot Rod", to "Best Truck/SUV".  The most coveted award, however, is "Best in Show", handed out by GT series creator Kazunori Yamauchi himself.  The winning vehicle is digitized by Polyphony's team and immortalized forever in the next version of the game.  This competition has proven very popular with both exhibitors and gamers alike, having provided us with some of the series' more interesting cars.
This year's "Best in Show" goes to a modified 2008 Infiniti G37 Coupe owned by JR Rocha.  With a custom widebody kit, twin turbos, and a seemingly endless array of modifications, it definitely makes a statement.  Sony has not yet released any official images, but GTPlanet managed to find JR's blog and a video interview with him talking about the vehicle.  Congratulations, JR, and if you're reading, be sure to stop by our forums and say hello!
See JR's photos of his car, or check out the video after the jump.
[HTML1]
See more articles on Polyphony Digital and SEMA.
More on Car Culture