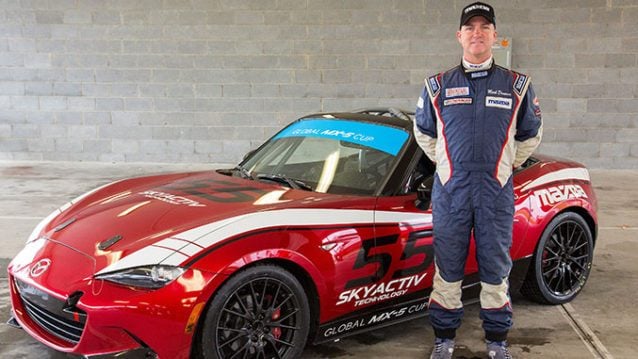 Many consider June 2008 the birth of the 'Gamer-to-Racer' movement – this was the starting date of the immensely popular and successful GT Academy. Before the Sony-sponsored initiative however, there were pioneers who made the jump from digital to reality through different racing simulations. One of these drivers is Mark Drennan, a sim-racer who started off on the classic 'Grand Prix Legends' and has recently obtained a drive in the Battery Tender MX5 Cup. The story of how Drennan got his big break is exciting as it is inspiring for the racing simulation community.
Mark Drennan began his racing-sim 'career' on the ever-popular 'Grand Prix Legends' title by Sierra Entertainment. GPL was developed by David Kaemmer, who would go on to develop the top-of-the-class PC sim iRacing. The physics in GPL were generally considered to be the most complex of its time, and the true strength of GPL still shows today, thanks to its strong support for multiplayer. Those who know their simulation titles will be aware of just how highly regarded GPL is in the community, and its clear to see that if any title would prepare you for trying the jump to real-life racing, you could do a lot worse than Kaemmer's 1967 Formula 1 sim.
Drennan sim-raced for six years on Grand Prix Legends before making the jump to real-life TaG Karts. Using the experience and techniques built up in virtual racing, it didn't take Drennan long to make an impact. In 2006, he took home the TaG National Cup Light and then managed a second place finish in the SKUSA Super Nationals in the TaG Masters series – not too shabby for a driver trained on a late 90s sim! Using this as a basis, Drennan went on to become the Spec Miata SCCA Region Champion in 2007, followed by a SoPac Division Championship win in 2008.
After these triumphs, the driver from San Jose took a sabbatical from racing before returning in 2014 with a bang; claiming the SCCA NorPac Division and NASA NorCal region championships. Last year he continued a run of good form, winning the NASA Western States crown in Spec E46 and also the Western and Eastern NASA championships in Spec Miata, once again showing his love for the Mazda roadster.
Alongside the victories, Drennan's words also back up his keen ambitions to drive in the little Miata. "I really love Spec Miata. The competition is so strong that you have to be on your game all the time and, as a result, you can learn so much. The car is also great fun to drive." This year, Drennan is driving in the Battery Tender MX-5 Cup Series for Winding Road Racing, a team chosen due to their "intense approach" that fits the American's "will to win".
The series is now 2 rounds in and so far Mark finds himself in 13th place overall securing 57 points. Despite a strong finish in the first race at Laguna Seca, a spin on Lap 9 of race #2 caused Mark to DNF which means he faces an uphill struggle to get back in contention for the title. If the driver's history is anything to go off of however, Drennan will be back with a vengeance in races 3 and 4 this weekend at Watkins Glen.
I'm sure Mark will do us sim racers proud!
More Posts On...
The original comments for this post are no longer available.