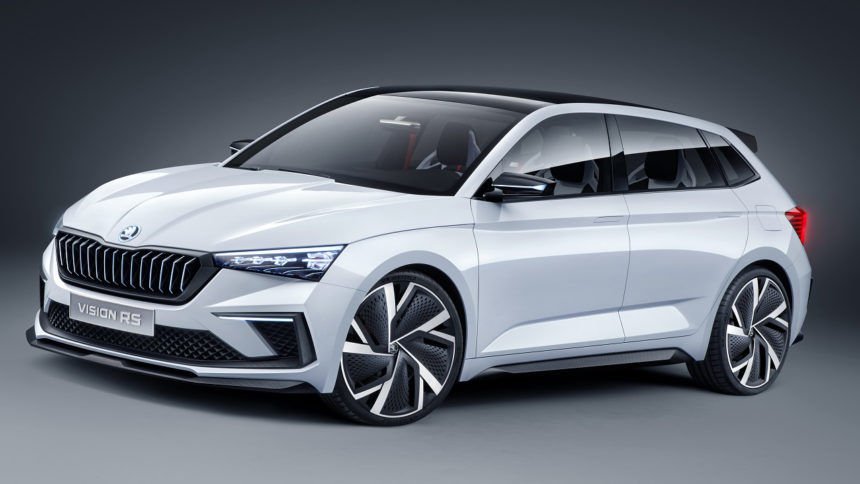 Electrification is the hottest trend for automakers right now. However, this leaves many enthusiasts to wonder what will happen to vehicles like hot hatches. Thankfully, Skoda's latest concept might put some minds at ease.
Called the Vision RS, it combines hybrid technology with all the characteristics of a hot hatch – and it also looks fairly good too. It's powered by a 148hp 1.5-liter four pot, and a 76kW (101hp) electric motor. This combines for a rather respectable 242hp, which is 22hp more than a Volkswagen Golf GTI.
Although more powerful, it's likely that the Vision RS weighs more than the GTI. It's on-paper 0-60mph time is certainly slower, coming nearly a second behind its stablemate.
No doubt a major contributor to that extra weight is the 13kWh battery pack. There's a benefit though: the Vision RS can travel upwards of 43 miles on electricity alone, after you've plugged it in for a 2.5 hour charge. This means you can commute back and forth to work on EV power and save your fuel for weekend fun. It's a concept we can get behind.
On the outside, the Vision RS fits the mold for the hot hatch formula. Sporting big wheels, sharp lines, and lower suspension it looks right at home. Step inside and it's more of the same. There's carbon fiber trim and a sea of Alcantara throughout. That includes the rather funky sports seats, which are hopefully more comfortable than they look.
Other interior features include a large central display and digital gauge cluster. There's also a noticeable lack of buttons and switches; presumably, it subscribes to the Tesla philosophy of reducing button clutter. This means most interaction happens through the touchscreen.
If a car like this excites you, you're out of luck — at least for now. Skoda has no plans to actually produce the Vision RS. But, something tells us we could see the concept and some details carrying over to make a vRS version of the next Rapid.
This would join the arrow-catching Octavia vRS 245 and the new Kodiaq vRS in a growing Skoda performance lineup.
We could also see this technology making its way to other cars in the Volkswagen Group. Something along the lines of a hybrid GTI would do nicely… At any rate, the Vision RS shows companies are at least thinking of enthusiasts while looking to our electrified future.
More Posts On...