Subaru claims it's the new king of the Nürburgring when it comes to sedans. The WRX STI Type RA NBR Special has lapped the Ring in a blistering 6:57.5 — only half a second slower than the Porsche 918 Spyder.
Built by Prodrive, the Type RA Special gets its power from the same 2.0L boxer the rally spec STI gets. A larger turbocharger with 25 psi of boost and a bigger intake pushes the Subaru past 600 hp. This is enough power to take the Type RA Special to 179 mph.
Gear changes happen through a WRC-spec gearbox with an automatic clutch. Hydraulic paddle shifters allow the car to swap cogs as fast as 20 milliseconds.
A new aero package produces some serious downforce. At top speed, 650 lbs of stuff push down on the car. An F1-style Drag Reduction System is also included on the Type RA Special. The driver is able to adjust the amount of downforce from a steering wheel mounted controller. Surprisingly quick, this takes the same 20 milliseconds as a gear shift.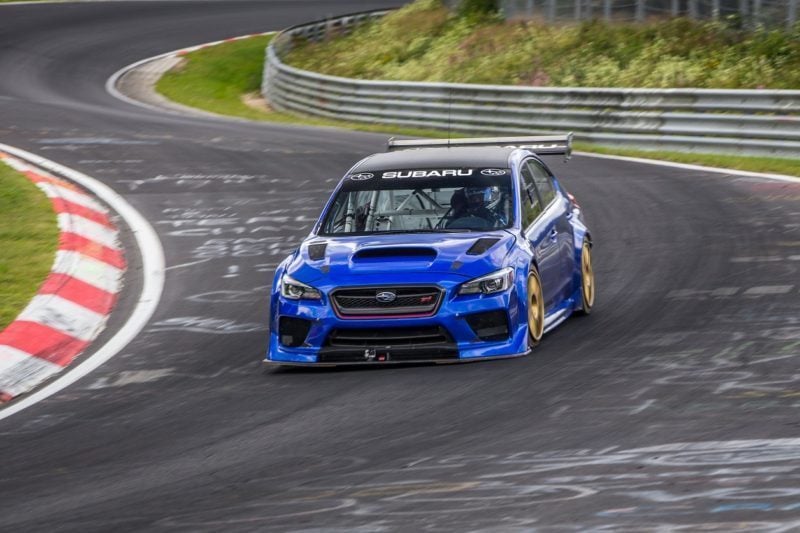 Subaru says that the record breaking run used Nürburgring timing equipment. It was also verified by track officials. However, it is important to note that nine-inch Dunlop slicks were on the car during the run. Also, the Type RA Special is a bespoke race car.
The Type RA Special is the same car that set the Isle of Man TT course record at 17:35. It also was the third fastest vehicle at the 2017 Goodwood Festival of Speed where it raced up the hill in 48.25 seconds.
The driver for this record attempt was not Mark Higgins, the man behind the Isle of Man and Goodwood times, but Richie Stanaway. The 25-year-old New Zealand native is no stranger to motorsports. He has run several World Endurance Championship races and competed at the 24 Hour of Le Mans for Aston Martin.
This is the latest in a recent string of 'Ring records — an oddly specific one at that. Despite not using the production car Subaru says the Type RA Special will bring attention to the production car. The marketing team should have a field day with the run, then!
The Type RA Special is not for sale to the general public. For those looking for something similar, Subaru offers the decidedly more tame 2018 WRX STI Type RA.
With a hopped up 2.5L Boxer engine good for 310 hp, buyers shouldn't expect the same performance as the record breaking car. However, with a whole host of handling and braking changes, the Type RA should still be good fun.
For those interested in snagging a WRX STI Type RA it will be on sale at the start of 2018. At this time there isn't any pricing information, but the Type RA is limited to 500 cars.
More Posts On...