The Suzuki Jimny has always been one of those cars. It's the kind of car that those in the know love, despite many glaring flaws that put off regular folk – like Land Rover's venerable Defender, or the Mercedes-Benz G-Class. In fact it's a lot like the Defender and G-Class in many ways, only at one-third scale…
Despite the adoration of motoring writers (and microcar-enthusiast landowners), it's always been a car that, objectively, we've had to acknowledge is pretty poor. The previous generation has, despite all of its impressive offroad abilities, persistently rated among the lowest-scored vehicles on sale over its entire 20-year life span.
Suzuki is hoping to put all that behind it with this new model, and we've been giving it a good poke to see how it stacks up.
What on Earth is a "Jimny"?
Actually… I have no idea.
Nevertheless, it's an epithet Suzuki applied to its third generation of snack-sized offroaders. The first, the LJ10, debuted in 1970 and was the first ever proper off-roader in the Japanese "kei" microcar segment. With space and fuel at a premium in Japan, there were tax incentives to making and owning kei cars, which the 360cc LJ10 qualified for.
Despite the size and 1300lb curb weight, Suzuki gave it a ladder chassis, rigid axles, leaf springs and a low-range transfer box. It also dropped the car from a crane and drove it through volcanic sands around Mount Fuji just to make sure it was tough enough. That meant it was the only kei car you could buy and still drive through ploughed fields – and beyond.
The SJ410 followed in 1981, and this time Suzuki equipped it for the world market too. While still selling a kei version domestically, there was a special widebody version (or "Sierra body") and a 1.3-liter engine. Although it stuck to the format pioneered by the LJ10, there were a few nods to road comfort, including a new three-link coil spring suspension system. The third-gen Jimny continued that theme in 1998, and the fourth-gen takes it on yet another step.
Okay, so what's new for 2019?
Pretty much all of it. Although it retains some styling cues from its predecessor (and Suzuki is a bit hot on that at the moment, see the Ignis), the Jimny's gloriously boxy body is all new. So is the interior, which comes with a whole load more bells and whistles that we'll touch on later on.
Less new is what you'll find beneath. The fourth generation car inherits the ladder frame, with rigid axle and three-link coil suspension of the third generation (and, frankly, second generation) car. Suzuki has set about that with new rubber body mounts and three new cross sections in the chassis with eight contact points to increase torsional rigidity by 50%.
The Jimny still has a part-time 4WD system from the previous car, but now you can switch between two- and four-wheel drive, and low and high ratio four-wheel drive, with a shift lever. This follows customer feedback about pressing buttons not really giving the feeling of having done something mechanical.
You still get a five-speed manual or four-speed auto gearbox, but this is now mated to a 100hp, 1.5-liter petrol engine, up from the 80hp, 1.3-liter unit from before.
Sounds like it's better to drive than the old one…
Yes, but we're not exactly talking a high mark to beat. Simply having working brakes means it's better than the old car.
Let's start with the Jimny's raison d'etre though: off-roading. The Jimny is nothing short of brilliant at driving where the roads stop. If you're talking about the very extremes of off-roading, it's perhaps short of the offerings from Coventry – it's a very small car, so the ground clearance is only 8.25 inches – but with a 37° approach angle, 49° departure angle and a 28° breakover angle it's pretty hard to defeat.
The size has its advantages too; at 64 inches wide it can squeeze through the gaps in trees that a Defender would have to drive round, and the light weight means it's less likely to squidge into soft ground. What you see in the images here is done on standard road tires too.
More than that though, it's a simple machine. We've done a number of off-road events in more expensive cars and for the most part it's a case of having to stop, press a sequence of buttons, wait for the lights to turn on in the dashboard and then plough on with electronics.
In the Jimny you hang off the second shifter to put it into 4L and then just drive at things. There's a button for hill descent control, but that's about it. A Discovery crawling along all by itself with all-terrain progress control is impressive, but there's something to be said for the Jimny's gung-ho approach – the Suzuki makes you want to go back and do it again.
The story is not quite so rosy on the road though. Here, away from the mud, the Jimny has a few shortcomings. It's absolutely worth noting that it's a far, far better car than the one it replaces, but it's not enough to move it out of the lower echelons of road cars.
It's actually tough to know where to start. The engine is pretty willing, but 60mph comes up in a pretty fraught 12 seconds – and 90mph is your maximum. It's also quite loud; I'm sure the Jimny's boxy shape generates a lot of wind noise, but I couldn't hear it over the engine. And then there's the fuel economy: 35.8mpg combined on the new WLTP standard means the Jimny puthers out twice as much carbon dioxide (178g/km) as Suzuki's permitted 2020 fleet average.
The primary ride is actually relatively settled, but when it comes to those high frequency bumps the cabin gets a proper jiggle going. That can make longer journeys a bit tiresome, along with the engine roaring away at nigh-on 4000rpm.
Twisty roads are a whole different ball game of panic; you need a great deal of commitment to attack any kind of bend, with huge amounts of play in the steering and a lot of lock to get through. As with the steering, the brakes need a lot of planning too.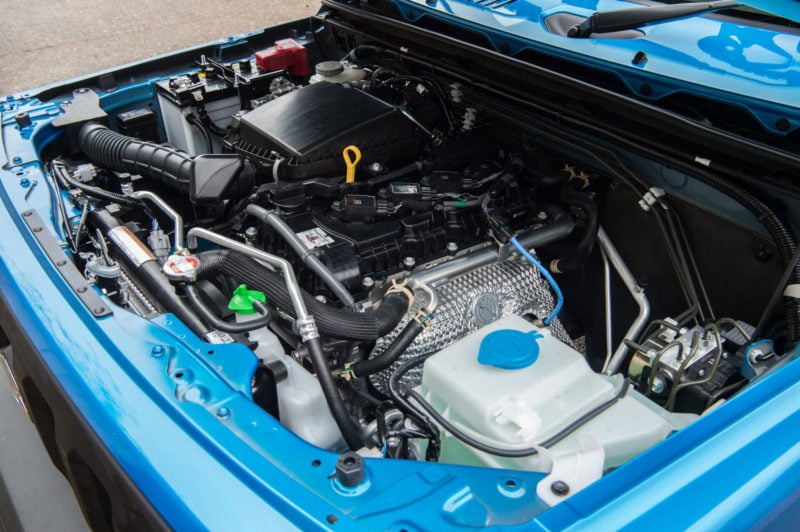 What's the inside like?
Pretty titchy, but agreeable. There's a resemblance to the old Toyota FJ Cruiser here, in that everything you look at is chunky, has a reason to be there, and looks like you could attach shelving to it.
Rather than hiding everything away neatly behind push-on trim clips, Suzuki has screwed all of the cabin together with M12 hex cap bolts and left the heads exposed like some kind of dieselpunk art installation. The big, square instrument panel looks industrial, but brilliantly in-character too.
That doesn't necessarily mean the interior is spartan. Every Jimny gets cruise control, air conditioning and Bluetooth phone connectivity, while SZ5 models add climate control, navigation and heated front seats. You might bemoan the lack of any kind of seat adjustability bar the sliders, but the steering wheel does at least adjust for rake and reach.
When it comes to the dimensions, the Jimny does have one ace: head room. Even if you are an exceptionally unreasonably tall human, you can sit in the back seats and there's decent legroom with an understanding front-seat passenger. You won't want anyone next to you though, as hip room is minimal – Suzuki has pinched the two rear seats inboard, which gives a better view, but either makes you very intimate with the person alongside you or will have you perching on a four-inch wide chunk of plastic trim.
Getting into the back isn't easy, mind. The Jimny is a three-door car, with barely adjustable front seats and a high floor. It's one for the contortionists among us, and if you're trying to stuff an infant back there, I wish you the best of luck. Front shoulder and elbow room isn't great either, and if you have the manual car you'll be forever digging into the ribs of anyone alongside you.
There's almost no storage space in the Jimny either. The two cup holders are easily the biggest cubbies in the entire cabin – even the glovebox is questionable as to whether you can fit actual gloves in it. As for the trunk… well, it's better than the last car, but the maximum is 377 liters with the rear seats folded flat – though at least they do fold flat. With them up, the space is so small and narrow that it's only good for smuggling Toblerones (at least up to 625 of them).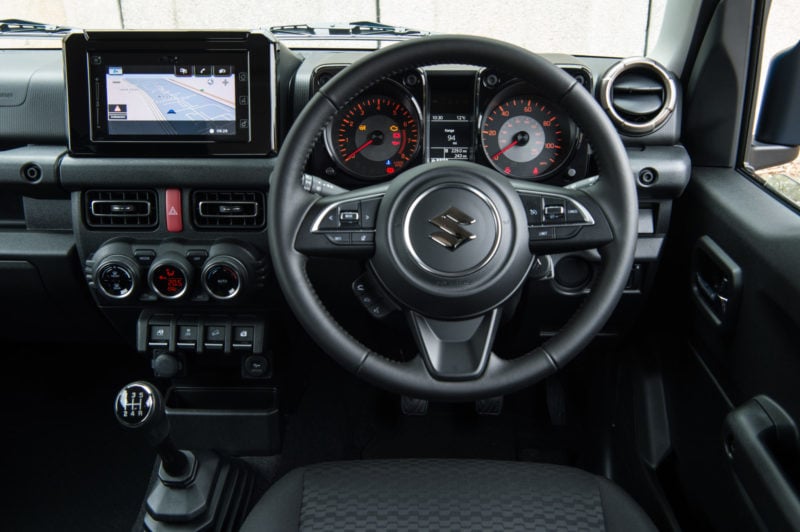 Who's it for then?
Aside from motoring journalists… I'm not sure. There's a tremendous cute appeal to the Jimny, but also a remarkable niche audience. Really it's best suited to people who have an outright need to go off road regularly, but don't have any particular reason to own a car the size of a manor house, or £70,000 of status symbol, to do it.
Unintuitively, it actually makes for a really good city car, with the small dimensions (there is still a kei version available) and great visibility, particularly through that little notch in the front side windows. Perhaps the main buyer would be someone who lives on a farm near one of those old English villages with obscenely tight streets.
Of course Suzuki is likely to see a number of legacy sales from Jimny customers of old too.
What would they buy instead?
Nothing. The Jimny is that rare beast of an utterly unique car that even BMW and Audi haven't tried to create a vehicle to fill the same niche.
Suzuki jokingly says that the G-Class and Defender are the Jimny's rivals, and it sort of has a point. These are pretty much the only other cars made specifically to go off-road, even if they are a full order of magnitude more expensive in some cases.
If your off-road requirements aren't that demanding and you need a bit more on-road comfort, perhaps a car like the Dacia Duster would do the trick, or the rather good FIAT Panda Cross for a bit more money.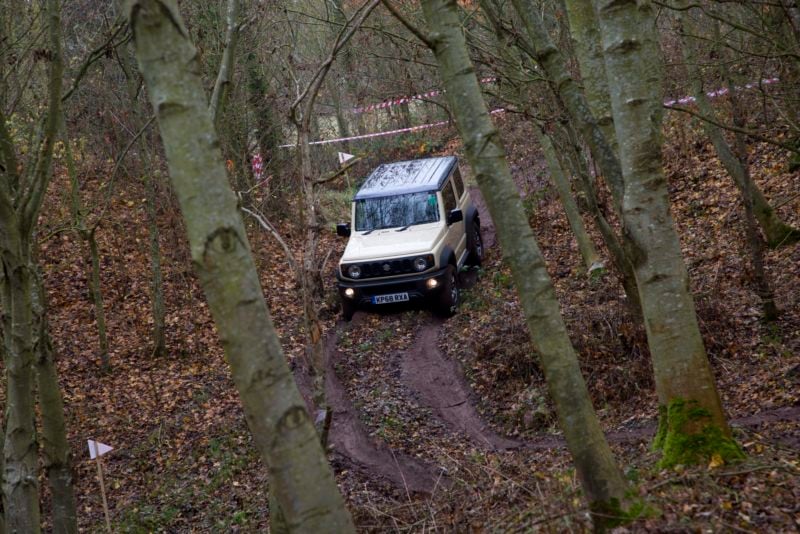 What's the conclusion?
For all its prowess in the dirt, it's hard to consider the Jimny as anything other than poor as a general purpose car. It's a very uncultured drive, with a loud – and not very frugal – engine, numb steering and a ride that will tell you what your percentage body fat is from all the jiggling.
The size means that it has all the drawbacks of a small city car, but the thirst means it brings none of the benefits. That it's the only thing in its class that can claw its way through a mud slide is almost irrelevant to the average buyer.
But it would be churlish not to acknowledge that it's a vastly improved vehicle, and it has a cult following. It's quite keenly priced, has the vital toys and still, for all the improvements Suzuki has made to the on-road behavior, an excellent off-roader.
It's not one for the masses, but there's already a 12-month waiting list in Japan, and UK buyers get to fight over 600 cars for 2019. There's not likely to be a car quite so in demand compared to its supply in 2019. And let's face it, who buys a car objectively?
Verdict:
Suzuki Jimny SZ5
Amazing off the road, compromised on it, but good value and a future classic in the making
Learn more about
how our rating system works
.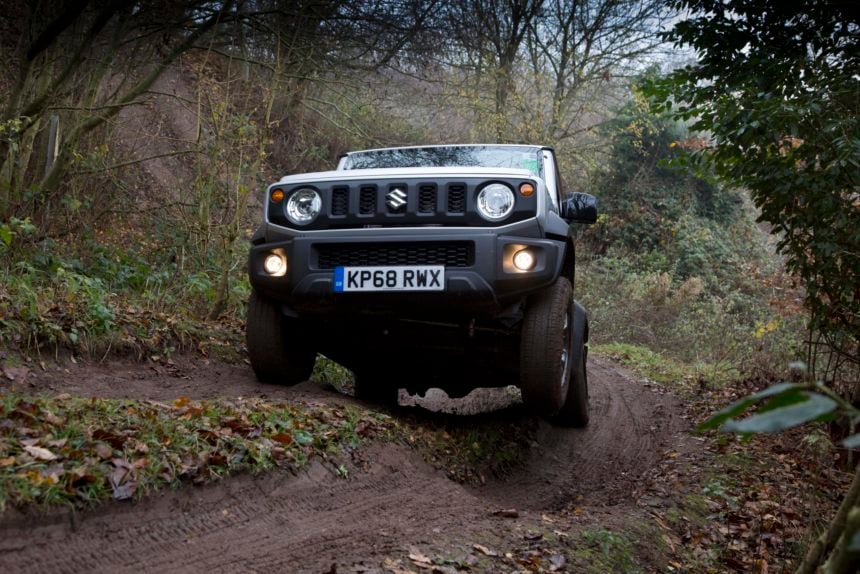 Quick Facts
Power
100hp (101PS, 75kW), 95lbft (130Nm)
Layout
Front-engine, four-wheel drive
Top Speed
90mph (145km/h)
See more articles on First Drives.
More on Car Reviews