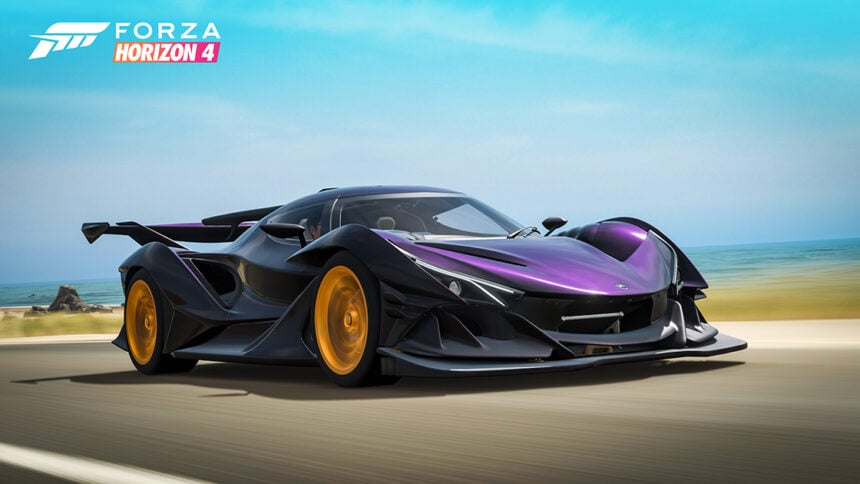 The leaves are turning green, and the sun is shining brightly once more. Spring has made a grand return in Forza Horizon 4. A fresh bevy of content has dropped to accompany the new season switch.
This is the final week of Series 9, and it continues the tradition of some shiny new metal and a host of events. Read on for all the details.
High Speed Is The Name of The Game
Prizes are dominated by powerful supercars this week. There are also returning cars as prizes for completing the season to 50% and 80%. A big series debut will catch the eyes of fans most of all.
New Events
The big headline prize car this week is an all new hypercar. The Apollo Intensa Emozione makes its virtual debut this week, but in Horizon first after being spotted in Forza Motorsport 7.
Built as an uncompromising track monster, the Apollo IE is powered by a 6.3 liter V12 that packs nearly 800 horsepower. The aggressive aerodynamic package will allow the Apollo to make light work of Britain's twisting country roads. Players can acquire the Apollo by winning the "Hyperspeed" Trial event.
Joining the Apollo is the slightly less deranged Ferrari 599 GTO. As only the third car to wear the GTO badge, the 599 stands in esteemed company with the 250 and 288 GTO.
Developed from the 599XX track car, the GTO produces 670 horsepower from its 6.0-liter V12. It also features substantial weight savings and handling upgrades against the standard 599. Those looking to gain the GTO can do so by winning the "Seeing Red" seasonal championship.
Completing the roster this week are the 1970 Buick GSX and the 1988 BMW M5 Forza Edition.
The GSX is another of the less appreciated muscle cars. Packing a massive 7.4 liter V8, the 360 horsepower GSX should definitely be considered when building a new drag car.
The tuned Forza Edition of the E28 BMW M5 is for those looking for a little extra performance from the classic sedan. It also comes with a handy Event Influence bonus.
The rest of this week's challenges are below:
Grand Tourers
Series: Street Scene
Cars: GT cars
Restrictions: A Class, 800 PI
Prizes: 15,000 CR, 25,000 CR, Modern Race Helmet White
Seeing Red
Series: Road Racing Series
Cars: Ferrari 575 M
Restrictions: A Class, 800 PI
Prizes: 15,000 CR, 25,000 CR, Ferrari 599 GTO
Spring Games – Series 9
Series: Playground Games
Cars: Rally Monsters
Restrictions: S1 Class, 900 PI
Prizes: Ford Gymkhana 10 Focus RS RX
Super Saloon Slalom
Series: Dirt Racing Series
Cars: Super Saloons
Restrictions: A Class, 800 PI
Prizes: 15,000 CR, 25,000 CR, Wheelspin
The Trial: Hyperspeed (Co-Op Championship)
Series: Street Scene
Cars: Hypercars
Restrictions: S2 Class, 998 PI
Prizes: Apollo IE
Whitewater Falls Danger Sign
Season Objective: 551.2 ft
Sudmoss Speed Zone
Season Objective: 150 mph
Lakehurst Speed Trap
Season Objective: 195 mph
Forzathon Events
Mini has been a major talking point this month when it comes to prize cars, now Mini is the star of this week's Forzathon. You'll be off to an easy start for this one: simply own and drive any car from Mini.
Next, take your Mini on the road and win 2 Road Racing Series events. For the third objective, prove the surprising rally pedigree of your Mini by winning 3 Dirt Series events.
Finally, use your Mini to earn a total of 9 stars from Speed Zones to wrap up Forzathon for this week.
Forzathon Shop
Rarity is the main theme of this week's Shop lineup. First up is the Hoonigan Ford RS200 Evolution.
This modified version of the iconic Group B rally car now packs 750 horsepower from its turbocharged four-cylinder engine. If you're after doing big skids, then be prepared to pay out 675 Forzathon Points for it.
Joining it is the 1962 Ferrari 250 GT Berlinetta Lusso. This beautiful classic is regarded as one of the prettiest cars in the world. Those after a car for cruising can look to the Lusso's 3.0-liter V12 engine. Although it makes just over 250 horsepower, you'll look effortlessly cool when driving it.
At 600 FP, it may save people from spending millions of credits buying one from the Autoshow.
Clothing items this week consist of the Spring Beanie hat and the Glam Boots.
More Posts On...