Spring has sprung once again in Forza Horizon 4. The snow may have melted, but there are still plenty of challenges and content to keep players busy.
A Returning Honda and Dirty Beetle Up For Grabs
The addition of cars continues this week with another pair of returning machines. Those looking to further bolster their car collection should look out for how to win them. JDM fans will be pleased to know one of them is a slick Honda coupe.
Let's dive into what this week provides: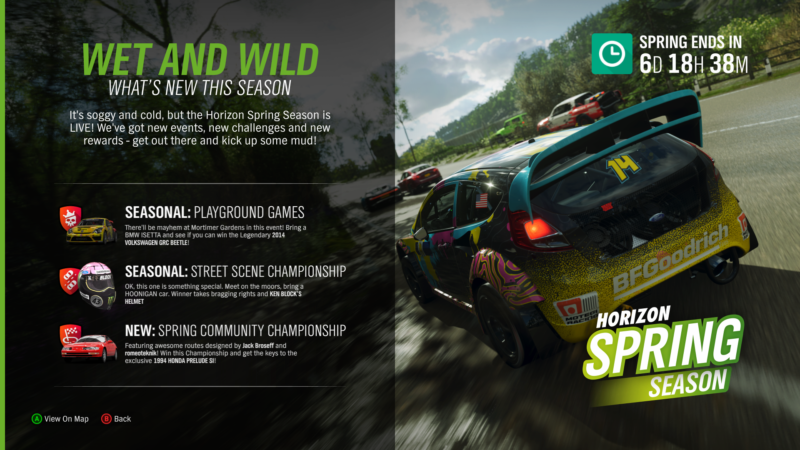 New Events
This weeks cars are another pair of returnnees. Both have been present during the current era of Forza games and will help provide a further boost to the car list.
First up is the 1994 Honda Prelude Si. This front-wheel-drive coupe has been part of the Motorsport car list, but now officially makes its open-world debut in FH4. With a 2.3-liter inline-4 making 160hp, it may not be the fastest car, but players will look good cruising through the UK.
Next is the Volkswagern Global Rallycross Beetle. This car was last seen in FH2 before being left out of FH3. With 600hp to play with, players will have a lot of fun tearing through the woodland trails.
Details for challenges this week challenges are below:
Super Saloon Tour
Series: Road Racing Series
Cars: Super Saloons
Restrictions: 100-800 PI
Prizes: 15,000 CR, Wheelspin, Super Wheelspin
Streets of Race
Series: Street Scene
Cars: Hoonigan Vehicles
Restrictions: 100-998 PI
Prizes: 15,000 CR, Wheelspin, Ken Block Helmet
Spring Games
Series: Playground Games
Cars: BMW Isetta
Restrictions: 100-800 PI
Prizes: VW GRC Beetle
Spring Community Championship II
Series: Road Racing Series
Cars: Modern Sports Cars
Restrictions: 100-900 PI
Prizes: 15,000 CR, Wheelspin, Honda Prelude
The Trial: Moor Than A Feeling (Co-Op Championship)
Series: Dirt Country Series
Cars: Modern Muscle
Restrictions: 100-900 PI
Prizes: Super Wheelspin
Cotswolds Speed Trap Challenge
Season Objective: 240.0mph
Bridlewood Speed Zone
Season Objective: 150.0mph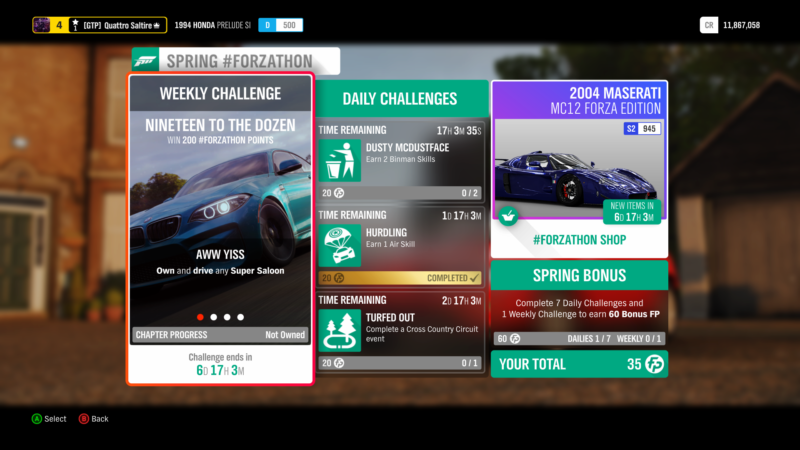 Forzathon Events
Forzathon shines this week's spotlight on a more sophisticated performance group: the super saloons.
The first challenge objective is simple: Own and drive any super saloon. Next, you'll need to polish your overtaking skills by gaining 5 Triple Pass skills.
The third objective involves getting a little rough. Trade some paint and gain 12 Sideswipe skills. To finish things off, leap through the air and gain 3 Stars off the Swan Dive Danger Sign.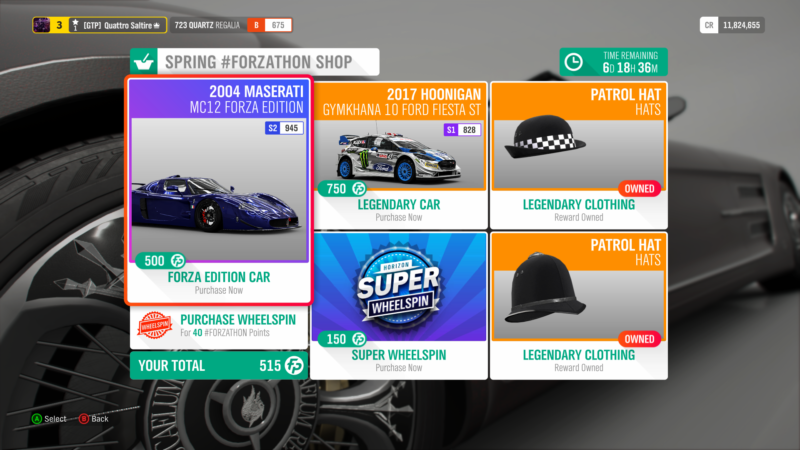 Forzathon Shop
This week's lineup is another expensive one. Another Ken Block machine serves as the returnee for this week; the Gymkhana 10 Ford Fiesta ST. At an eye-watering 750 Forzathon Points, if you got one before the price hike, we advise you spend your points elsewhere.
The Forza Edition car this week is an exciting one; the 2004 Maserati MC12. At 500 FP, it'll still remove a significant portion of funds from your wallet. Those looking to unleash this beauty's V12 will enjoy the MC12's Speed Skills boost and rack up extra skill points.
Clothing apparel this week sees two British police patrol hats available to purchase.
More Posts On...