2019 is almost over, but the seasonal events in Forza Horizon 4 are not stopping any time soon. Autumn has arrived once more as the new year approaches.
Along with the new season comes a new Playlist update with fresh prizes available for 50% and 80% completion. An enthusiastic mid-engined French hatchback takes its bow this week.
Our full content breakdown is below.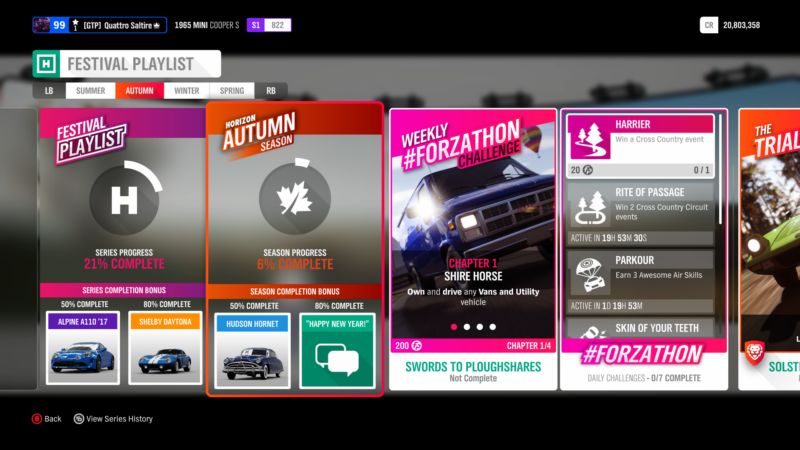 Clio Takes Center Stage
This week's Playlist prizes include the legendary Hudson Hornet and the "Happy New Year!" quick chat phrase.
The Hudson is one of the forgotten greats of classic American cars. It also boasts an impressive racing pedigree in stock car championships during the 1950s. The Hornet features a 5.0-liter straight-six making just 160hp. It's far from the fastest American car, but it is certainly one of the coolest. Prizes for seasonal championships include the Lancia Stratos and BAC Mono.
A big debut for this week comes in the form of the 2003 Renault Sport Clio V6. This little hatchback invokes the spirit of the Renault 5 Turbo, but stuffing a powerful engine in place of the rear seats.
That engine is a 3.0-liter V6 making 250hp. It's not the most powerful in its class, but coupled to a short wheelbase and rear-wheel-drive, the Clio will be a riot to drive. Winning the "Heading North" championship will see the Clio delivered to your garage.
We've got this week's events and prizes listed below:
Better With Age
Series: Road Racing Series
Cars: Vintage Racers
Restrictions: B Class, 700 PI
Prizes: 15,000 CR, 25,000 CR, Classic Race Helmet
You. Are. A. Toy!
Series: Street Scene
Cars: Track Toys
Restrictions: S1 Class, 900 PI
Prizes: 15,000 CR, 25,000 CR, BAC Mono
Heading North
Series: Cross Country Series
Cars: Extreme Offroad
Restrictions: A Class, 800 PI
Prizes: 15,000 CR, 25,000 CR, Renault Clio V6
The Trial: Solstice Showdown (Co-Op Championship)
Series: Dirt Racing Series
Cars: Rally Monsters
Restrictions: A Class, 800 PI
Prizes: Lancia Stratos
Autumn Games – Series 17
Series: Playground Games
Cars: Retro Muscle
Restrictions: A Class, 800 PI
Prizes: "Ho Ho Ho!" Quick Chat Phrase
Derwent Reservoir Speed Trap
Season Objective: 190 mph
Rannoch Shelf Danger Sign
Toft Speed Zone
Season Objective: 135 mph
Forzathon Events
Forzathon takes a look at one of the more overlooked categories for this week: Vans and Utility. Own and drive any of the workhorses available in that category to get things going.
Next, go for a drive around the map and cover 26.2 miles. It's best to have a utility vehicle with plenty of power for this one. Afterwards, you'll need to take some brave pills as you'll need to earn 5 Threading The Needle Skills.
Finally, let your utility vehicle soar by earning 3 stars in one jump on the Rail Yard Ramp Danger Sign.
Forzathon Shop
Christmas may be over, but Playground Games' advent calendar continues to give out free cars.
At time of writing, the free car available is the Jeep Wrangler DeBerti Design. Loosely based on a standard Wrangler, this version has been designed to conquer any terrain thrown at it. A whole host of offroad modifications ensure that nothing with get in the way of this Wrangler. There's also a 707hp supercharged V8 up front providing the necessary firepower.
You'll need to hurry to grab one, as another car will be available tomorrow.
If you're after new cosmetics ahead of the new year, there's a Ski Hat, Warm Mittens and some Furry Boots available.
Feature image courtesy of FT-1
More Posts On...