Halloween has arrived and Autumn has returned to Forza Horizon 4. The latest season offers up a spooky selection of new events, cars and Halloween themed cosmetics.
There's a new Playlist update this week, with fresh prizes for 50% and 80% completion. A special Bugatti hypercar is the headline debut act.
Our content breakdown is below.
Divo Races to The Front
This week marks the debut of a new highly requested Bugatti hypercar.
The 2019 Bugatti Divo might look like a simply rebodied Chiron at first glance, but this machine hides a few more changes. The dramatic new body contributes to a 77lbs weight reduction and an increase in downforce over a standard Chiron. Power from the 8.0 liter quad turbocharged W16 remains at 1,479hp, which is more than enough for a car of this caliber.
Rivalry-themed seasonal championships continue this week, with prizes populated by the Ferrari F50 GT and 2009 Vauxhall Corsa VXR.
A stand-out prize is the Rimac C_Two. This upstart hypercar is one of the most powerful street cars ever produced, but unlike many hypercars, the C_Two is all electric. The C_Two's four electric motors produce a dizzying 1,900hp, so you're going to need plenty of wide open road before unleashing all that power.
You can win the Rimac by completing this week's Trial event: "The Holy Trinity". Also up for grabs is a Skeleton Morph Suit to further add to your avatar wardrobe.
This week's events and prizes are listed down below:
Autumn Community Championship
Series: Road Racing Series
Cars: David vs Goliath
Restrictions: B Class, 700 PI
Prizes: 15,000 CR, 25,000 CR, 2009 Vauxhall Corsa VXR
Special Performance
Series: Dirt Racing Series
Cars: Ford Falcon GT F 351, HSV Gen-F GTS
Restrictions: A Class, 800 PI
Prizes: 15,000 CR, 25,000 CR, Ford Falcon FE
Supercar Showdown
Series: Road Racing Series
Cars: Ferrari vs Mclaren
Restrictions: S2 Class, 998 PI
Prizes: 15,000 CR, 25,000 CR, Ferrari F50 GT
The Trial: The Holy Trinity (Co-Op Championship)
Series: Road Racing Series
Cars: Mclaren P1, Porsche 919 Spyder, Ferrari LaFerrari
Restrictions: S2 Class, 998 PI
Prizes: Rimac C_Two
Autumn Games – Series 15
Series: Playground Games
Cars: Rally Monsters
Restrictions: S1 Class, 900 PI
Prizes: Hoonigan RS200
Princes Street Speed Trap
Season Objective: 237 mph
Broadway Windmill Danger Sign
Season Objective: 1,443.6 ft
Bridlewood Speed Zone
Season Objective: 134 mph
Forzathon Events
Forzathon turns to a Dakar winner this week, with the Mini X-Raid under the spotlight. Own and drive this extreme off-roader to get things started.
Next up, jump around and earn 3 Kangaroo Skills to demonstrate the X-Raid's off-road capability. Unleash your most creative combos for the third objective, as you'll need to earn an Ultimate Skill Chain.
Finally, take the X-Raid off to the races and win four Cross-Country Series events to wrap up this week's challenges.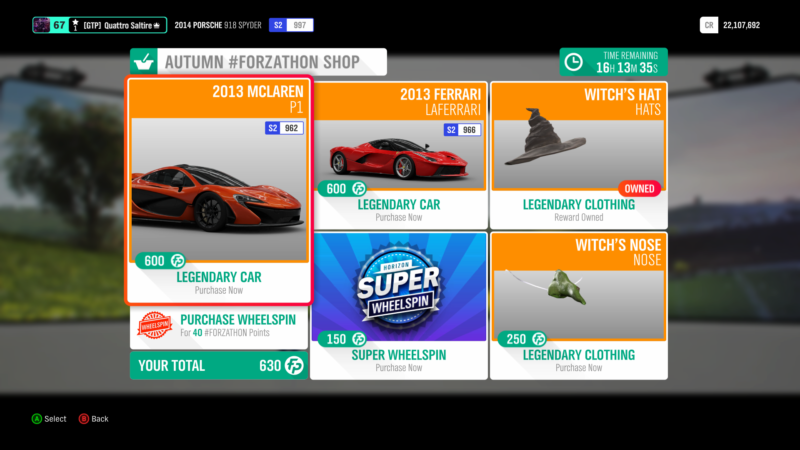 Forzathon Shop
Two-thirds of the hypercar Holy Trinity are up for grabs in the shop this week. Both will come in handy for the Trial event this week.
The Mclaren P1 is Woking's spiritual successor to the legendary F1. The P1 embraces Formula 1 technology by mating a 3.8 liter twin-turbocharged V8 to an energy recovery system. Total power output is 903hp, along with sophisticated active aerodynamics.
Buying the P1 will cost you 600 Forzathon Points and will likely be one of the better options for the Trial
The Ferrari LaFerrari also embraces hybrid technology in a similar vein to the P1. The 6.3 liter V12 is paired to an energy recovery system to generate a total of 950 horsepower. Like the P1, the LaFerrari also used advanced active aero to put all that power to the road in the corners.
The Ferrari will also set you back 600 FP, making the optimal choice for the Trial much harder.
Clothing items this week are the Witch's Hat and the Witch's Nose.
See more articles on Forza Horizon 4 Season Change.