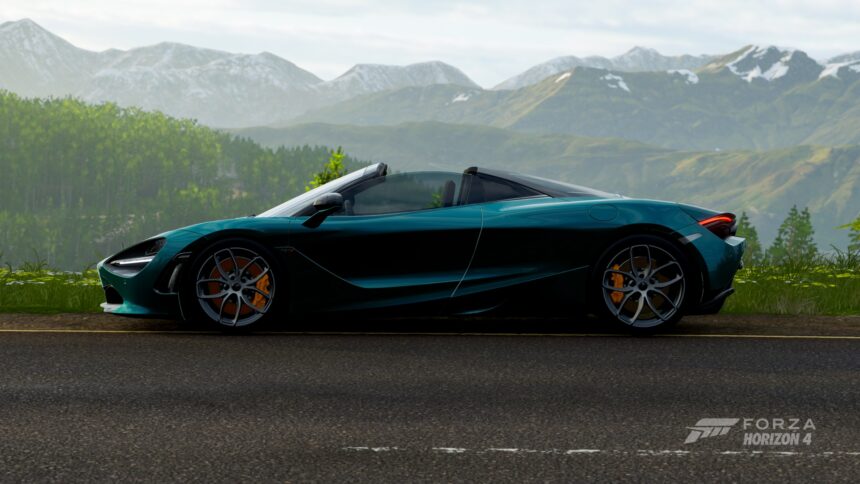 Birds are singing and the sun is shining, meaning that Spring has returned to Forza Horizon 4. This week will bring the curtain down on Series 14, so players will have seven more days to grab the latest content on hand.
A fresh Playlist marks the new seasonal switch, with prizes available for 50% and 80% completion. This week also sees a new convertible McLaren 720S arrive in the UK.
Read on further to check out the latest content.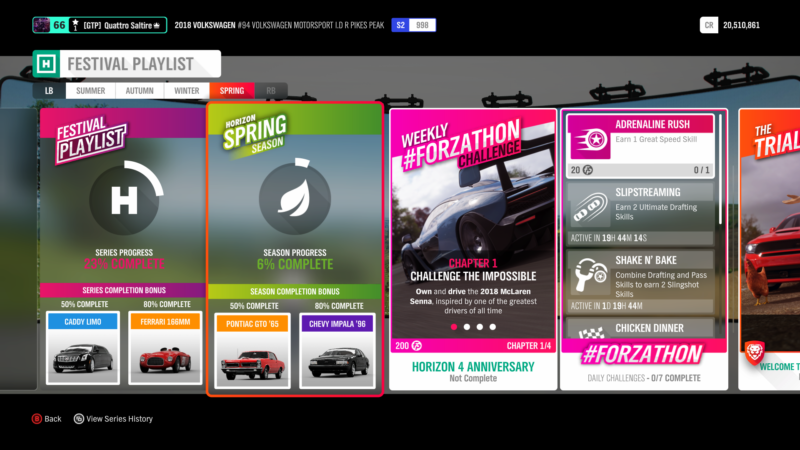 McLaren 720S Drops Top, Drops In to Horizon
Playlist prizes this week consist of big American muscle, with the 1965 Pontiac GTO taking charge.
Often considered the first muscle car, the GTO packs plenty of grunt under the hood. A 6.4-liter V8 puts 360 horsepower on to the asphalt, and can be turned into a drag strip monster with several modifications.
Also from the General Motors performance car catalogue is the 1996 Chevrolet Impala Super Sport. This large sedan rivals the Ford Crown Victoria as a staple of US police forces.
It also has the power to match its imposing looks. A 5.7-liter V8 sourced from a Corvette churns out 260 horsepower. Weighing in at a hefty 4,037lb, the Impala will need long winding roads to get the best out of it.
Prizes for seasonal championships include the Hoonigan Ford Fiesta and the Morris-Mini Traveller.
A big debut this week comes from McLaren. The 720S Spider is the drop-top variant of McLaren's core supercar. The powertrain remains untouched from the 720S coupe: a 4.0-liter, twin-turbocharged V8 putting out 710 horsepower. Performance also remains identical despite the extra weight from removing the roof.
A new Showcase Remix event is also available. Players will get to race the Chevrolet Colorado ZR2 against a monstrous hovercraft across the Scottish Highlands.
Our breakdown of this week's events is below.
Old Blighty
Series: Road Racing Series
Cars: Rule Britannia
Restrictions: S2 Class, 998 PI
Prizes: 15,000 CR, 25,000 CR, Morris-Mini Traveller
Spring Developer Championship
Series: Road Racing Series
Cars: Modern Supercars
Restrictions: S1 Class, 900 PI
Prizes: 15,000 CR, 25,000 CR, Lamborghini Reventon FE
Mclaren Cup
Series: Road Racing Series
Cars: Mclaren
Restrictions: S2 Class, 998 PI
Prizes: 15,000 CR, 25,000 CR, McLaren 720S Spider
The Trial: Welcome to The Horizon Festival (Co-Op Championship)
Series: Cross Country Series
Cars: Sports Utility Heroes
Restrictions: A Class, 800 PI
Prizes: Chicken Suit
Spring Games – Series 14
Series: Playground Games
Cars: Rally Monsters
Restrictions: S1 Class, 900 PI
Prizes: Hoonigan Ford Fiesta
Slate Quarry Speed Trap
Northbound Danger Sign
Season Objective: 738.2ft
Nether End Speed Zone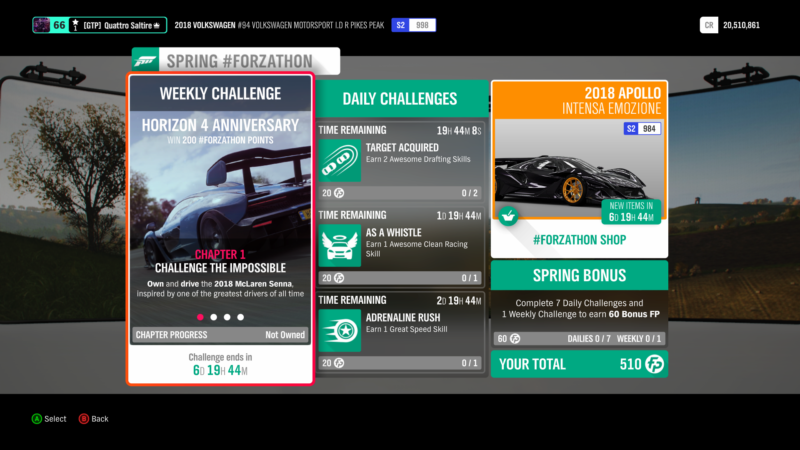 Forzathon Events
The final, anniversary-themed Forzathon for this month focuses on the first year of Forza Horizon 4. The hero car in question is the McLaren Senna. Own and drive this extreme track monster to kick things off.
Next, practice your slipstreaming and earn 3 Slingshot skills during race events. For the third objective, use the Senna's track potential and win five Road Racing Series events.
To finish things off, push the Senna to the limit and reach its top speed of 208mph.
Forzathon Shop
Supercars are front and center in the shop this week. The headline act is the 2018 Apollo Intensa Emozione.
This extreme track car is designed to pay tribute to classic GT1 race cars. Along with an aggressive aero package, the Apollo features a 6.3-liter V12 and produces nearly 800 horsepower.
The Apollo is one of the most expensive cars ever to hit the shop, costing 1,000 Forzathon Points. If you're desperately in need of one, we suggest looking towards the Auction House instead.
Joining it is the 2011 McLaren 12C. This car began the modern era of McLaren and put it on a collision course with Ferrari. The engine in this version is a 3.8-liter, twin-turbocharged V8, putting out 592 horsepower.
At 575 FP, if you missed the 12C back in July, you now have a chance to pick one up.
This week's clothing and novelty items are the Chicken Dance emote and the Red Round Shades.
More Posts On...